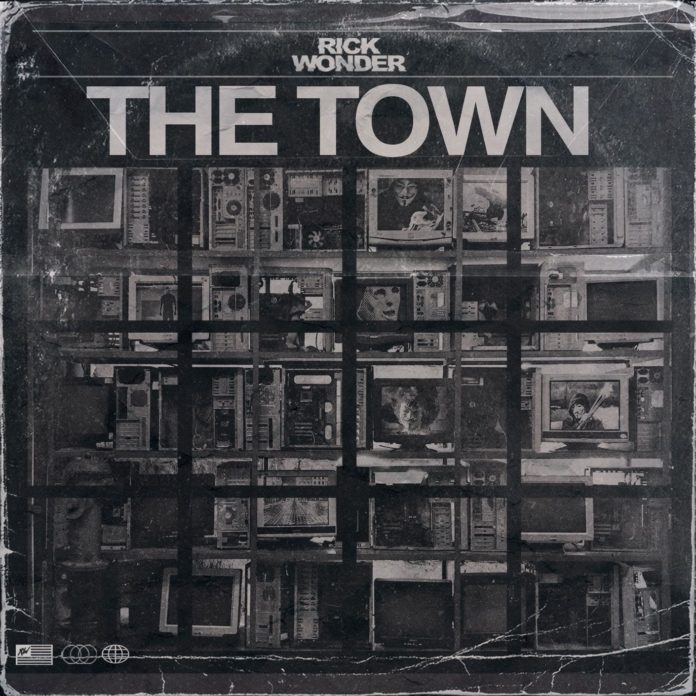 The pioneer of alternative bass music Rick Wonder is known for his versatility in music producing. You might know him from one of his many feel-good tunes like 'What You Gonna Say,' 'Overdrive' and 'Just a Little More Love.' It is because of his addictive brand of music that he has discovered fame on the EDM scene. He has also received support from some of the most popular EDM DJs such as, TroyBoi, The Chainsmokers and Afrojack. Wonder is now back with his first track of 2020 entitled, 'The Town.'  Released on April 10th, this song is quickly becoming a fan favorite and the fact that it has already received more than 10k streams on SoundCloud in only four days proves just that!
Rick Wonder is a real connoisseur of luxurious and euphoric dance floor bassy cuts and 'The Town' testifies that. It is a crushing club gem that will bring delight to any fan of bass house music. The song commences by firmly holding its grip on you during the opening seconds before it throws you over the edge when the hard-hitting bassline comes in. This is that moment in the track where your mind will go numb while your body will surrender to the beat. He then eases the tension, allowing you to take a breather before the song builds again and this time, you will feel the throbbing bass even more. This is an intense song, the energy is relentless and its drive purely intoxicating. Wonder had this to say about his latest track:
Definitely to date one of the hardest hitting tracks I've ever produced. The concept for this song is based on a sample from one of my favorite scenes in one of my favorite movies "The Town". I can't wait to get back to playing parties and be able to drop this peak time! Enjoy!
'The Town' by Rick Wonder shows a new side of him. It is a powerhouse of a track that will keep you hooked from start to finish. Considering how bass-heavy this anthem is, we wouldn't be surprised if this tune dominates the DJs' setlist during the summer.   
Stream 'Rick Wonder – The Town' on YouTube below and grab your copy from HERE!
You can also enjoy the song on Spotify and SoundCloud!
More About Rick Wonder:
An ambassador to feel good music who is on a mission to change the world through his sound, New York native Rick Wonder doesn't slow down. His musical style combines all genres, from old classics (70's, 80's, 90's, one-hit-wonder sing-alongs, etc.) to current dance/EDM & hip-hop anthems, which creates a unique & memorable performance for his fans. Rick Wonder has several widely sought after weekly parties in New York City which showcase his diverse & unconventional sets, including: #feelgoodwednesdays at restaurant to the stars Catch Roof & Thursdays at the infamous Lower East Side hangout 205 Club (once home to the late DJ AM). Rick's monthly residencies in NY also include 1OAK, Up & Down, Tao Downtown, Bounce, & Avenue — just to name a few. On weekends, he tours the country's hottest venues, including DAER Nightclub (inside the all new Hard Rock Hotel & Casino in Atlantic City), Bounce in Chicago, Peek Nightclub at Harrah's Casino in Lake Tahoe, and Catch in Las Vegas (located inside The Aria Hotel & Casino).

When Rick isn't working, he's still working. RW is a budding producer with a unique style he's coined as "Alternative Bass" (think you're favorite sing a long songs from the past combined with a Marshmallo / The Chainsmokers / Diplo production from the future). His remixes & originals have been supported by Afrojack, The Chainsmokers, Troy Boi, Mak J, The Lost Kings, and more, as well as being featured in multiple sets at this year's biggest festivals (Coachella & Ultra Music Festival). Rick has extended his talents to new horizons this past year, in taking on the title of music director alongside fellow 4AM artist DJ Chachi at Rumble Boxing, the new "it" gym to NY & LA's A-listers founded by Eugene Remm of Catch, Justin Bieber & Scooter Braun.
Follow Rick Wonder:
Soundcloud
Facebook
Instagram
Website
Join Us On: