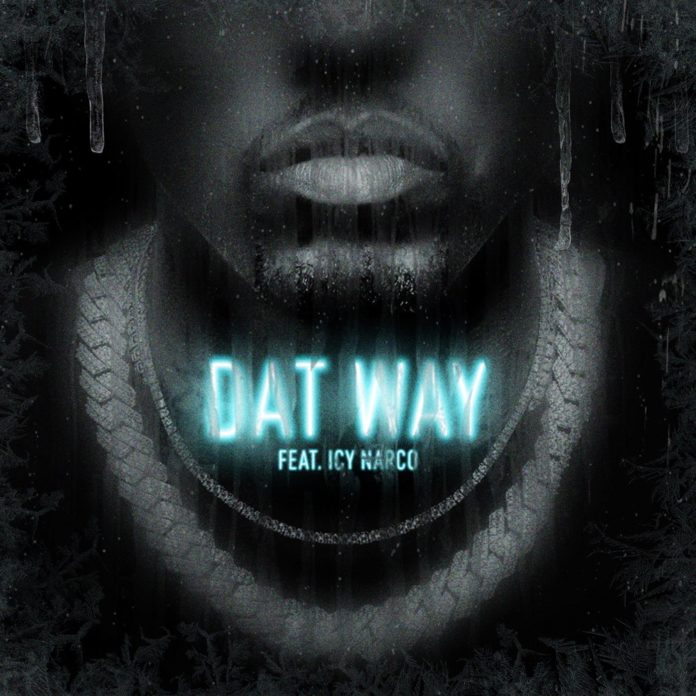 BLVK JVCK teamed up with South Florida rapper Icy Narco on the heavy-hitting blend of Trap and Rap "DAT WAY". If you like mighty 808s, dark club ambiances and catchy Hip Hop flows, this one is for you!
If you are reading this chances are that you already know BLVK JVCK, if by any chance you don't, and you are a fan of Hard Trap music, where have you been? Where do you get your music? With almost a million monthly listeners on Spotify, he is not only one of the top heavy-hitters in the Trap game, along with the likes of Flosstradamus, RL Grime and NGHTMRE, but he also produced music for Rick Ross, Rihanna, Beyoncé, Justin Bieber, Lil' Wayne, John Legend, Ludacris, Chris Brown, T.I., and Usher (just to name a few). Not a bad resume, right?
And now he has teamed up with the new Florida sensation Icy Narco, to offer a masterly blend of Hard Trap and Hip Hop. Although the instrumental is absolutely dominant, Icy delivers a flow that is as catchy and lit as they come. He lays it down perfectly on the powerful, 808-soaked and intoxicating instrumental.
If you feel "DAT WAY" take some time to check out BLVCK JVCK's entire Spotify, you will discover a crazy amount of serious bangers, some that I'm sure you've heard before but just didn't know he was behind.
Stream "DAT WAY" on Youtube below and grab your copy HERE.
More about BLVK JVCK:
Jermaine "Mayne Zayne" Jackson (aka BLVK JVCK himself), rose to power as a producer on DJ Khaled's team and from being one of the legendary production members of The Runners. Mayne cut his teeth creating hit club records for the biggest names in music, and he's been releasing banger after banger as BLVK JVCK since 2017. He was behind the sonic innovation on hit singles "Go Hard" (DJ Khaled) and "Hustlin" (Rick Ross) as a producer, amongst a vast library of other tracks for artists including Rihanna, Justin Bieber, Chris Brown, Rick Ross, Lil' Wayne, Usher, Fabolous, and Fat Joe. BLVK JVCK has now entered a new era with fresh ears, complete with an official remix for Bruno Mars' global smash "That's What I Like" while also having worked with collaborators like Flosstradamus, Jessie Reyez, Ace Hood and H.E.R.
With a string of undeniable hits in a relatively short amount of time and even more new music on the horizon, 2020 is the year that BLVK JVCK takes over.
More about Icy Narco:
Icy Narco is a 19 year old sensation from south Florida. Due to his unique look andsound ICY's rise to popularity has come quite quick. With features on media outletslike Worldstar, Trapvip, etc.
Follow BLVK JVCK:
Facebook.com/BLVKJVCK
Twitter.com/blvkjvck
Instagram.com/blvkjvck
Soundcloud.com/blvkjvck
Blvkjvckmusic.com
Follow Icy Narco
Instagram.com/icynarco
Twitter.com/icynarco
Join us on:
Spotify
Soundcloud
Mixcloud
Youtube
Facebook
Twitter
Instagram