While the Oasis team did an outstanding job creating the "Essential Information" section of their website with extremely useful information about nearby airports, where to drink and buy alcohol, what to wear, getting around Marrakesh & Morocco, shuttle service and hotels, we wanted to focus our "How to Plan your Trip to Oasis Festival in Morocco" a bit more on the "where to stay" part of your trip. We felt like a list of budget hotels and Airbnbs near the shuttle service would be very helpful.
Staying near a shuttle location is probably ideal and will facilitate the transport between the venue and your hotel, this is why we listed hotels and Airbnbs that are strategically located, at walking distance from the shuttle.
The Oasis shuttle will stop at the Adam Park, Es Saadi, Kenzi Menara, and Kech Boutique Hotel. It will run non-stop from 15:15-1:00 during the festival.
You can have a look at the shuttle map right below: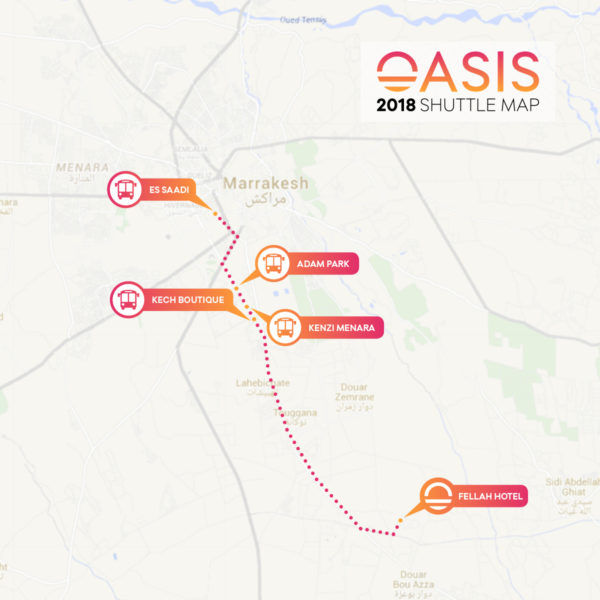 Here are four hotels under 75$ a night that are walking distance to the free shuttle:
Hôtel Farah Marrakech (From 34$ a night)
Hôtel Le Grand Imilchil (from 28$ a night)
Mogador Palace Agdal (from 55$ a night)
Adam Park Marrakech Hotel & Spa (from 73$ a night)
Not a fan of hotels? You prefer Airbnb? Here are a few Airbnbs that are also walking distance to a shuttle:
You still don't have your ticket for Oasis? They are still available via TheOasisFest.com. Get yours before they sell out!
We hope this article helped you, we also created a "Meetup" Facebook group if you are interested in connecting with other party-goers before the festival to discuss and plan for this amazing journey.
Make sure to follow Oasis Festival!