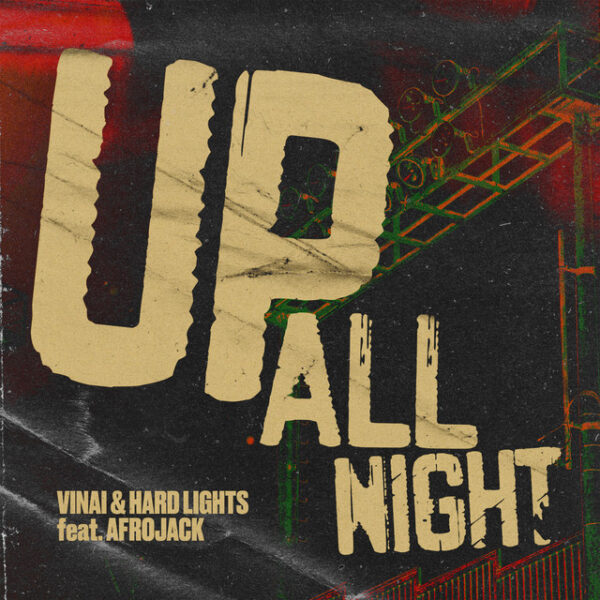 A true European EDM powerhouse comes up with another surging dance hit! It is VINAI with 'Up All Night' featuring Hard Lights and yet another Euro sensation, Afrojack.
It is a true starstruck EDM combination that is hard to miss. For the uninitiated, VINAI is the duo of Italian brothers Alessandro & Andrea, who share their band and family name. 'Up All Night' is not the first catchy EDM and Pop & Electro Pop song they come up with, as they have already collaborated with the likes of David Guetta.
Hard Lights, who they share the track credits here, are a hit themselves. Their collaboration "Butterfly" with Marnik, another Italian big-name Pop artist, received over 3 million streams on Spotify and Youtube. The third-party involved in the creation of this club opus is Afrojack, a Dutch EDM producer and DJ that doesn't require introductions anymore, who has already co-written and worked on worldwide smash hits by Beyoncé, David Guetta, and Pitbull.
Considering the pedigree of these artists, it is no surprise that 'Up All Night' will become a club anthem. What VINAI, Hard Lights, and Afrojack have come up with is yet another surefire EDM gem. Although lasting less than three minutes, this trio of artists is able to keep up on the promise and keep everybody dancing all night long. It is one of those tracks that party-goers will harass DJs to play. Or, that those lone (or not so lone) home dancers will keep on repeat mode for quite a few spins.
Not sure? 'Up All Night' (featuring Afrojack) by VINAI & Hard Lights has nearly a hundred thousand of clicks already on YouTube, so it is safe to say that this one will end up on all the big EDM playlists!
Stream 'VINAI & Hard Lights – Up All Night (featuring Afrojack)' on YouTube below!
Streaming Options
VINAI & Hard Lights – Up All Night – Spotify
VINAI & Hard Lights – Up All Night – Soundcloud
VINAI & Hard Lights – Up All Night – Apple Music
VINAI & Hard Lights – Up All Night – Free Download
VINAI & Hard Lights – Up All Night – Download
VINAI & Hard Lights – Up All Night – More streaming options
More about VINAI:
Italian brothers Alessandro & Andrea VINAI are two producers that started their career in 2011 conquering the worldwide scene with catchy edm songs, their genre is known as 'Big Room Bounce'. From the beginning of their career they scored few times the Beatport number 1 chart with songs like 'Raveology' with DVBBS , 'Bounce Generation' with TJR and 'How We Party' with R3HAB . Following to these records they also released music and collaborated with artists like David Guetta , The Chainsmokers, Dmitri Vegas & Like Mike, Steve Aoki, Hardwell, Redfoo and many many others.
More about Afrojack:
Nick van de Wall, aka Afrojack, is one of the most internationally successful DJs and producers to emerge from the Dutch dance music scene. A constant fixture of EDM festivals as well as the Top Ten of DJ Magazine's annual Top 100 DJs poll, he has scored platinum-certified international hits such as "Take Over Control" (featuring Eva Simons, 2010) and "The Spark" (featuring Spree Wilson, 2013), additionally co-writing or featuring on worldwide smashes by Beyoncé, David Guetta, and Pitbull. Originally producing more stripped-down electro-house instrumentals during the 2000s, his music became more ambitious and maximalist by the early 2010s, helping inspire the moombahton subgenre and gradually incorporating pop, hip-hop, and R&B influences. His proper debut studio album, 2014's Forget the World, included guest appearances by Snoop Dogg and Sting. Since then, he's maintained a prolific release schedule as both Afrojack and NLW, somewhat returning to his earlier, more underground sound with recordings such as 2018's Press Play.
Born in Spijkenisse in 1988, van de Wall began playing the piano at age five, but after getting his hands on a copy of the music-sequencing program Fruity Loops, he started to play around with samples and create his own songs. After discovering the Rotterdam club scene, he began performing short DJ sets before traveling to the Mediterranean to hone his craft, playing at various clubs over a five-month period. Returning to his native Holland, he signed to the independent Digidance label and released his debut single, 2007's "In Your Face," before forming his own record company, Wall Recordings, scoring club hits with "Maybe" and "Drop Down (Do My Dance)."
Following performances at dance festivals Tomorrowland and Sensation and a collaboration on David Guetta's One Love album ("Toyfriend"), Afrojack was invited to remix the likes of Madonna's "Revolver" and Lady Gaga's "Alejandro." In 2010, he teamed up with electro-pop vocalist Eva Simons on his first U.K. Top 40 hit, "Take Over Control," and also released a rarities album, Lost & Found, featuring nine previously unreleased tracks. In 2011, he collaborated with Miami rapper Pitbull for the hit single "Give Me Everything" and continued working with Guetta as well as the likes of Dimitri Vegas & Like Mike and Steve Aoki.
A 2012 tour of America confirmed Afrojack's growing popularity, including dates at the Ultra Music Festival in Miami and Coachella in Indio, California, plus more than 40 other venues. Soon after, he announced a worldwide deal with Universal and Island/Def Jam, resulting in global chart success with the single "As Your Friend," featuring Chris Brown. Two more singles, "The Spark" (featuring Spree Wilson) and "Ten Feet Tall" (featuring Wrabel), preceded the release of his 2014 album, Forget the World, which also included guest features from Snoop Dogg, Sting, and Wiz Khalifa.
Over the next few years, he stayed busy, collaborating with David Guetta on several tracks including "Hey Mama" and "Another Life," additionally recording with Martin Garrix, Ty Dolla $ign, Luis Fonsi, Sia, and others. Aside from his work as Afrojack, van de Wall began releasing less mainstream material as NLW in 2015. He also appeared in the Grammy-nominated Steve Aoki documentary I'll Sleep When I'm Dead, released in 2016. He issued Press Play, a club-focused effort featuring guest producers such as Brohug and Jewelz & Sparks, in 2018 on his own Wall Recordings. "Sober," featuring Rae Sremmurd and Stanaj, appeared in 2019. Afrojack collaborated with Fifth Harmony singer Ally Brooke on the 2020 single "All Night" and worked with Fedde Le Grand and MC Ambush on "1234."
More about Hard Lights:
Latest collaboration of Hard Lights with the italian phenomena, Marnik, on a classic hit rework "Butterfly" hit 3Million streams on Spotify and 3million streams on Youtube. Streamed worldwide on radio stations in Europe, Asia and ranked top30 most shazam tracks in Poland and top49 Russia. Kick starting 2020 with a bang, Hard Lights released a mind blowing collaboration with DJ Mag Top#15 KSHMR on a record that features classic, uptempo hardstyle production called "Over And Out". #OverAndOut hit almost 6Million streams on spotify and Top#1 on the beatport "Hardstyle/Hardcore chart. "Another Level" feat Hard Lights via Doorn/Spinnin Records with Flaremode has gained numerous supports from djs like Tiesto, Afrojack, Sander Van Doorn, Blasterjaxx, Mike Williams, Firebeatz, Swanky Tunes, Wolfpack, MATTN, Morgan Page and many more, ranking up to Beatport Future House Top#10 chart. Massive collaboration between Hard Lights , Italian rising star Marnik and the mysterious artist, The Golden Army, who all came together to produce the wildly cinematic track "Fantasia" last halloween. In 2019, Hard Lights released "90s Better" via Hardwell's imprint Revealed Recordings together with Syzz was supported & played by David Guetta, Tiesto, Hardwell, KSHMR, Blasterjaxx, YVES V, Mike Williams, Fedde Le Grand, Bingo Players, Dash Berlin, Swanky Tunes, Morgan Page & many more. 90's Better did almost 2 million streams on Spotify and ranked top #10 on the Big Room Beatport chart.