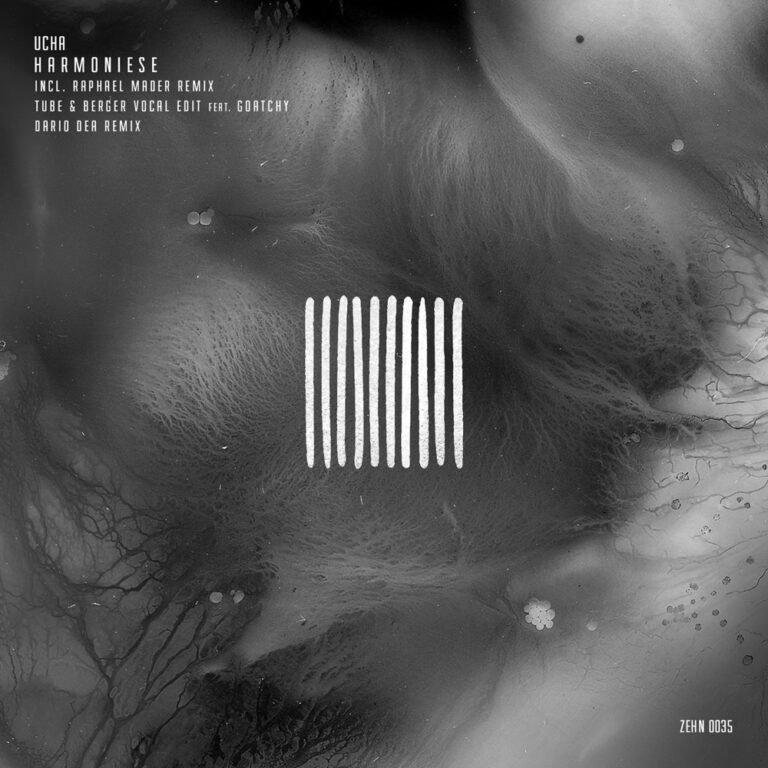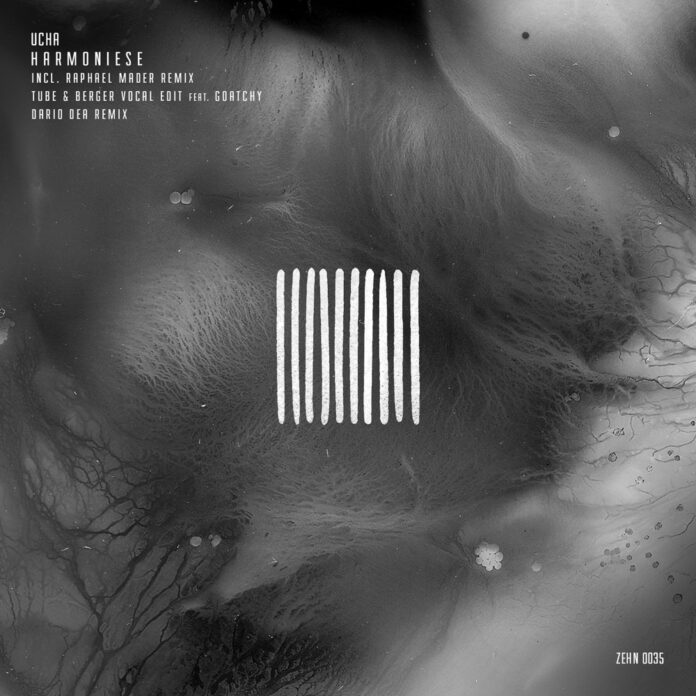 Georgia (country)-born Techno powerhouse UCHA is back with his latest track 'Harmoniese' on ZEHN Records. And, he is back with a vengeance! This time around, he enlisted Raphael Mader on remix duties and Tube & Berger did a lush vocal edit of the remix. This version features the vocal talents of Goatchy and the EP also includes a remix by Dario Dea. It really sounds like ZEHN Records will have another winner on their hands. All involved have a longstanding reputation on the Techno scene, and 'Harmoniese' is just some more proof why.
The moment the track sets in, and the subtle Techno beats kick in, you can get an impression it will be the usual run of the mill kind of Techno track that solely relies on its beats. You would be very wrong. UCHA and his collaborators, Raphael Mader and Tube & Berger, created a deep and immersive opus without compromising on the infectious beats and energy. And the moment Goatchy's vocals kick in, you start asking yourself the question, which movie is this track from?
As this subtly layered Techno track progresses and you try to sort out what is what, you realize that UCHA has been able to play on the light and shadow contrasts flawlessly. Raphael Mader's light, emotionally uplifting approach against Tube & Berger's darker tone shuffles, where Goatchy's vocals play a central role in transporting the listeners. What an outstanding musical journey from ZEHN Records!
What UCHA, Raphael Mader, Tube & Berger, as well as Goatchy and Dario Dea have come up on 'Harmoniese' is an essential 2020 Techno gem. It should not only be on all of the must-hear playlists of this genre but also to all who find joy in electronic music in general. Essential listening… and dancing from ZEHN Records!
Stream "UCHA – 'Harmoniese' (Raphael Mader Remix, Tube & Berger Vocal Edit) Feat. Goatchy" on YouTube Below!
Streaming Options
UCHA Feat. Goatchy – 'Harmoniese' (Raphael Mader Remix Tube & Berger Vocal Edit) – Spotify
UCHA Feat. Goatchy – 'Harmoniese' (Raphael Mader Remix Tube & Berger Vocal Edit) – SoundCloud
UCHA Feat. Goatchy – 'Harmoniese' (Raphael Mader Remix Tube & Berger Vocal Edit) – Apple Music
UCHA Feat. Goatchy – 'Harmoniese' (Raphael Mader Remix Tube & Berger Vocal Edit) – Free Download
UCHA Feat. Goatchy – 'Harmoniese' (Raphael Mader Remix Tube & Berger Vocal Edit) – Download
UCHA Feat. Goatchy – 'Harmoniese' (Raphael Mader Remix Tube & Berger Vocal Edit) – More Streaming Options
More About Tube & Berger:
Arndt Roerig and Marko Vidovic – known as Tube & Berger – started their musical journey over a decade ago. Since then, the house producers and in-demand remixers have put out two acclaimed studio albums, released on an array of prestigious labels, played constant gigs around the world and now have over 100 million Spotify Streams and counting to their name. After early experiments in the world of punk music, the German duo's first breakthrough came with their 2004 hit 'Straight Ahead', which featured the vocals of Chrissie Hynde and shot straight to the top of the Billboard Dance Radio Chart. Since this early success, their output has evolved significantly by incorporating real-life recordings and samples into their music. Their intricate, emotion-laden production style creates records that are organic and evocative, without losing that dance floor punch essential for the modern-day DJ. Tube & Berger have undoubtedly helped to shape the house genre, crafting several scene defining records in the last couple of years. Most notable is 'Imprint of Pleasure', a heart-wrenchingly poignant dance floor anthem released on Suara Records that was named Beatport's 9th Top Selling Track of All Time. It tracked up a hefty 36 million streams on Spotify and has provided the soundtrack for festivals and dance floors for many years. Last year, Tube & Berger and Junior Jack's collaboration track 'E Samba 2018′ was a No.1 in the Beatport House Chart for six weeks. In 2019, Tube & Berger's remix for Samim – 'Heater' became a global dance floor hit and instantly rushed to the Beatport No.1 spot on the main chart before staying there for weeks. In terms of live performances, Tube & Berger never tire. They are proven Ibiza heavyweights with frequent shows at ANTS in Ushuaia and Hï Ibiza. Festival-wise, they've headlined at Tomorrowland, Loveweek Festival, Eastport Festival, Claptone's Masquerade and played dates at ADE including 'All Gone Pete Tong' and multiple Toolroom Showcases.
More About Raphael Mader:
Raphael Mader was born in Munich, Germany in the mid-80s. Already as a teenager, he started making music in his child's room, developing skills at producing, sound engineering, and mastering his own projects. From the very beginning, his work was donned by mystic, dark and atmospheric patterns paired with a melancholic touch. He uses ethereal sounds and complex rhythms alongside powerful basslines to bring the inner agitation to the dancefloor. He is definitely one of the rising artists in the electronic music scene- Labels such as Steyoyoke, 3000Grad, Dear Deer, and Frequenza signed his latest EPs recently. He also gained a lot of support from several leading national and international artists playing his tracks in their sets- his ambition and his musical perception of modern Techno will certainly keep him on the right track.