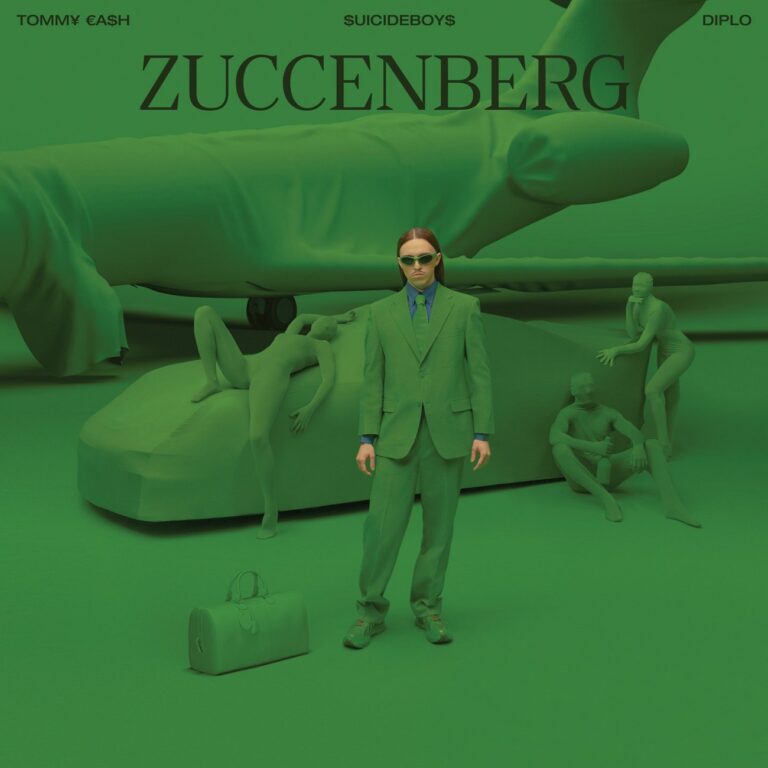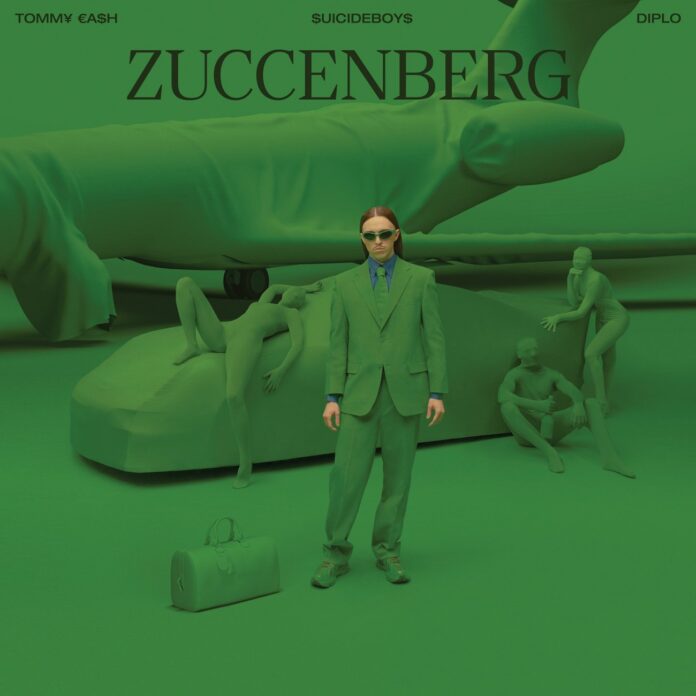 Tommy Cash is a diverse and extremely talented artist who cannot be caged by the shackles of any genre. His derivative and experimentative performances on tracks like, 'Mute,' 'Who,' and 'Heartbass' show his true mettle. Known for highly conceptual releases, the Estonian MC has dropped a star-studded collaboration with $uicideboy$ and Diplo titled, 'Zuccenberg.' This Hip Hop banger is set to be featured on Cash's upcoming Moneysutra EP. Tommy Cash – Zuccenberg is a hyped collaboration, fueled with intense 808s and dope rapping skills. Here is what the Tommy Cash rapper had to say about the conception of this bass-heavy affair:
"This song is made in rage and frustration by the energy that has been boiling. You can hear in it all the canceled tours, shows, and the waiting! Postponing! Things shaded by the dumb ass virus. All my friends whose clubs got closed, jobs taken away. It has all in it. It represents all that boxed in energy, but at the same time it welcomes the future. And shout to Diplo and $uicideboy$, guys were amazing to work with. Can't wait!"
Right from the get-go, the polished and sleek sound design of 'Zuccenberg' instantly gives away that Diplo is helming the production aspect of this hard hitter. The pairing of $uicideboy$ and Diplo works so well on this track. The duo along with the Tommy Cash rapper unleash restrained and exceedingly pumped-up rap flows that will leave you vibing for days. This fluctuating and supercharged Hip Hop delivery prances up and down the energy meter with Trap music flavors and gritty vocals. The rappers spit and chew the lyrics with effortless ease. Layered with furious synths and epic drums, Tommy Cash – Zuccenberg is a deviant affair. Featured soon on the long-awaited Moneysutra EP, this song resonates with the frustrations that this pandemic has brought us all.
Rather than pacing through the rap sections, Tommy Cash – Zuccenberg featuring $uicideboy$ and Diplo moves slowly yet fiercely. The three collaborating artists go for the kill as they expend the jaw-dropping atmosphere of the track with heightened rawness. With hook-worthy drops and swift humming notes, this Hip Hop song is a wild ride that is powered with enigmatic sonic elements. The release of 'Zuccenberg' has created a real buzzing excitement around the soon-to-be-released Moneysutra EP. The famous Tommy Cash rapper is definitely on an upward trajectory with one massive release after another and we're excited to witness his journey. 
Stream 'Tommy Cash – Zuccenberg' on YouTube below!
Streaming Options:
Tommy Cash – Zuccenberg (feat. $uicideboy$ & Diplo) Apple Music
Tommy Cash – Zuccenberg (feat. $uicideboy$ & Diplo) Spotify
Tommy Cash – Zuccenberg (feat. $uicideboy$ & Diplo) SoundCloud
Tommy Cash – Zuccenberg (feat. $uicideboy$ & Diplo) FREE DOWNLOAD
Tommy Cash – Zuccenberg (feat. $uicideboy$ & Diplo) Download
More Streaming Options HERE.
---
More About Tommy Cash:
Born in 91, on the last year of the Soviet Union Tommy Cash experienced a blend of the Baltic ghetto and the lingering Russian heritage whilst growing up. Turning to art for self-expression he experimented across dancing hip-hop and street art, finally to arrive at his latest conquest – music. His creativity derives from the cultural capital of post-Soviet sceneries and the sounds of the leaders of western rap music. Unpacking the layers of Tommy Cash you'll find a genuine admiration for the iconic three stripes Adidas, equestrianism, Russian carpets and Kanye West – all of which construct the conceptual artist who is capable of smashing preconceptions and transcending boundaries of sexuality, genres and history. And with Tommy Cash – Zuccenberg, this rapper is looking to be unstoppable. This song will feature on the upcoming Moneysutra EP.
More About $uicideboy$:
New Orleans rap duo $uicideboy$ combined their talents in 2014, but as cousins, the pair were already well-acquainted. Ruby da Cherry and Scrim grew up together, white kids in black neighborhoods on the east and west banks of the Crescent City. However, they initially veered down different paths. Ruby (aka Suicide Leopard) dabbled in punk rock, influenced by the Misfits, Minor Threat, and Leftover Crack. Meanwhile, Scrim (aka $lick $loth and Suicide Christ) was a DJ and songwriter. Once they joined forces, the result was a dark blend of horrorcore glitch-trap bubbling with booming bass, ominous atmospherics, and occultish, drugged-out rhymes. Signed to G59 Records, the Boy$ released the ambitious ten-part series Kill Your$elf. With titles like The $uicide $aga, The $eppuku $aga, and Re$urrection, $uicideboy$ layered their twisted raps over short tracks, releasing additional EPs like Black $uicide (with Black Smurf), Grey Sheep, G.R.E.Y.G.O.D.S., and My Liver Will Handle What My Heart Can't in 2015.
By 2016, with SXSW and international shows under their belts, the recordings continued, notching nearly 30 full efforts within two years. Radical $uicide, their 29th release, arrived in the summer of 2016. The five-track EP produced by Getter peaked at number 17 on the Billboard Rap charts. In 2017, the pair revived their Kill Yourself series with Kill Yourself, Pt. 11: The Kingdom Come Saga. Ten volumes were issued that year, closing with XX: The Infinity Saga.
Early 2018 saw the release of single "FUCKALLOFYOU2K18." Later that year, they issued "Carrollton" and "Meet Mr. NICEGUY," a pair of singles that landed on their fall release, I Want to Die in New Orleans. Issued in September 2019, the album landed at number nine on the Billboard 200. After closing out the year with collaborative EP Live Fast Die Whenever (with Travis Barker), the duo returned in March 2020 for their 45th project, Stop Staring at the Shadows. Also that year, Scrim made his solo debut with A Man Rose from the Dead. They have now featured on Tommy Cash – Zuccenberg. This track will feature on Cash's upcoming Moneysutra EP.
More About Diplo:
A superstar DJ, sought-after producer, taste-making label owner, and wizard behind Major Lazer, Diplo (aka Diplodocus, Wes Diplo, and Wes Gully) launched his career on the fringes of dance music. With his mash-up mixtapes, he found and created a sound where his musical tastes — '80s pop, electronica, Dirty South hip-hop, and his major influence, Miami bass music — intersect. His attention-grabbing projects Hollertronix, with partner DJ Low Budget, and the Piracy Funds Terrorism, Vol. 1 mixtape, with British-Sri Lankan MC M.I.A., made a heavy impact on the alternative electro-pop scene, amassing rave reviews from music critics and indie kids alike. Later, his Mad Decent imprint presented the edge of pop, hip-hop, and dance music while his conceptual Major Lazer project mixed dancehall with rave culture and toured the globe as a live-party sound system. By the late 2010s, super duos with Skrillex (Jack Ü) and Mark Ronson (Silk City) both yielded Grammy wins for collaborations with Justin Bieber and Dua Lipa, respectively.
Diplo was born Thomas Wesley Pentz in Tupelo, Mississippi. Although he lived in a few different cities in the South, he mainly grew up in South Florida. He spent his youth in his father's bait shop and fixated on manatees, alligators, and dinosaurs with hopes of becoming a paleontologist. However, he wound up pursuing an education in film studies, starting at a couple Florida colleges but finishing up his undergraduate degree in Philadelphia at Temple University in 2003. Before his move to Philadelphia, Pentz had moved temporarily to Japan to escape daily life in America. He sent a demo tape of his beat concoctions to Will Ashon, founder of U.K. independent hip-hop label Big Dada Records, and once signed to the label, he relocated to Philadelphia.
To support himself during and after graduating from Temple, Pentz took on a few different jobs in Philadelphia: social worker, after-school mentor, movie theater employee, and gig-by-gig DJ. He was barely able to pay the rent, and the frustration was stunting his musical development (although he does credit one of his musical epiphanies to the after-school students who exposed him to crunk and Baltimore club music). Thus, Diplo and like-minded DJ Low Budget pooled their resources to start up their own club nights in Philadelphia, which they branded Hollertronix. It simply began as a fun night of genre-warping dance music, but blossomed into an underground subculture, drawing out crowds from all over the East Coast. Under the Hollertronix moniker, Diplo and Budget released the highly praised Never Scared mixtape; it was listed as one of the New York Times' top albums of 2003.
The following year, Big Dada released Diplo's solo debut album, Florida, a more downtempo piece focusing on melody and instrumentals that was a departure from the melee of mashed-up vocals and beats. His unrelenting work ethic produced a considerable number of acclaimed mix CDs and 12″ records; however, none of them accumulated more interest and Internet chatter than the 2004 Piracy Funds Terrorism, Vol. 1 mixtape that introduced M.I.A. outside of his U.K. borders. Developing a yearning to produce more worldly music, he also began to throw his energy behind the Brazilian youth- and street-based music known as funk carioca (also referred to as baile funk), a derivation of Miami bass music. So, it was no surprise that when he established his own label, Mad Decent Records, around 2005; his first signee was the funk carioca group Bondo do Role.
In 2009, the label signed a distribution deal with Fontana and Downtown Records. Their first collaborative release was by Major Lazer, a fictional Jamaican bounty hunter that was the brainchild of Diplo and DJ Switch. Major Lazer's debut album, Guns Don't Kill People… Lazers Do, appeared in 2009, the same year as the Diplo remix collection Decent Work for Decent Pay: Selected Works, Vol. 1. In 2010, Mad Decent began their Blow Your Head compilation series with the unmixed collection Blow Your Head: Diplo Presents Dubstep. Mix CDs (the reggae-filled 2011 release Riddimentary), EPs (2012's Express Yourself and 2013's Revolution), a Major Lazer album (2013's Free the Universe), and production work for others (including Alex Care's "Too Close" and Usher's "Climax") took Diplo to 2014 and that year's aptly titled compilation Random White Dude Be Everywhere. Filled with recent tracks, the set found the producer favoring the trap music style, the style heard on Baauer's hit single "Harlem Shake," which itself was a Mad Decent release.
In 2015, he co-produced multiple tracks on Madonna's release Rebel Heart, and worked with Skrillex on the album Skrillex and Diplo Present Jack Ü. Both Jack Ü and its hit collaboration with Justin Bieber, "Where Are Ü Now," picked up Grammys. Major Lazer's LP Peace Is the Mission also landed that year, topping the U.S. dance chart and peaking at number 12 on the Billboard 200. In 2017, Diplo recruited Travis Scott, Camila Cabello, Quavo, J Balvin, Sean Paul, Busy Signal, and more for Major Lazer's Know No Better EP. That same year, Diplo issued a handful of singles under his own name, including "Imperfections" and "Swerve" with Starrah, and "Get It Right" featuring MØ. The latter track found its way onto 2018's California EP, which featured additional guests Lil Yachty, Desiigner, Santigold, Lil Xan, and Trippie Redd. That same year, Diplo teamed with fellow producer Mark Ronson to form the duo Silk City. Their hit collaboration with Dua Lipa, "Electricity," helped him score his third Grammy in 2019 for Best Dance Recording.
In April 2019, his collaborative effort Labrinth, Sia & Diplo Present LSD arrived, followed in May by his Higher Ground EP featuring guests Tove Lo and Kah-Lo. Also that year, Diplo issued several country-flavored singles under the moniker Thomas Wesley, including "So Long" with Cam, "Heartless" with Morgan Wallen, and "Lonely" with the Jonas Brothers, followed by "Do Si Do" featuring Blanco Brown in April 2020. All of those tracks would appear on his country-inflected album Chapter 1: Snake Oil, which was released in May and debuted at number 50 on the Billboard 200. And now, he has produced Tommy Cash – Zuccenberg. This track will be a part of the Moneysutra EP.
---
Looking for more tracks like "Zuccenberg"?