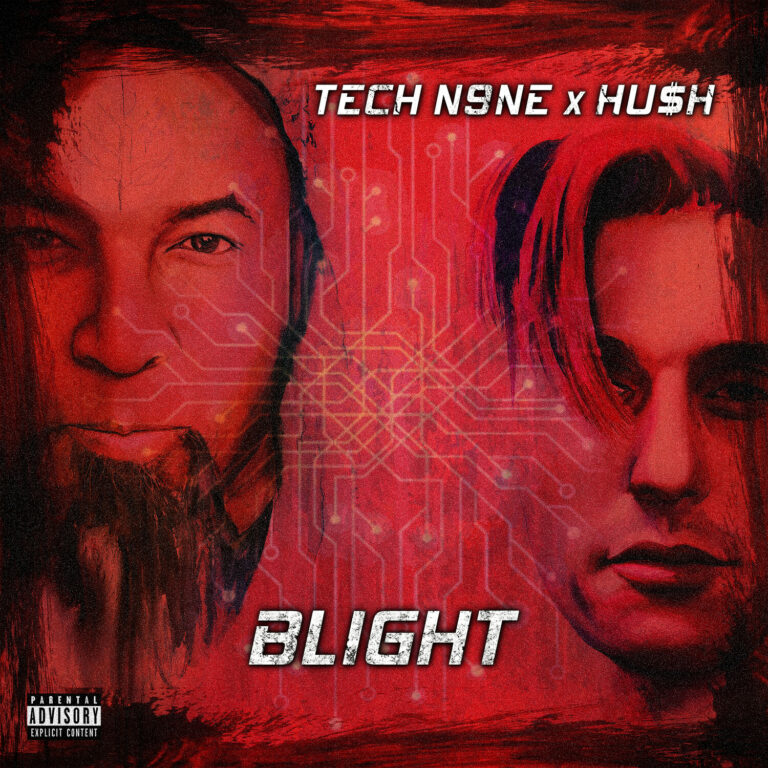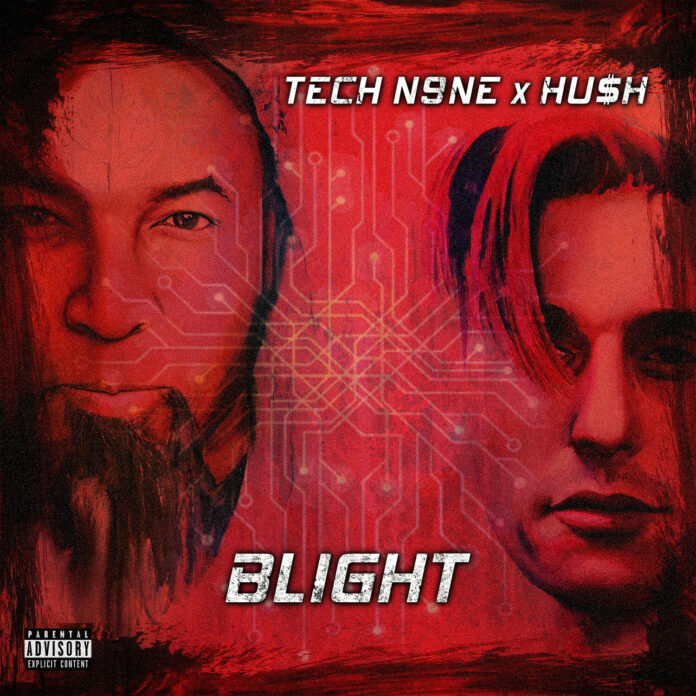 It's an ultra-rare occasion, that an international megastar completely transforms his sound and reaches all the way across the spectrum for inspiration. Especially one that is nearing 50 years old. Alas, "Tech N9ne x Hu$h – Blight" the recent EDM RAP offering from the Kansas City-born Rap icon does exactly that when he links with Chicago native Hu$h. The result is a new Tech N9ne album, more specifically, a 7-track extended play loaded with Dubstep / DnB bits and masterful vocals. Cleverly crossing over seamlessly between Hip Hop, Dubstep and Drum and Bass but staying true to the hype, yet gritty sound for which we know and love Tech N9ne.
For this feature, we're going to focus particularly on two of the seven tracks. First of all "Move Back Right Now", which is an absolute scorcher of a dark Drum and Bass tune. Mostly because of its ultra-rowdy drum line. It's impossible to determine who's really raising this track to the stratosphere, Hu$h, or Tech, but it's certainly circling up there like a vulture looking for a dead body. The production is of the highest caliber in like manner to prime Spor or Noisia records. Furthermore, the vocals are absolute mayhem, delivering uber energetic bars with a flow that even the greatest rappers would struggle to emulate. That's not really surprising, but at the same time, what is surprising about this new collaboration EDM RAP venture, is just how well it works. "Tech N9ne x Hu$h – Blight", the new Tech N9ne album isn't just true to the Dubstep and DnB fans, but also will strike a chord with fans of raw lyricism and poignant delivery.
The B side of our "Tech N9ne x Hu$h – Blight" selections, is the closing track entitled "Suffering". This track leans more towards the classic Tech we're used to. Lightning-fast bars, complex yet not over-written lyrics, delivered in a way that only the man himself can achieve. The beat behind him is mayhem. Square bass rattling, thick beat kicking, no need for bells and whistles. Just raw Dubstep / DnB. The most notable strength is how the artists allow each other to do what they are best at. Tech kicks his bars, and Hu$h lays his beats, neither overshadowing the other. They perform in unison and the result has us truly excited about the upcoming new Tech N9ne album.
"Tech N9ne x Hu$h – Blight" is all business, clearly this is not a game to these no-nonsense artists. There's no mumble rap. There's no going soft on beats to appease the current scene. The Hu$h beats go hard, and Tech N9ne raps like he's hungrier than ever. This record is just pure hellfire. Burn it down boys!
Stream "Tech N9ne x Hu$h – Blight" on SoundCloud below!
Looking for more music like "Tech N9ne x Hu$h – Blight"?