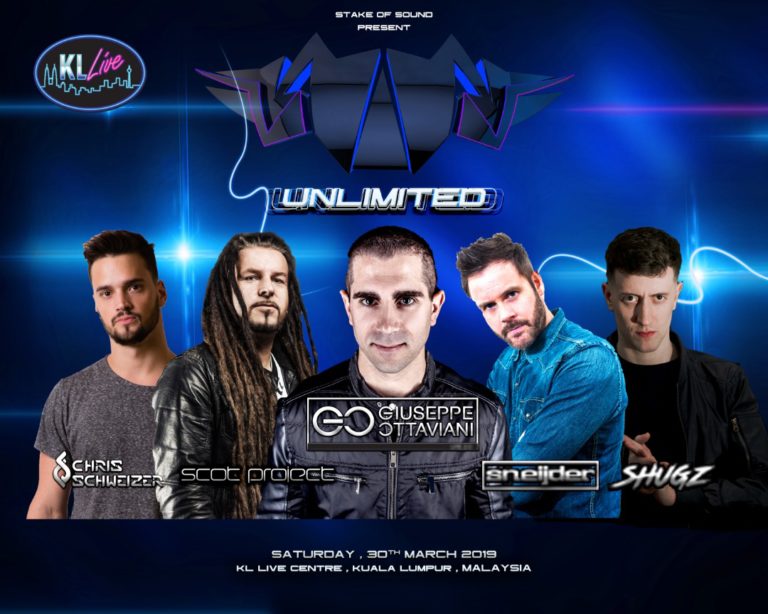 Kuala Lumpur's highly anticipated dance music show "UNLIMITED", presented by Stake of Sound, is only one day away, and we couldn't be more excited! The event features a massive lineup that will take on Kuala Lumpur's international scene on March 30th. Stake of Sound is ready to ignite the darker, deeper, harder and Live 2.0 journey that has been long-awaited in Malaysia!
For any fans of Hard Trance music, this event can't be missed!
For Unlimited, Stake of Sound build a legendary lineup featuring local favorites like Chukiess & Whackboi and D'Jaeger to compliment the very special appearances of Giuseppe Ottaviani from Italy presenting Live 2.0, an evolution of his previous 'Live 1.0' performance combining all those live elements with his productions and performing new "freshly-made" tracks, Sneijder from the UK with his recent 'Afterdark' concept for all things dark, original and dance floor orientated, Chris Schweizer from Argentina, hard trance legend Scot Project from Germany, and Shugz from the UK.
Proudly organized by Stake of Sound, a collective of passionate dance music lovers coming together, this electronic dance music event will be held at KL Live, Kuala Lumpur with the first act to start at 8 pm.
Watch the Stake of Sound UNLIMITED teaser below and get ready to party!
Get to know the artists performing at Stake of Sound UNLIMITED!
GIUSEPPE OTTAVIANI PRESENTS LIVE 2.0
Electronic dance music producer Giuseppe Ottaviani will unveil the first full production of his new 'Live 2.0' show concept at Electric Daisy Carnival (EDC) Mexico on February 28th, 2016. The Live 2.0 concept is an evolution of his previous 'Live 1.0' performance concept wherein he recreated his original productions using live instruments onstage. Dance music fans can also catch Ottaviani's Live 2.0 performance at a number of large outdoor festivals throughout 2016.
Some may consider Giuseppe Ottaviani a mad scientist. Some consider him a music obsessive. One thing's for certain: the Italian-born collaborator who is a favorite of producers the likes of Paul van Dyk cares more about music than almost any other aspect of his daily life. Giuseppe Ottaviani is the musician's musician.
To think outside-the-box as a live performer, Ottaviani decided to scale his hardware to fit squarely inside a box. Doing so ensures that each venue – be it a major outdoor festival or a darkened nightclub – will meet the exacting performance standards Ottaviani requires with virtually no changeover time and no chance for rigging errors. Said Ottaviani, "Afterwards, I can just pack up my suitcase and get on the next flight!"
As a performer, Ottaviani is not a DJ and has never considered himself to be one. In fact, he is actually more of a live musician than a DJ. The lines of his Live 2.0 stage setup are as clean and sleek as his music is spontaneous and robust, with each note played a result of inspiration gleaned from the crowd surrounding him. Ottaviani's custom equipment setup may seem deceptively unassuming, though the aural mayhem he wreaks is anything but.
One of the elements that set Giuseppe Ottaviani apart from most electronic dance music DJs is that he plays only his own music, his own remixes, and his own bootlegs. Ottaviani's live setup involves keyboards, MIDI controllers and rapid access to not only every track and song he's ever recorded, but to the stems of every track, he's ever recorded. He also has access to an extensive sound library during live performances and this allows him to push his shows even further.
With the Live 2.0 setup, Ottaviani is now able to incorporate layers of sound so that he is actually creating new music in real-time. The resulting symphony consists of dancefloor-shaking original Ottaviani productions with live elements – strings, keys, percussion or effects, played spontaneously – so that no two shows are identical. Audience members won't see posing or guzzling of cocktails during an Ottaviani set; his mind and his hands are too busy devising new music on-the-fly. Together with the crowd, Giuseppe Ottaviani will be living the moment and having an intricate musical dialogue with his crowd each night.
With the new Live 2.0 setup, Ottaviani will embark upon an entirely new way of performing that's not been attained by other EDM artists. After this point, there will be no turning back.
SNEIJDER
Dubbed a leader of the current Tech Trance revolution, Sneijder possesses a distinctive aptitude of fusing together euphoria and darkness; a trait that sets him apart from many. His skill is evidenced by the vast number of chart- toppers he's created, including "Love of My Control" and "Away From Here," his recent singles "Neutralize" "Vaporize" "Viper" & "Polarize" are a masterclass in forward thinking, cutting edge club music.
Adding his unique sound to remixes for Armin van Buuren, Aly & Fila & John O'Callaghan have seen Sneijder become one of the most in demand artists in Trance. Releasing records regularly on the industries most respected labels and boasting a back catalog of hit records have helped cement his name firmly amongst the list of Irish greats.
In 2015, he unleashed his debut LP 'Everything Changes' upon the world, which showed off the true scope of his musicianship and additionally earned him countless accolades from peers and fans alike. His skills in production are hardly a surprise, with an immense knowledge of the dance floor paired with years of cutting his teeth on the club circuit, thus becoming well-versed in what sounds make the ears tick.
Now, the maverick has reached the next step of his career: label owner. Sneijder launched Afterdark as a platform for himself and other similar caliber artists in 2016, firmly asserting his iconic status in the underground. Afterdark stands for all things dark, original and dance floor orientated, while also playing its part by cultivating the careers of the next generation of the Trance Elite. It's safe to say Sneijder's path will only continue in an upward direction as he moves into the next phase of his already prolific career.
CHRIS SCHWEIZER
Still at the young age of 25 years old Argentinian Chris Schweizer has the world at his feet with his trademark big bassline sound fusing the boundaries between the big room sounds and trance. Signed to the mighty Armada Music label in Holland his releases are getting support from the biggest headliners across the globe including Armin Van Buuren, Paul Van Dyk, Ferry Corsten & Gareth Emery
His latest productions have been getting regular airplays on the worlds biggest trance radio show 'A State Of Trance' as well as entering the beatport trance top 5 chart!
With many more slamming productions forthcoming this year as well as major worldwide tours planned 2017 is going to be the year of Chris Schweizer!
SCOT PROJECT
Scot Project is regarded as a legend in the dance scene. The genius behind some of the most epic tunes in the mid-'90s and early '00s. Scot Project single-handed started the movement for the harder / edgier side of electronic music. One of the pioneers of Hard Trance!
It all started in 1986, fronting a youth club in Frankfurt, and from there took up residency in many clubs around a city well associated with the dawn of Techno/Trance. His first release was in 1994 X, followed by the massive Underground hit "U" in 1995 on Positiva Records. His international breakthrough came in 2001 with his well known ultimate Anthem "O" (Overdrive) that was a game changer for the genre of Trance music. A second home run came with L (Want your Love).
This took Scot Project on a journey around the globe for over a decade, performing at every major night club and festival on the planet, and regular appearances at landmarks shows like DanceValley, Sensation Black, Defqon1, Trance Energy, Tomorrowland, Global Gathering, EDC, Love Parade, Street Parade and the highest profiled clubs in the world such as Gatecrasher, Ministry of Sound, Godskitchen, Zouk, Limelight, Slinky.
His discography of over 250 productions includes massive tracks such as "G" (Ghost, "T" (Techem), "FM" (Feeling Me) and His Album "A1". Under his other aliases Arome, Tocs, and his latest project Supermusique!, he has released chart-topping remixes and tracks such as Arome Hands Up, TOCS 2. HIs superabundance of remixes and bootlegs includes artists like Marcel Woods, Sander van Doorn, Tiesto, U2, Daft Punk, Yoji Biomehanika, Organ Donors, Talla 2XLC, Public Domain, Lisa Lashes and many more.
In 2010, Scot Project received a genre Beatport Artist Award and has had the honor of being supported by many legends in the world such as Tiesto, Ferry Corsten, Paul Van Dyk, Armin Van Buuren, Paul Oakenfold, Judge Jules, Yoji Biomehanika, and many more. After collaborations with Artists like A.S.Y.S, Organ Donors, Mark Sherry and NO. 1 chart success like W (whooo!) EP, P (paradise), Found Love and Recently Top 3 Track "W5 (Waiting for) showed a new direction for the Legendary master.
2017 will see Scot Project continue his venture into a territory he has been building towards for the past several years. Scots sound is now comprised of a diverse fusion between Progressive, Electro, and of course trance in its tougher form. A sound that can only be dubbed as "Scot Project sound".
As music evolves on its exponential path, new artists are introduced and make their climb to the top every single day. Some artists go the way of history, and yet, a few from the past continue to re-build, re-fresh and re-connect with the electronic generation. Scot Project is one of those.
SHUGZ
Shugz (Christopher Kirkpatrick) is a name that has appeared to come out of nowhere on the Trance scene. Combining youth, energy, electrifyingly impressive deck skills and notable production ability, it doesn't take long to realize why there is such a fuss around this exceptional talent.
Shugz' DJ skills are arguably where his real talent lies. Relentless practice for years has to lead to an astounding array of deck wizardry, comparable to a very rare few in the scene. Often seen in sets using the 3rd deck, scratching, cutting & using layered effects, combining fast mixing and unexpected tune drops – Shugz is fast becoming a fan favorite. Having achieved local hero status in N. Ireland, Shugz recently debuted at the famous 'Luminosity Beach Festival' and was highly acclaimed as having the 'set of the night'.
Tickets:
Pre-sale – RM138
Door sale – RM158
VIP Ticket – RM168 (excluding 7.5% processing fee when purchase online) [VIP Entry Lane / Upper level VIP Area / 1x complimentary drink]