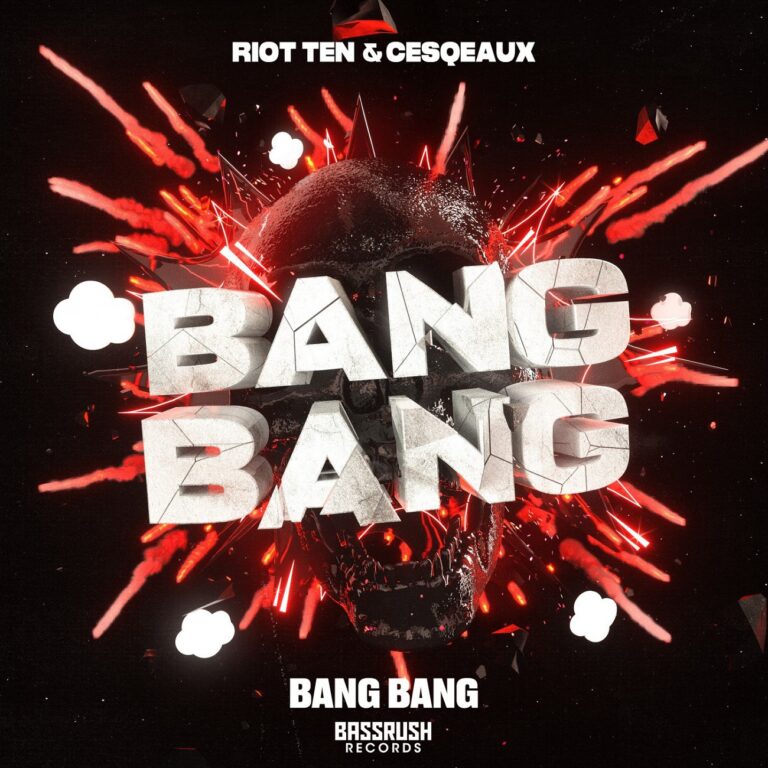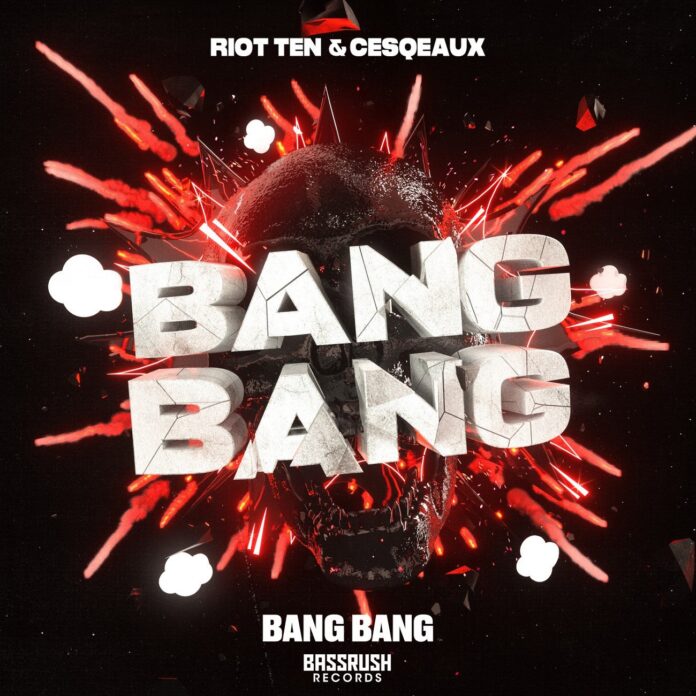 If a fist-pumping, adrenaline-rushing and gyrating track is what you crave, then the latest Bassrush release, 'Bang Bang' is for you. It is a collaborative release between the massive names in the Trap and Dubstep genres, Riot Ten and Cesqeaux. This song raises the heat with its sumptuous and rugged atmosphere. The track cranks up the energy dial to infinite levels as it pulsates and rises.
Riot Ten and Cesqeaux add razor-sharp, aggressive edge to their song, 'Bang Bang.' The tune is rough and acidic, with a lethal and merciless aura that will hit you hard. This mind-bending affair has a rhythmic intensity that allows some spacey elements to shine through. The track's strength comes from the extremely throbbing moments followed by slowed down, fervent sections. 'Bang Bang' is full of Dubstep flavors with oscillating, standout beats, and a deadly mix that is quite captivating. This electrifying delivery will enamor you in the ambient drift of its sensational and spine-tingling riffs.
This Bassrush release is massively tongue-in-cheek, with an array of raging pad work. The swingy rhythms circle with sharpness. Whereas the percussion are infectious, which drives the power-fueled and energized melody to keep you bouncing on the dancefloor. The catchy cadences with vocals snippets that soar high and allure the listener is definitely irresistible. Riot Ten and Cesqeaux portray elevated skills as they have managed to craft an impressive blend of propulsive orchestral elements that make for a thrilling ride. This Dubstep track is a total crowd-pleaser with chiming bass, and splendid synth stabs that offer an intoxicating vibe.
'Bang Bang' is a buoyant tune that is straight-edged and hard-hitting with percussive vibrancy. The intensity of this latest Bassrush offering stands out due to the outstanding rhythms and stellar energy. The skilled production and the level of detail have amplified the power of this cut. 'Bang Bang' is a riot inducing, club banger that will leave you breathless with its splendor.
Stream 'Riot Ten x Cesqeaux – Bang Bang' on YouTube below!
Streaming Options:
Riot Ten x Cesqeaux – Bang Bang Apple Music
Riot Ten x Cesqeaux – Bang Bang Spotify
Riot Ten x Cesqeaux – Bang Bang Soundcloud
Riot Ten x Cesqeaux – Bang Bang FREE DOWNLOAD
Riot Ten x Cesqeaux – Bang Bang Download
More Streaming Options HERE
---
More About Riot Ten:
At the young age of 22, Chris Wilson, aka Riot Ten, exploded into the world of electronic music with his unique blend of dubstep, hard trap, and electro. Signed to Steve Aoki's DIM MAK Records in 2017, with music out on Interscope, Never Say Die, Bassrush, and Rottun Recordings, Riot Ten's music has been supported and co-signed by the likes of DJ Snake, Porter Robinson, Zeds Dead, Excision, 12th Planet, The Chainsmokers, and more. His 2017 single "Fuck It" topped the dubstep charts for consecutive months and became a staple on The Chainsmokers "Memories Do Not Open" tour. This cross-genre success ultimately paved the way for his dubstep smash "Rail Breaker", which became the headbangers anthem of 2017 and 2018 and has remained one of the most played out songs in the genre in recent history. Following the release of "Rail Breaker", Riot Ten put out his debut EP "Hype Or Die: The Dead" in 2018, which recorded a top 10 debut on the iTunes "dance album" charts. He went on to release 2 more EPs in 2018 and 2019, and secured a presence inside Spotify's top electronic playlists, including Beast Mode, Hype, Dubstep Don, and others. As if that's not enough, Riot Ten released his debut 10 track album in the Summer 2019 just before he embarked on a 45+ city headline tour, selling out shows across North America, Australia and New Zealand. Riot Ten has also made stops at major festivals like Coachella, EDC, Nocturnal Wonderland, Electric Zoo, Lost Lands, Paradiso, Sunset Music Festival, and many more.