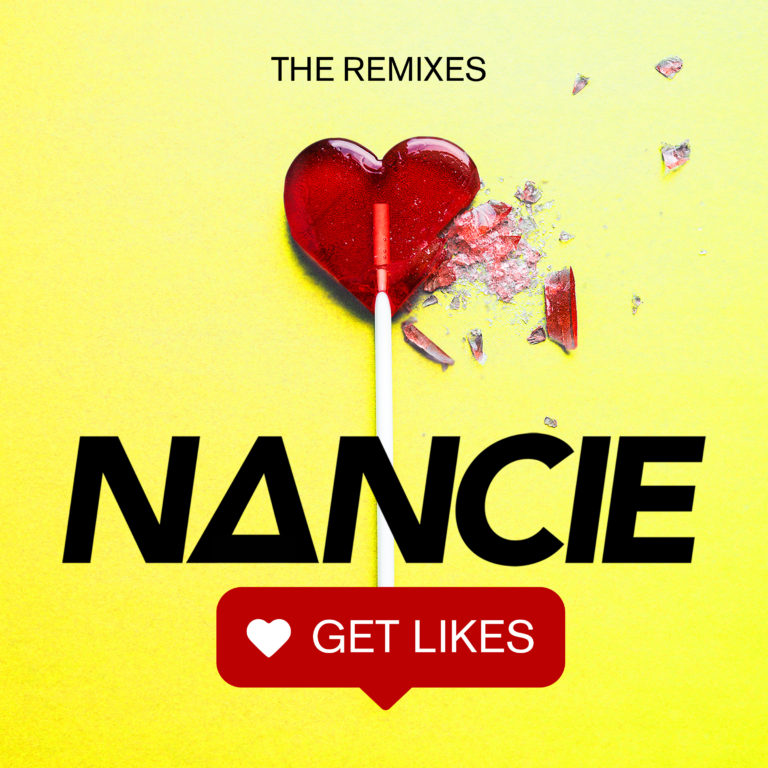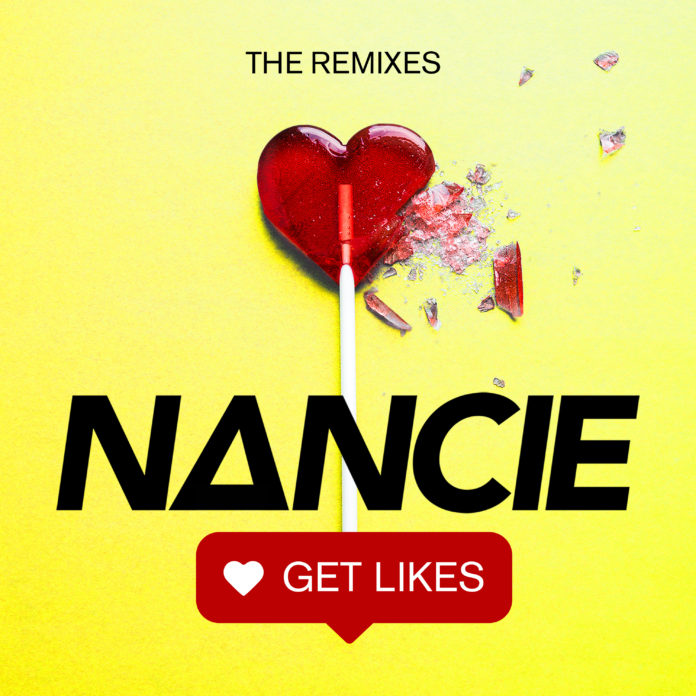 20 year old producer and DJ Mollie Collins has delivered a truly unique take on the debut major label release by the UK's fast rising female electronic musical talent Nancie. Collins' remix of 'Get Likes' features on one of two remix EPs that just dropped via Capitol Records.
Classically trained and unconcerned with the usual hyperbole surrounding DJs, Mollie Collins has displayed a diverse and riveting range in her production, and this remix 'Get Likes' is no exception! Beginning with a low BPM, she repeats Nancie's main vocal loop before quickly speeding up into a drum & bass frenzy. While Nancie insists she wants to "get likes on my insta", Mollie Collins is more concerned with the bassline, which ploughs through the track with unstoppable force.
Nancie's release has seen huge support in the UK from the likes of BBC Radio One's MistaJam, and it's been a big hit on Spotify, entering the viral chart at #4 ahead of the likes of Sigala. Elsewhere on this remix EP you can find house cuts from Anton Powers and Tom Zanetti, as well as BTAY, Sammy Porter & Jess Bays, Guz and This Culture. But it's the Mollie Collins rework that really caught our attention.
Nancie, the 24 year old singer, songwriter, producer and DJ wrote 'Get Likes' as a response to our growing obsession with social media. The song, which is instantly catchy, challenges the impact of social media status on young, impressionable people.
"The track is a tongue-in-cheek look at that world," says Nancie. "It's fun, catchy and enjoyable and it's planting a seed that says we don't have to be what society or social media says you should be. 
"Of course we use filters, we put photos up of us looking our best – but so many young women and men are trying to achieve these unobtainable looks by using extreme methods. I've been there, I've done it.  Yet, a lot of the time the pictures we follow have been edited. They're not real. People need to know that."
About Mollie Collins
Everything about Mollie Collins' approach, attitude, technique and rise smacks of the original spirit drum & bass was founded on.
Mollie Collins is rooted in club culture, from day one. No stat-obsessed check-my-Soundcloud-bruh online hyperbole: Mollie's passion for drum & bass is 100% IRL and grounded in the church that brought our original founding junglist fathers together. It's been this way since Mollie was 15, devoutly attended BPM under-18 events and squat raves until she was old enough to completely immerse herself in the culture. At 18 she exchanged her standard 9-5 to work every aspect she could in nightclubs: from street team trooper to party promoter, VJ to DJ… Mollie Collins has studied and contributed to the unique culture inside out.
"I love clubs. I love exploring new ones; feeling the different vibes, playing on different soundsystems. I know it sounds a bit nerdy but when I started DJing I started a list of every club I've ever played. I still add to it now…"
Two years deep into the 20-year-old's career, that list now boasts some of the most critical contributors to bass culture across Europe: Fabric, Printworks, Warning, Invaderz, Breakin Science, Eskimo Dance, One Nation, RUN, DNB Street, Innovation and festivals such as Color, X Music, One Dance, CT, Jeudgfresten and many more.


About Nancie
"The DJ industry is so male-dominated and I thrive off doing things society suggests we shouldn't do. Now, here I am. 
To have this opportunity is mind blowing."
At just 24, singer / songwriter / dj / producer and musician, Nancie, is on the road to stardom. 
This year alone, Nancie has performed at some of the hottest DJ events including We Are FSTVL, Made, Inside Out and Beat-Herder. This summer she'll hit 14 more – the resorts of BH Hotel Mallorca, Eden Ibiza, Zig Zag Malia, Pambos Ayia Napa and Sizzle Zante to name a few. Her recent signing to the world-renowned Capitol Records means she's hot on the heels of artists such as Calvin Harris – and she's determined to show the world that women are mastering the art of being a top DJ and singer-songwriter and producer, too.
Growing up in Birmingham, Nancie drew her musical inspiration from her family – particularly her grandparents who performed in theater and her mother, who went on to support Blondie with her own band. Locked away in her bedroom, she would listen to artists such as Amy Winehouse, Lady Gaga, Lily Allen and Lana Del Ray – marveling at and deciphering their "clever lyrics".
"They are raw," explains Nancie, as she opens up about the music that encouraged her to become an artist. "What they write comes from the heart and you can feel every word. I love songs that I have to think about, and unravel."
At just nine years old, Nancie joined the BRIT Youth Theatre. It was then that she discovered she had a talent for writing songs too. "I wasn't very good at expressing how I felt as a child," she reveals. "So I would write down how I was feeling. Then I'd pick out sentences and put them together to form poems or songs."
Unbeknownst to her, this natural talent of opening her heart out into a verse, would go on to help her through a particularly turbulent time at high school where she was heavily bullied.
"I was 14 when it started," admits Nancie. "My friends didn't know how badly it was affecting me and my parents didn't know the extent of it because I didn't talk about it."
Nancie's love of writing gave her an outlet to express her despair – and she soon found herself writing entire songs. "At the same time, singing was becoming a release for me, too," she says. "I would let it all out through my voice. People talk about the power of music therapy. Well, music really has been therapy for me."
That same year, Nancie set foot into a recording studio for the first time and with a family friend teaching her the ropes of studio work, she began recording songs and developing a love for production.
"By the time I reached 16, I was ready to leave school and knew I wanted to be a musician," she says. "I got a job as a waitress instead so I could earn as much money as possible to pay for my studio time."
It's not hard to imagine how differently Nancie's path could have gone from here. Yet here she is, passionate, ambitious and bubbly – full of positive energy – and certainly not afraid to discuss how she feels. 
"I grew up very quickly," she said simply. "By the time I was 20, when my friends were at University, I was already a singer, songwriter and producer – and I was ready to take the next step. I wanted to add to what I already could do – and that's when I discovered DJing.
"And so I enrolled myself into a DJ Academy to learn the technical side of DJing and spent a lot of time with friends who are established DJs, observing and learning from them."
However as most up-and-coming artists testify, becoming a successful name in the world of DJing isn't as straightforward as showcasing talent – and Nancie suddenly found herself being open to scrutiny once again, this time from fellow DJs.
"I'd turn up at the club and be sick outside," she reveals. "I'd be so nervous. I worried so much about whether people would like me. It's tough when you put yourself out there; to be watched and scrutinized like that."
Ironically, it was her school experience that gave her the strength and confidence to persevere, eventually leading to her thrilling country-wide club audiences with house, bass and techno mixes of throwbacks classics alongside a few of her own songs, giving them a show that – in her words – "blows their minds".
"The DJ industry is so male-dominated and I thrive off doing things society suggests we shouldn't do." she says excitedly. "That's when my 'show' personality came out and I loved it."
There's certainly something to be said for an artist who isn't afraid to be themselves, especially in the current climate where social media platforms open up the opportunity for direct judgement to be delivered straight to your inbox. 
For Nancie, coming out was something that happened at the right time and she was grateful to find her family and friends were supportive. 
"My parents have been amazing," she laughs. "I know a lot of people would have struggled with it but they supportive. I mean, I left school at 16, told them I want to be a singer and a DJ, and then that I'm gay. I am lucky to have them. Others made a few comments, but that just showed me who my real friends were. My close friends weren't bothered at all." 
Then there's being able to handle the negative elements of being growing up in the social media generation. 
"On one hand, social media is amazing – it's the perfect platform for showcasing your work, to keep in touch with people in a professional capacity and interact with your audience," she says. "But that same social media can also be dreadful too. I know because I experienced that flip side first hand."
It was only a few years ago, while still in the early years of her musical career, when Nancie found herself obsessing over her body image. Not liking what she saw in her pictures, she experimented with weight-loss programmes, designer clothing and even started using fillers. 
"I went too far," she admits. "One day I looked at a photo and realized my face didn't look like me anymore. I was finally hanging out with the 'cool' girls and I thought this is what I also had to do to be 'cool'. Luckily, my parents helped me to realize things had gone too far. The day I recognized just how much I had changed was a revelation."
This revelation was the inspiration for her upcoming single 'Get Likes', in which she challenges the impact of social media status on young, impressionable people.
At the end of last year, Nancie's hard work and passion finally paid off as she signed to Capitol Records. She now sits alongside an impressive roster such as Sam Smith and pop-rock sensation 5 Seconds of Summer. "That was the best Christmas present a girl could ask for," she beams. It is a dream come true. To have this opportunity is mild-blowing."
With her growing career as a DJ and music artist firmly in front of her, Nancie says she wants to use her new-found platform as an artist to help young people to focus more on their talents and dreams than body image.
"Finding your identity is tough," she says. "It is all about who's around you, what you watch, read and listen to. I hope I can help be a voice to help anyone struggling through that, because I have experienced it.  
"I have finally reached a place    in my life – where I am proud to be who I am. Career-wise, I am where I want to be and I'm so honored to have such an incredible record label believe in me.
"Music really helped me to get through those times. It has helped me understand my feelings and have confidence in myself. Hopefully I can pass that one, somehow."
Follow Us on:
Spotify
Soundcloud
Youtube
Facebook
Twitter
Instagram