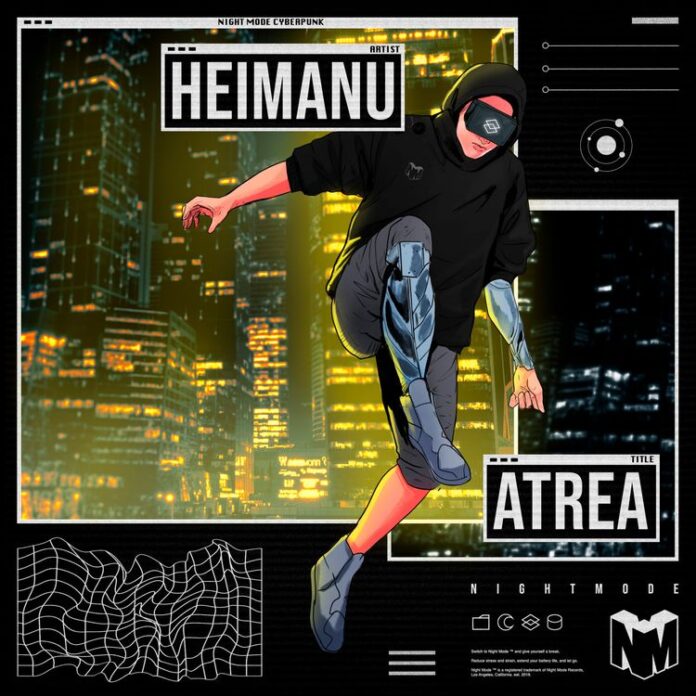 Over a week before the release of the Cyberpunk compilation by Night Mode Music, coming out on November 20th, we get to hear the amazing new single Heimanu – Atrea. It is another sensational Nu Rave music release from the Sydney-based innovative music producer that will rush the adrenaline-spiked blood in your veins. This hair-raising number is sampled with dark energy that pushes you into an exotic realm of ecstasy. 'Atrea' is a surreal journey with mysterious vocals and crawling elements that rise and drop with a swift effortlessness. The seductive and raspy vocal creates an eerie atmosphere, whereas the fearless beats build-up, resulting in an ear-melting rendezvous.  
Heimanu – Atrea comes storming with throbbing percussion and bubbling synths that fizz wildly. The rhythmic cadence and warm lyrics of the track give the environment a pulsating push. This Wave influenced Nu Rave music track explodes with deliciously arranged audacious bass and vivacious riffs that surround your senses with palpitating energy. Heimanu's fierce musical narrative juxtaposed with illusory elements is a solid addition to the upcoming Cyberpunk compilation by Night Mode Music. This exciting song vibrates with an uplifting pulse, which gives the lyrical affair its mesmerizing beauty. 
Heimanu – Atrea pushes the envelope with a Nu Rave music sound relishing the sinful vibe. This Night Mode Music release is structured with next level sound design, making this track a magnetic affair. On this Cyberpunk compilation feature, there is a constant mystery that keeps the listener entrapped. The song creates its own sensual symphony, sparkling with ingenious basslines and edgy synths. 'Atrea' buzzes with melodic layers, which transforms into cinematic drops filling the track with an obscure ambiance. Post-drop, the song gets a sudden jolt of a rising momentum that will definitely leave you open-mouthed. Heimanu successfully delivered a stunning number with nuances that proves his versatility. This tune is just as addictive as his collaborative track with TWERL entitled 'Night Rider.'
'Atrea' by Heimanu is an astonishing delivery, featuring hypnotic waves of trunk-rattling rhythms and vivid synths that culminate with an exuberant grace. The song has a jaunty flow with a phenomenal aesthetic sense. It is an amazingly crafted song that is unified by alluring vocals and electrifying twists. This artist is definitely one to watch, his next-gen Nu Rave sound is extremely addictive!
Stream 'Heimanu – Atrea' on Spotify below!
Streaming Options:
---
More About Heimanu:
Heimanu focuses on creating the 'NuRave' sound which displays euphorically energetic builds, powerfully melodic drops, and lulling atmospheric breakdowns. He couples rave sounds with crunchy basses designed to give his emotional writing a darker edge.
Heimanu wants to give you a feeling you haven't quite felt, in a world that isn't quite here yet. Let him be your guide into the future that is NuRave.
Among the chaos of the world, you find yourself free to express the emotions you withhold in a realm of anonymity. It is exclusive, but it is inclusive. And you are welcome.
This is the sound of the future.
This is NuRave.