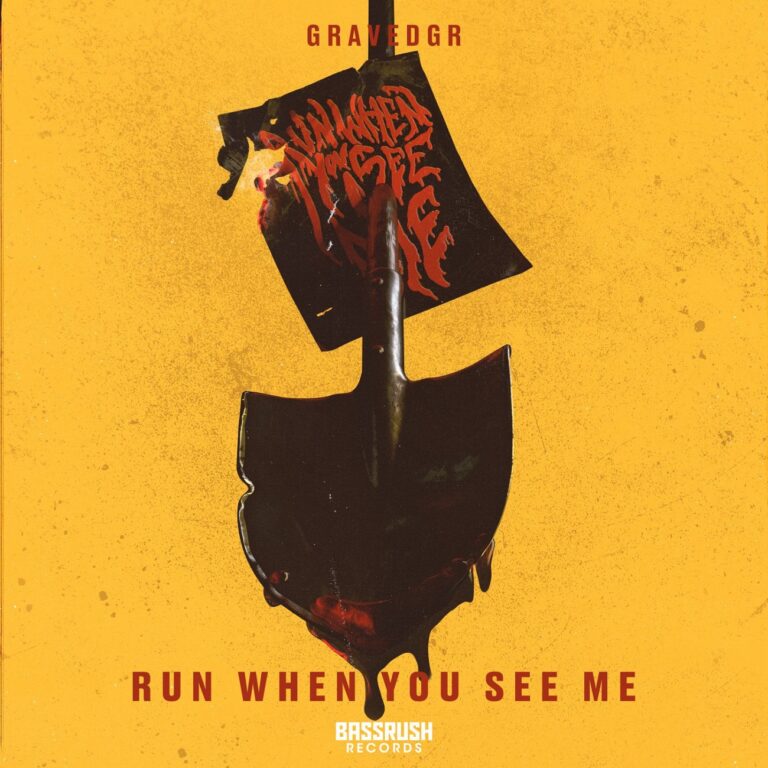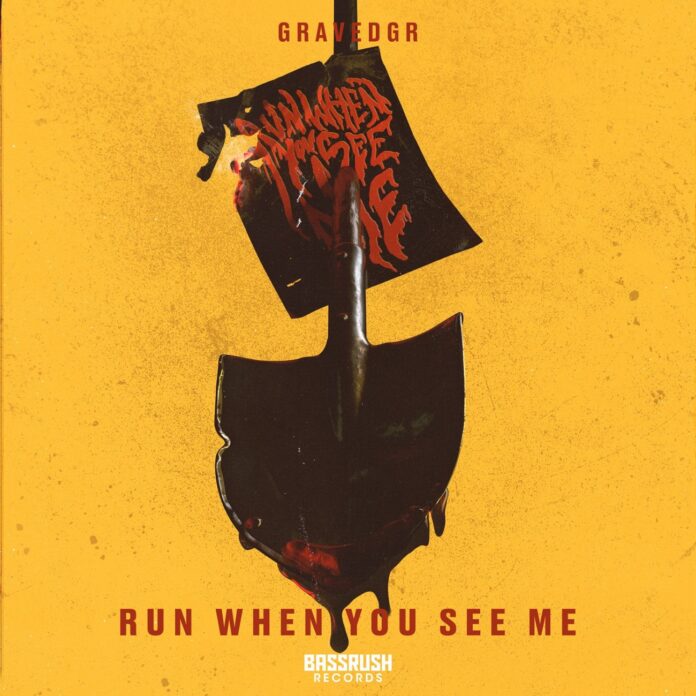 If you are still headbanging to GRAVEDGR's hair-raising album, '6 FEET UNDER,' we have some good news for you. Some new GRAVEDGR music is out. Yes, the mysterious artist is back once again with a menacing and heart-shattering Dubstep tune called, 'RUN WHEN YOU SEE ME.' So, get ready to feel the angst, chaos, and turbulent conflicts wrapped in this musical composition featured on the Bassrush 2021 portfolio. GRAVEDGR – RUN WHEN YOU SEE ME commands attention and demands that the listeners lose themselves into the dark, symphonic dimensions.
GRAVEDGR – RUN WHEN YOU SEE ME does not waste time unraveling itself. Rather the track launches with fluctuating instrumentation that leads into ominous structures and dramatic basslines. The veracity of the sinister rhythms induce a suspenseful atmosphere throughout this crazy track. The song will leave your muscles and nerves twisting into knots with the promise of foreboding release and edge-of-your-seat kind of tension. This new GRAVEDGR music rises and falls into moments of sheer struggle with epic restraint and caution. The combination of distorted throbs and kick, layered with massive synths, and intense vocal effects lead the tune into looming darkness. Nobody is ready for this addition to the Bassrush 2021 catalog.
This new GRAVEDGR music features forceful percussion along with potent use of hi-hats and fierce drums. The track will let you blow up all the pent-up frustration while descending into waves of deviant rowdiness. GRAVEDGR – RUN WHEN YOU SEE ME is an intense amalgam of melancholic structures and hardcore elements that will fire up your senses. This Bassrush 2021 release is charged with ripe and vigorous rhythms that do not lose their magnetism for even a second. GRAVEDGR has once again proved that his brand of Dubstep music is all about rattling and challenging the done-to-death sounds. He brings a fresh and personal perspective to rage and mosh-pit-inducing releases, all neatly tied in edgy destructiveness.
Stream 'GRAVEDGR – Run When You See Me' on YouTube below!
Streaming Options:
GRAVEDGR – Run When You See Me Apple Music
GRAVEDGR – Run When You See Me Spotify
GRAVEDGR – Run When You See Me SoundCloud
GRAVEDGR – Run When You See Me FREE DOWNLOAD
GRAVEDGR – Run When You See Me Download
---
More About GRAVEDGR:
Take one look at GRAVEDGR, and it's easy to see where his name comes from – constantly donning black attire and his signature face mask. It's no surprise that his day job is literally digging graves. All the time spent contemplating mortality must have inspired his musical sound. Which can be summed up as simultaneously scary, melodic and hard. His wildly popular debut single "RAMPAGE" has amassed over 13 million streams on Spotify alone. That single placed him firmly on the map, and was quickly followed up by the equally relentless "JESSE JAMES," "BE WARY," "KAMIKAZE. GRAVEDGR is currently on tour in the US, so check out the dates below and catch him in a city near you. With GRAVEDGR – Run When You See Me, he is looking unstoppable.
---
Looking for more tracks like "RUN WHEN YOU SEE ME"?