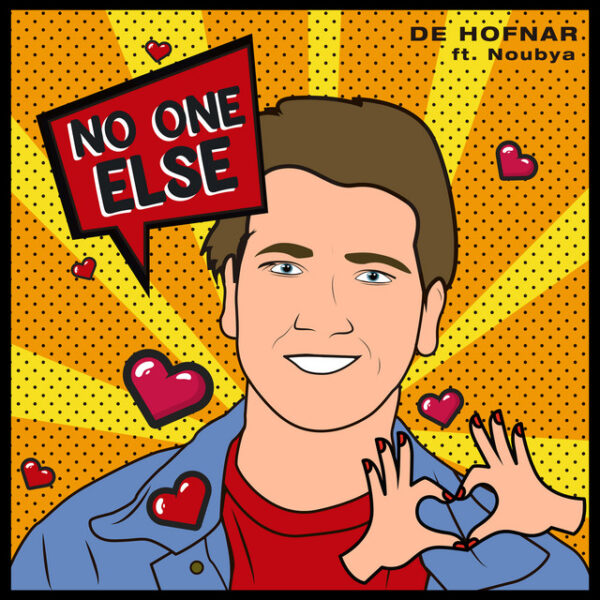 De Hofnar first gained recognition as a producer when he released his groovy track, 'Zonnestraal' in 2013. A perfect party banger, the song became a massive hit on the deep house scene and has been streamed more than a million times on Soundcloud alone. Ever since the release of this sax-driven track, he went on to impress the EDM fans by dropping many melodic tracks including, 'Feelings,' 'Never Can Say Goodbye,' 'Superstar', and 'Style.' All of these tunes prove just how incredible he is at producing soulful Indie Dance music. Hofnar has now teamed up with the talented singer-songwriter Noubya to release his latest song called, 'No One Else.' This track contains a huge Indie Dance / Nu Disco groove. It is an extremely addictive track that will leave you mesmerized by its infectious rhythm. 
Hailing from the Netherlands, De Hofnar's latest release 'No One Else' features some shimmering elements that evoke a feel-good energy. The track has a charming melody, some impressive key work, and a warm, summery vibe that will complement the environment. He has molded this gem with oustanding creativity to bring a graceful groove that raises the bar for Indie dance music. 
De Hofnar's production style and Noubya's silky vocals work like magic on 'No One Else.' The song has an funky bassline, eloquent synth, and spellbinding key changes, all of which come together to create a fresh rising tune. Contrasting the bustling feel with warm vocals, the track conveys a sense of relatable emotion. This is a stellar tune with heartfelt melody and soothing rhythm, making it an enthralling release for the fans of Nu Disco and Indie Dance music. 
De Hofnar has a keen ear for all things emotive and uplifting. His latest track 'No One Else' is simply majestic. Driven by warm pads and lush melodies, listening to this track is truly a blissful experience. Plus, the smooth vocals of Noubya acts as the cherry on top. We have this track on repeat and can't wait for him to treat us with more of such melodic releases. 
Stream 'De Hofnar ft. Noubya – No One Else' on YouTube below.
You can also enjoy the song on Spotify and Soundcloud!
More About De Hofnar:
De Hofnar developed a truly unique house & disco influenced style, going for a decent 80's vibe in his upcoming production. Being an internationally acclaimed artist, his tracks and official remixes for the scene's biggest names like Tiësto and Amin van Buuren count millions of streams. He started producing in his early childhood and after experimenting with electronic and classical sounds, he knew where his future lay. This combination does not only result in unique productions, but also in one-of-a-kind melodic DJ sets. True to his motto, he always manages to give his audience what they deserve: "You are the king, I'm just here to entertain you!"
More About Noubya:
Inspired by her grandmothers piano playing and her aunt's singing skills, Noubya started performing live at the age of 15. Only a few years later she got discovered by Alain Clarks manager and started her professional career as a backing vocalist in his band. Working closely with an artist in the prime of his career sparked the desire to start her own solo project, which attracted the immediate attention of national radio and TV stations.
Connect With De Hofnar:
Join Us On: