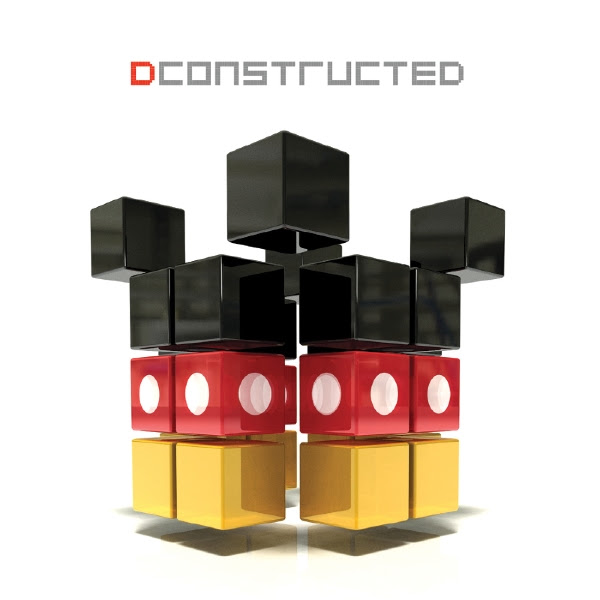 Walt Disney Records' DCONSTRUCTED, a comprehensive compilation of classic and current music from the longstanding Disney catalog remixed by today's hottest DJs/producers from across the globe, continues to delight audiences and win fans both new and old. The 14-track collection features reworks of material from the multiple Academy Award®-winning films The Lion King and Frozen, as well as two of Daft Punk's contributions to TRON: Legacy.
To celebrate the album's release Disney has created a collection of music videos:
"Let It Go" (Armin Van Buuren Remix)
https://www.youtube.com/watch?v=pI2bIJaLIp4&list=UUgwv23FVv3lqh567yagXfNg
"Circle of Life (Mat Zo Remix)
https://www.youtube.com/watch?v=1q9Afl938pY&list=UUgwv23FVv3lqh567yagXfNg
"Derezzed" (Avicii Remix)
https://www.youtube.com/watch?v=Oj5q3QassmM&list=UUgwv23FVv3lqh567yagXfNg
"The Muppet Show Theme" (Shy Kidx Remix)
https://www.youtube.com/watch?v=KtVbei504FA
You can purchase the album wherever music is sold.
Beatport – http://www.beatport.com/release/dconstructed/1287813
iTunes – https://itunes.apple.com/us/album/dconstructed/id843864744
EDM superstars Avicii, Armin Van Buuren and Kaskade are among the electronic dance music luminaries that have lent their formidable skills to these timeless favorites. The reworked material ranges from more recent heartwarmers from Monsters University, The Incredibles, and The Muppets to beloved and lasting sounds from the Hawaiiaanette album featuring the beloved Mickey Mouse Club darling, Annette Funicello, Toy Story, Sleeping Beauty, Dumbo, as well as music inspired by the original Mickey Mouse cartoons, and the enduring theme from the Disneyland Park's Main Street Electrical Parade.
The blending of the orchestral world of Disney with the synthetic sounds of the electronic world brings out fresh flavors. The recognizable cries and roars of The Lion King's "Circle Of Life" mix headily with Mat Zo's growling basslines and razor-sharp synth stabs. Daft Punk's abbreviated "Derezzed" is freshened up with vocals courtesy of Negin and extended with Avicii's twinkling rhythms. Similarly, the previously unreleased Japanese Popstars Remix of Daft Punk's "Fall" stretches out that track's inquisitive beats with layers of echo. The newly minted Oscar® winner for Best Original Song "Let It Go," is transformed to a peak-of-the-night banger with Armin Van Buuren's tranced out take on Idina Menzel's sparkling vocals.
Says Van Buuren, "I feel incredibly honored to have remixed an Oscar-winning song—though I didn't know that yet when I started."
"My first remix of Daft Punk's TRON:Legacy was so long ago, but it was a significant moment of recognition in my career," says Avicii. "It's great to be a part of it again, to refresh the track, and to let everyone hear Negin's voice."
The makeovers of these universally appealing songs show off their renovations the most when the sounds from over half a century ago are brought to the present time. Stonebridge takes inspiration from the immutable Mickey Mouse cartoons for his new track, "Hey Pluto!" which takes Mickey's identifiable squeak and Pluto's barks and uses them as sound effects for the track's creeping shuffles. Snippets of Sleeping Beauty's carousel-like "Once Upon A Dream" are interspersed through Trion's tweaked out remix and much of Main Street Electrical Parade's feelgood vibe is maintained for the updated Extended Mix. Kaskade's crafted approach to Dumbo's sentimental "Baby Mine" maintains the original's emotions bringing those to the present time with softly rounded beats and gently building house rhythms.
DCONSTRUCTED track listing:
1.     "Circle of Life" (Mat Zo Remix) – Carmen Twillie & Lebo M. The Lion King
2.     "Derezzed" (So Amazing Mix) Remixed by Avicii featuring Negin– Daft Punk TRON: Legacy
3.     "Let It Go" (Armin Van Buuren Remix) – Idina Menzel Frozen
4.     "Roar" (Yogi Remix) – Axwell & Sebastian Ingrosso Monsters University
5.     "Partysaurus Overflow" – BT & Au5 Inspired by the Toy Story Short Partysaurus Rex
6.     "UNKLE Reconstruction" (U.N.K.L.E.) – Michael Giacchino The Incredibles
7.     "Fall" (Japanese Popstars Remix) – Daft Punk TRON: Legacy
8.     "The Muppet Show Theme" (Shy Kidx Remix) – The Muppets The Muppets
9.     "Hey Pluto!" (Stonebridge Remix)– Stonebridge Inspired by Original Mickey Mouse Cartoons
10.  "Once Upon a Dream" (Trion Remix) – Bill Shirley & Mary Costa Sleeping Beauty
11.  "Main Street Electrical Parade" (Extended Mix) – Shinichi Osawa Disneyland® Park
12.  "You've Got a Friend in Me" (Alfred Montejano Hyper Remix) – Randy Newman Toy Story
13.  "Baby Mine" (House Version) – KASKADE Dumbo
14.  "Pineapple Princess" (Kinsey Moore Remix) – Annette Funicello Hawaiiannette
For more information on Walt Disney Records' releases, please visit Disney.com/music, become a fan at Facebook.com/disneymusic or follow us at Twitter.com/disneymusic.  To purchase Disney music, visit the online store at www.disneymusicstore.com.