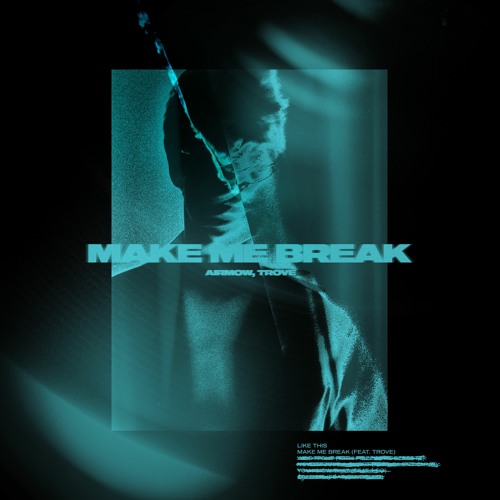 Airmow – Make Me Break (feat. Trove) is a new Cloudkid release which takes you by surprise. Airmow (real name 'Antonin Lemiere') is a French producer who gained recognition for his instrumentals on his YouTube channel 'TechnixBeatz'. After clocking up seven-figure view counts on this channel, he started experimenting with vocalists. He also started to inject some elements of Electro and Synthwave into his music. This is the Airmow style that's featured on the amazing track 'Like This'. This has gained him great traction in Europe and the US. Fans of Monstercat may also have been waiting for new Trove music, the featured vocalist on Airmow – Make Me Break. Trove is a versatile singer who has lent his voice to a lot of great electronic music. This track is no exception.

This new Cloudkid release makes a big entrance. An overblown synth riff, although catchy, prepares you for some garden variety sonic assault. But we start to get clues, quite early on, that this track will be anything but normal. The percussive rhythms are full of unusual timbres. The sounds are cleverly-spaced out. They have an all-encompassing quality about them. At certain points Airmow – Make Me Break sounds like an ASMR video. All of this is happening while Trove's voice soars effortlessly over the top. Nothing is confused or jostling for position in the mix. The track is utterly engaging but totally ambiguous in its intentions. An 80's-style snare roll indicates a drop, but it only makes things more confusing. We arrive at the precipice and it becomes clear; Airmow got you good.
This drop will prompt an involuntary bass-face combined with an expression that says 'wtf' (in a good way of course). Do not listen to this this new Cloudkid release in the vicinity of a mirror. The sound design on Airmow – Make Me Break is an impressive showcase of the skills that Lemiere has built up over the years. The cool, clean 80's-infused aesthetic feels like the soundtrack to a heist movie. The grinding, Electro bass lines are no-nonsense crowd-pleasers. We're expecting more new Trove music soon and some big things from Airmow in the future.
Stream 'Airmow – Make Me Break' on YouTube below!
Streaming Options:
Airmow – Make Me Break Apple Music
Airmow – Make Me Break Spotify
Airmow – Make Me Break Soundcloud
Airmow – Make Me Break Free Download
Airmow – Make Me Break Download
More Streaming Options HERE.
---
More About Airmow:
Antonin Lemiere starts the project "TechnixBeatz" in August 2015 with the opening of his Youtube channel "TechnixBeatz" which will become "AIRMOW"
Very quickly, with about a rhythm of one instru per week, the project gains in visibility. One of its instrus has more than 1 million views.
However, the production of instrus (beatmaking) tires him quickly because he feels limited in his creation. The AIRMOW project was launched at the end of 2016, here the style of the artist is more oriented to "Electro". AIRMOW releases its first song "Sundrop" on Soundcloud. In search of his style, AIRMOW then released several other titles like "Out of my mind" or "Birdsong" (supported by Thomas Hayden).
In February 2016, Airmow signed her first song "Miss You" in collaboration with John Wolf and Nora Suknaic at "Imminent Network" which has more than 70,000 plays on Soundcloud. Highly motivated by this first signature, AIRMOW continues to produce songs including many remixes. But it comes out very little on soundcloud.
After several meetings and a lot of work, AIRMOW finally finds his style more oriented "chill & future bass". Inspired by artists such as Flume or Louis Futon, AIRMOW released its first "TRUE" song at the English label "Tuvali": "Nothing To Loose" in collaboration with "SHADOWKEY" (who wrote the lyrics) and "Chelsea Paige" ( the singer).
He signed a little later in an agency "TribudeNuit" very interested in his profile as an artist.
Very motivated, AIRMOW chain then the "release" with remixes like the VERITE-SAINT remix (which has success on Soundcloud since the piece has more than 60 000 plays and which has been supported by many other artists such as "The Chainsmokers ") or a cover of" Marshmello – Silence "(which has over 40,000 plays on Spotify)
AIRMOW then released his song "Big City Life" with the singer "Tyve". This was signed at the Dutch label "Chill Planet" (very recognized label in the style Chill, Future Bass since it has more than 100,000 followers and is followed by many DJs like "Martin Garrix", "Snavs"). Upon its release, in February 2018, this title was quickly rested and supported by many other artists like The chainsmokers, Showtek, Merk & Kremont, Brooks, Snavs, Shaun Frank etc ….
Many songs are coming (signed pieces, finished pieces but not yet signed, and songs missing a singer) including the title "U know" in collaboration with Sam Koxx and Tyve who is very funky and had very good feedback from many artists such as Offenbach or RetroVision. He now found a home on Cloudkid with a unique mingle of Synthwave and Electro with Airmow – Make Me Break!