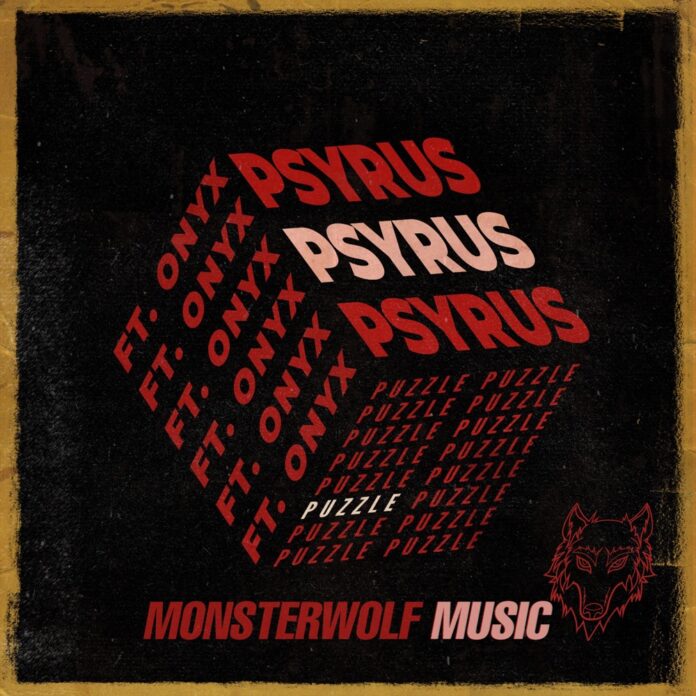 Founded by Andrey K, PSYRUS is an innovative bass-heavy group from St. Petersburg. They are famous for crafting their songs with uniquely creative ideas which helps them to deliver something fresh and different each time. They are famous for their songs like, 'Nutcase,' 'Wicked Visions,' 'Drown', and 'Hitcher.' The guys have also collaborated with the Ragga Twins on the track, 'Nobody Like Us.' This song became a club anthem and received more than 10k hits on Soundcloud alone. PSYRUS has now come out with another banger, 'Puzzle.' This song features vocals from Onyx. Released by Monsterwolf Music, it is a hard-edged Trap song that offers a crazy vibe that is perfect to energize the crowd at big festivals and clubs.
PSYRUS and Onyx have done their magic on their collaborative track, 'Puzzle.' It opens with a few bells and sirens before Onyx greets the listener by dropping a sick verse. The song then slowly builds towards an earth-shattering drop where bone-shaking basslines and percussion dominates. Issued by Monsterwolf Music, the track serves as a stellar release that will overwhelm you with its powerful conventional overtones. It is a perfect Trap meets Hip Hop cut that will surely make people throw gang signs. 
'Puzzle' by PSYRUS and Onyx is a track of its kind. The song gives off an intense vibe and features an interesting blend of infectious vocals and flamboyant rhythms that will make you want to lose yourself to the music. It has an explicit musical realm on infusing the flashy synth stabs and drives up the energy with Onyx's vocal ability. This Monsterwolf Music release has some penetratingly witty vocals and captivates the listener with its powerful aura.
'Puzzle' boosts clever wordplay, poised production with hard-hitting beats, and blown-out melodies that all elevate the overall energy of the song. The chunky riffs of this track are hard to resist. A point of note is the energetic vocals by Oynx who thrills the listener with his delivery throughout the track. PSYRUS has done a commendable job in structuring this song and we can't wait for their future releases. 
Download 'PSYRUS – Puzzle (feat Oynx)' HERE and stream the song on YouTube below!
---
Connect With PSYRUS:
Join Us On:
---
More About PSYRUS:
The awesome band PSYRUS from St. Petersburg was founded in 2016. The name PSYRUS or Russian Psycho was born by itself: trolling the stereotype that Russians are considered "a little crazy" in the whole world.
Russian guys create quality EDM music with a meaning that makes people think. A cool start with a Hitcher clip that just hit the internet. Over 1,500,000 views per week. A scandal with Russian hackers during the presidential election in the United States has become popular. PSYRUS supported the World Cup in Russia in the summer of 2018 with an amazing clip in collaboration with the most famous reggae twins in the world, Ragga Twins. Respect, if these PSYRUS tracks are on repeat!
The band has very ambitious plans for 2020. The guys don't plan to stop. Follow the news!
PSYRUS band:

Andrey K – founder, vocal / MC
Tony Checkmar – drums
Sergey Toom – guitar