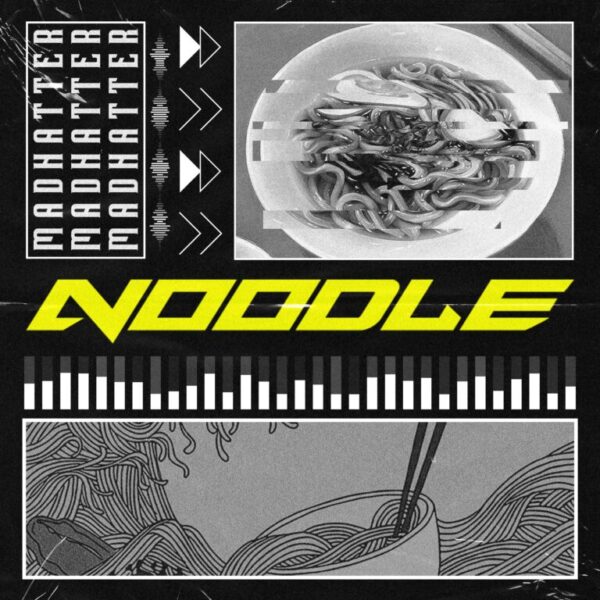 Hailing from Texas, Madhatter! is a one of a kind EDM producer whose distinctive style of music has helped him stand out on the electronic music scene. His signature sound has also won him the support of superstar DJs like GTA, NGHTMRE and Crizzly. Over the last few years, he has not only gone on to perform at many popular festivals such as Imagine Festival and Middlelands but also got to officially remix Dillion Francis' hit single 'Say Less' which featured the famed rapper, G-Eazy. He is now back with his latest party song, 'Noodle.' It has got all the makings to become one of the top dubstep songs of 2020.
'Noodle' by Madhatter! is not like your regular dubstep release. This song is special with a unique sound design that will quite easily captivate the listener. It's a powerful composition, with percussive instruments that have a resplendent shine. An ingenious fusion of hands-up-in-the-air euphoria and relentless club beats, it is definitely the kind of party song that will make you throw gang signs. Combining a massively driving bassline with skillfully arranged synths and aggressive melodies, there is no doubt that it will find its way in Beatport's top dubstep songs of 2020 chart.
'Noodle' echoes the pulsing feel of a high pitched tone that splashes the mesmerizing rhythms of this energizing cut. This track comes packed with frantic synths, wild percussion and rib-rattling basslines, making it an ideal pick for the fans to include it in their list of the top dubstep songs of 2020. It is a highly addictive track that oozes perfection.
Madhatter! gives 'Noodle' a very sonic texture while still holding that intense tone you expect to hear from him. His latest release is wrapped around the brittle kicks and hard percussive elements which is what makes it a serious stomper. It is an enthralling affair that will hold its grip on you with its intense melodies and strong destructive aura.
This party song by Madhatter! is what dubstep music is all about. We are extremely thrilled to premiere 'Noodle' and can foresee him dominating the genre even more with his future releases.
Stream the Premiere of 'Madhatter! – Noodle' on YouTube below!
More About Madhatter!:
My name is Brett Hopkin. I produce bass music under the alias 'Madhatter!' out of Austin, TX. I teach Ableton, Music Theory, and Mix/Mastering at Dub Academy in Austin, TX.
I'm originally a saxophone and guitar player. I studied Sound Recording Technology at Texas State University and began producing electronic music in 2013 as Madhatter!. I really believe my sound is unique in the EDM world because of the array of influences from training as a classical musician and also being a kid who loved super heavy and aggressive music.
Brett Hopkin a.k.a 'Madhatter!', is a Multi-Genre Electronic music producer and saxophonist from Cibolo, Texas. Attending Texas State University in San Marcos, Texas, he began producing in early 2013. Being an All State Saxophone player in High School, playing in different kinds of bands, and writing and performing classical music previously for years helped fuel the momentum of understanding this new frontier of music for him. 'Madhatter!' has made appearances on music festivals around the U.S such as Middlelands, U.M.E, Lights All Night, Illfest, and Imagine Festival. He recently won the official remix contest for Dillon Francis for his song 'Say Less' feat. G-Eazy in 2017. With support from people like NGHTMRE, GTA, Jayceeoh, and Crizzly, Madhatter!'s aggressive style across genre borders makes his musical message unique and authentic, and is sure to deliver a memorable experience to anyone who comes across him. "We learn most about ourselves from the things we know least about, gain your Wisdom Through Mystery"
Connect With Madhatter!:
Join Us On:
---