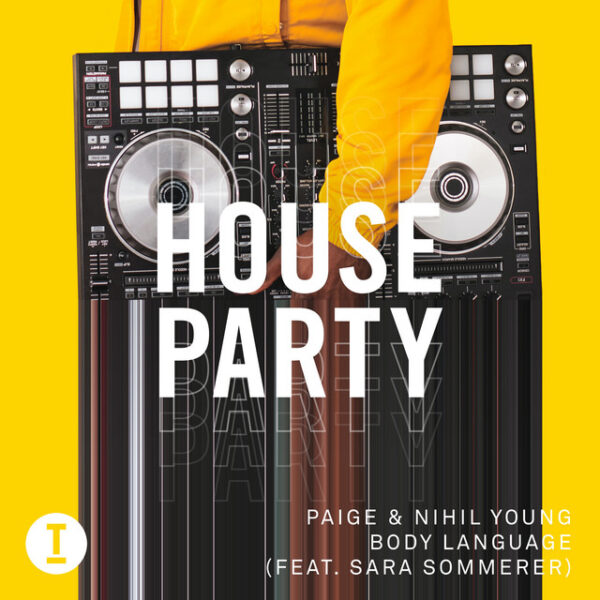 Whenever Paige and Nihil Young collaborate, magic is bound to happen! Together, they have released mesmeric hits such as 'Not the End' and 'My Eyes.' They are now back with another collaborative banger entitled 'Body Language.' The track contains the soothing vocals of the famous songstress Sara Sommerer. Issued by Toolroom Records, this song is a melodic deep house cut that will entice you with its quality production and extremely creative sound design. Paige & Nihil Young created a luxurious atmosphere with their vision while Sommerer showcased her vocal abilities to make it a smashing cut. 
'Body Language' by Paige, Nihil Young, and Sara Sommerer is truly top-shelf deep house music. The track has a really catchy melody, making the entire song sounding like an upbeat dance ballad. It features mesmerizing synths and deep bass patterns that are both nostalgic and exciting in their familiar uniqueness. The beautiful vocals of Sara Sommerer are what gives this song its charming and inviting aura. Her voice compliments the lyrics and adds a special smooth touch to the track. Released by Toolroom Records, this mingle of old and nu school House music elements is an elegant cut that offers vivacious musicality. The trio overwhelms the listener with the song's enchanting vibrations.
Paige & Nihil Young's 'Body Language' with Sara Sommerer offers a fresh style, lively melodic textures, and an invigorating rhythm. This spellbinding collaboration between these uber-talented artists is an adventurous and immersive musical journey. We really hope that these brilliant producers work together again to bring us more magnificent releases like this one.
Stream 'Paige & Nihil Young – Body Language (feat. Sara Sommerer)' on YouTube below and grab your copy HERE!
More About Paige:
DJ and producer Paige creates and mixes house music that's sultry and heated, burning with the energy and passion of summer. Unbound by genres, his artistic evolution has blossomed into a refreshing approach to dance music, defined by laidback vocals and flowing deep bass lines. These are the dynamic and bright elements which quickly secured a multi-single deal with Armada Music. Crossing boundaries between lighthearted deep house and chill electronic, his sound has expanded into a refreshing mix series titled 'Golden Hour', securing Paige as a monthly guest DJ on Sirius XM House of Chill. Autumn has seen Paige release "My Eyes" and 'You'll Be There", the first in a sequence of deep melodic club tracks that are seeing support from heavyweights such as Claptone, Just Kiddin, KC Lights and more. Determined to elevate his creative journey in 2020, Paige commits to taking his sound even deeper with multiple signings on the highly respected Tech House label Toolroom Records. Actively channeling fresh sounds, along with a touring schedule that is heating up, Paige looks set to establish a bold presence in global dance music throughout the next year.
Follow Paige:
Website
Spotify
Soundcloud
Twitter
Instagram
Follow Toolroom Records:
Website
Soundcloud
Facebook
Twitter
Instagram
Join Us On: