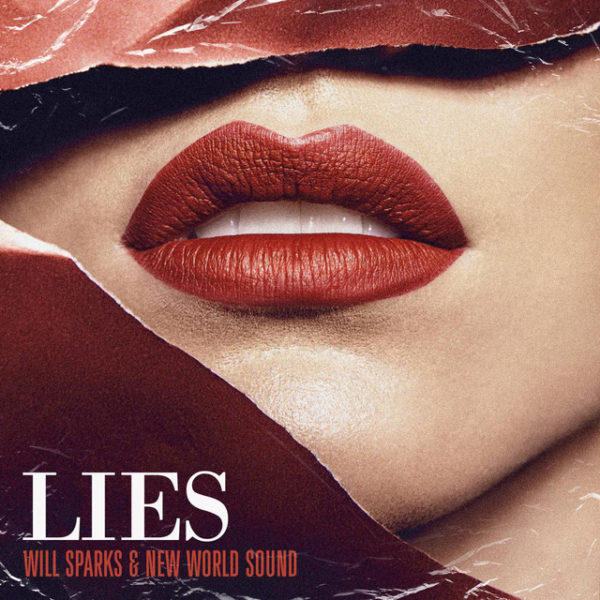 The pioneer of Melbourne Bounce, Will Sparks, doesn't need an introduction. He is a massive electronic dance music DJ & producer who is behind platinum-selling hits like 'Bring It Back' and 'Ah Yeah So What!' He has also performed at some of the biggest EDM festivals around the globe such as Tomorrowland and Ultra Music Festival. He has now put out the explosive track 'Lies' with none other than New World Sound. This track showcases Sparks' attempt at blending electro pop and future house and he does not disappoint!
Will Sparks and New World Sound's  'Lies' has all the hallmarks of a club banger thanks to its stomping beats, resonant bassline and catchy and infectious vocal. The trio enjoyed working on this track together and its music video, which was uploaded on YouTube a few days ago, proves just that. The guys did an amazing job at building this warm and inviting gem. It features a divine vocal that adds beauty and power to the overall delightful sensation of this memorable opus. The song is designed to hypnotize you while it slowly escalates the energy.
So steadfast and unflinching in their composition, Will Sparks and New World Sound have carved out their own unique style which is certainly observed in 'Lies.' On the surface, it seems simple. However, listen closely and you can hear all the subtle inflections; the rise and fall of elements, the intricate rhythm and the careful layering that makes this track a killer cut. Running for just a little over 2 minutes, the song lures you in with shuffling beats while adding key elements at just the right time to adjust the energy levels. Will Sparks and New World Sound use their utmost talent to really give 'Lies' plenty of character and depth. This mingle of electro pop and future house will surely set dance floors ablaze with its intoxicating rhythm.
Stream 'Will Sparks & New World Sound – Lies' on YouTube below and get your copy HERE!
You can also stream the song on Spotify and Soundcloud!
More About Will Sparks:
WILL SPARKS name has forever shaped the global electronic dance music scene.
Pioneering Melbourne Bounce, a sub genre of EDM affectionately named after his Australian hometown; making countless laps around the globe playing the world's most reputable stages including Ultra Music Festival and Tomorrowland; finding himself time and time again at the top of the dance music charts with double Platinum records; amassing an inconceivable 2.5 million monthly listeners on Spotify and aligning himself with brands for lucrative sponsorship deals all before the ripe young age of 26, SPARKS knew there was something more to life for him from a very young age, and boy did the industry know that too.
Kicking his career off in 2012, SPARKS was named 'Best Breakthrough Artist' in 2013 via leading Australian music publication inthemix, who then crowned him Australia's #1 DJ the following year at the 2014 inthemix awards. To top that off, SPARKS then scored global recognition as one of 'Billboard Magazine's 10 most exciting young talents' and ranked in DJ Mag's top 100 DJs in the world for three consecutive years.
The double Platinum producer has shaken up the charts as much as he's shaken up the streaming world. After releasing his iconic 'Ah Yeah', the track shot straight to #3 on Beatport and effortlessly hit double platinum. Still riding the wave of his first release's success, SPARKS then dropped 'Bring it Back', and brought it home again with the single going platinum.
Amassing over 500million+ streams across Spotify, Apple Music and Youtube alone, it's no wonder SPARKS built independent record label 'Bourne Recordings' out of necessity with iconic dance music empire Ministry of Sound Australia (now TMRW Music), and his management and booking agency Lucky Entertainment. Since its inception, the label has humbly claimed multiple Gold and Platinum records and released the likes of TYRON HAPI, LISTER, YROR!, MASKED WOLF, KENYON BROWN and JLEO as well as SPARKS own recordings which have seen countless Beatport Top 10's and contributed to the millions of streams across all platforms.
SPARKS is moving at a pace that's synonymous with his sky's the limit attitude, as he steps into another huge year of international touring as well as his second MTV mini series due for release in the second half of 2020. Don't blink, because you'll miss what SPARKS gets up to next.
Follow Will Sparks:
Soundcloud
YouTube
Facebook
Twitter
Instagram
Join Us On: