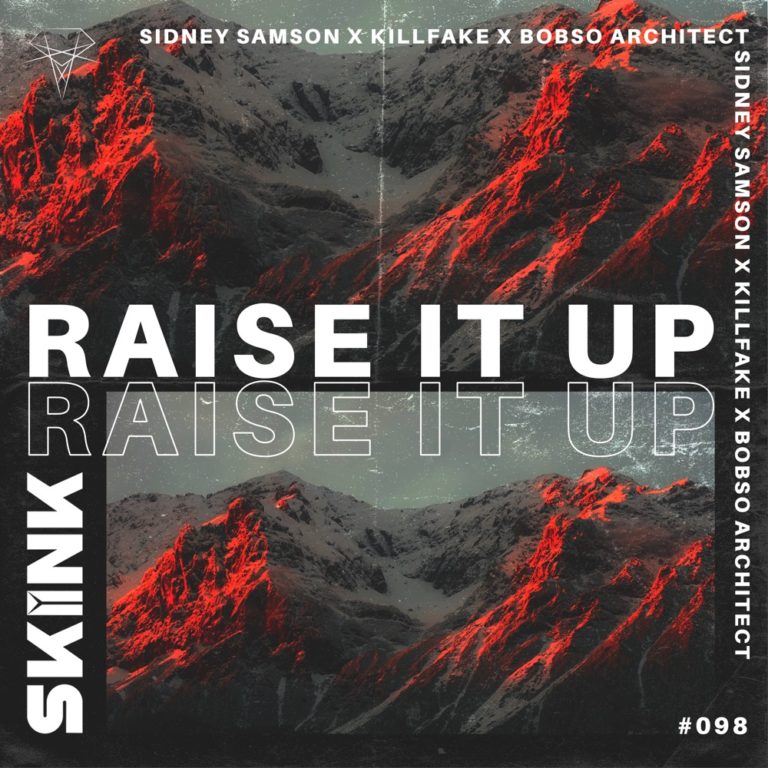 Sidney Samson has been one of the top players of the EDM music scene for a long time. Beginning his journey in 1999, he shot to stardom with the release of his debut single 'Riverside' and since then, there has been no looking back for him. He has released music with two of the leading record labels of EDM music, Spinnin' Records and Ultra Records. In addition, Samson has collaborated with some of the most popular artists of the industry including, David Guetta, Martin Solveig, Kelly Rowland and Kylie Minogue. He has now teamed up with Killfake and Bobso Architect to produce a fresh new moombahton anthem called, 'Raise It Up'. Released by SKINK on April 17th, this song offers a truly energetic vibe that will set fire to any party.
Sidney Samson, Killfake & Bobso Architect's lively production, "Raise It up" features a lot of exciting elements. The aura of this moombahton song is uplifting. It includes a kaleidoscope of synth effects that speaks to the mind and body equally. The track colludes to build a compelling atmosphere with its undulating sub-bass that pushes the beat forward with a hypnotic vibe.
'Raise It Up' kicks off with a mellow synth line before the energizing vocals are added to the track. The song then introduces some claps and other effects echoed over the top as it slowly builds towards an explosive drop that makes it absolute peak time material. The trio maintains an air of control, and the track retains its entrancing allure right until the end.
In the creation of 'Raise It Up,' Sidney Samson, Killfake & Bobso Architect make effective use of the melodic dubby stabs which keeps the feeling electric throughout the track. At the 2-minute-and-18-second mark, your ears will experience the right blend of hypnotism and jaunty melody which will make you lose it. This tune is a perfect contender for being one of the best moombahton tracks of the year.
Stream "Sidney Samson x Killfake x Bobso Architect – Raise It Up' on YouTube below and grab your copy HERE!
You can also enjoy the song on Spotify and Soundcloud!
More About Sidney Samson:
Known for his kinetic, high-energy sound, Dutch DJ Sidney Samson is one of the most in-demand remixers on the dance scene. After launching his own label in 2007, in 2010 Samson broke through with "Riverside," which hit number one on the dance charts in the Netherlands and the U.K. Since then, Samson has remained a club favorite, pairing with luminaries like David Guetta, Kylie Minogue, Far East Movement, and Flo Rida.
Born in 1981, Samson started playing guitar at seven years old, before switching his attention to DJ'ing after watching the DMC Mix Championships at the age of 14. Initially playing R&B and hip-hop tunes, he soon became influenced by the burgeoning Dutch house music scene, and eventually took a residency at the Matrixx nightclub in Amsterdam. After forming his own label, Samsobeats, with collaborator Gregor Salto in 2007, he enjoyed success in his country with several singles. Three years later, a remixed version of "Riverside," featuring Wizard Sleeve, gave him his international breakthrough, reaching number ten in Australia and number two in the U.K., selling 97,000 copies in its first week.
A follow-up single, "Shut Up and Let It Go" with Lady Bee, arrived in February 2010. Since then, he has toured regularly and collaborated on a steady stream of tracks with artists like Kylie Minogue ("Get Outta My Way"), Steve Aoki ("Wake Up Call"), Lil Jon ("Mutate"), will.i.am ("Better Than Yesterday"), and more. In 2014, he married Dutch singer Eva Simons. That same year, the duo issued the single "Celebrate the Rain." They also paired for the 2016 track "Escape from Love." In 2018, Samson joined with Dutch rapper Sjaak for the album THOP. He and Sjaak also appeared on Nielson's track "Durven" off the singer's Diamant album.
Follow Sidney Samson:
Soundcloud
Facebook
Twitter
Instagram
Follow Killfake:
Soundcloud
Facebook
Twitter
Instagram
Follow Bobso Architect:
Follow SKINK:
Facebook
Instagram
Twitter
Soundcloud
Website
Follow Us On: