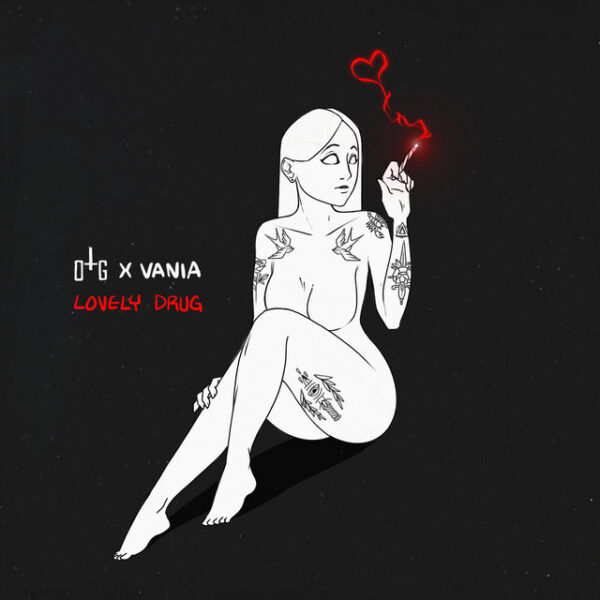 One True God x Vania have come together to produce not one, but two earth-shattering tunes. They're both featured on the Lovely Drug EP which is out now. The title track 'Lovely Drug' has already been featured on Spotify's 'Bangers' playlist and Apple Music's 'New In Dance' playlist. However, this track 'Careless' is a different beast entirely. New Vania music always delivers and whether you're a fan or a newcomer to her sound, you'll be back for more. One True God's hard-hitting, clean production style, along with the angelic, wispy vocals are what make this track so awesome.
'Careless' is a track that lets you know immediately that it's going to be fire. The immediate anticipation that OTG creates is so gripping. It sits in contrast with the airy, childlike vocals. The track switches gear as it builds towards the drop. Vania's sickly sweet voice is already hitting the high notes, but she manages to find some even higher ones. Until this point, it's been all about her. This changes at the drop when One True God lays down a huge Midtempo bassline. It's a huge, all-encompassing sound that absolutely dominates your speakers. As you're listening you can imagine the atmosphere in a crowded room when this one drops. 
This new Vania music is different from the other track on the Lovely Drug EP. This one has a lot more attitude, but possibly less mainstream appeal. The Bass House vibe is undeniably the reason for this, but for one EP that features just two tracks, variety is important. The producer and vocalist combo is primed for a takeover in 2021 and this EP is the groundwork. Stay tuned for more from One True God x Vania!
Stream 'One True God x Vania – Careless' On SoundCloud Below!
Streaming Options:
One True God x Vania – Careless Apple Music
One True God x Vania – Careless Spotify
One True God x Vania – Careless SoundCloud
One True God x Vania – Careless FREE DOWNLOAD
One True God x Vania – Careless Download
More Streaming Options HERE.
---
More About One True God:
Canadian LA-based electronic producer and performer, Alan Notkin, creates dynamic style house and mid-tempo bass music with his newest project, One True God. The name derives from Satanic religious notions of enlightenment: we are our own God.
OTG's discography is versatile, ranging from the dark, energetic beats of his first EP Cult 45, to the 2020 single-releases featuring his own melodic vocals. OTG isn't afraid to reinvent himself, and because of his strong sound identity, his music remains recognizable from obscure songs like "Move Slow" to bright dance floor hits like "Daylight".
OTG visuals inject metaphoric and subliminal messaging for those with eyes to see.
Check out his latest track One True God x Vania – Careless!
More About Vania:
Dreamy weamy electro-pop conceived in a bedroom and released to your ears. On Vania's desktop sits a 5TB hard-drive full of tunes. It is orange and almost out of space. She's just gone and purchased another one. Anticipate the fruit.
Apart from her own project, Vania lends her voice to multiple collaborations, proving her versatility as a songwriter. These features range from ultra pop and EDM to Dubstep and Trance. Pretty cool if you ask me.
Her current affirmation, which she invites you to share, is; "You are a kickass, confident, DOER of an artist". Repeat 10x a day with oomph. Stay tuned for more new Vania music coming your way very soon!