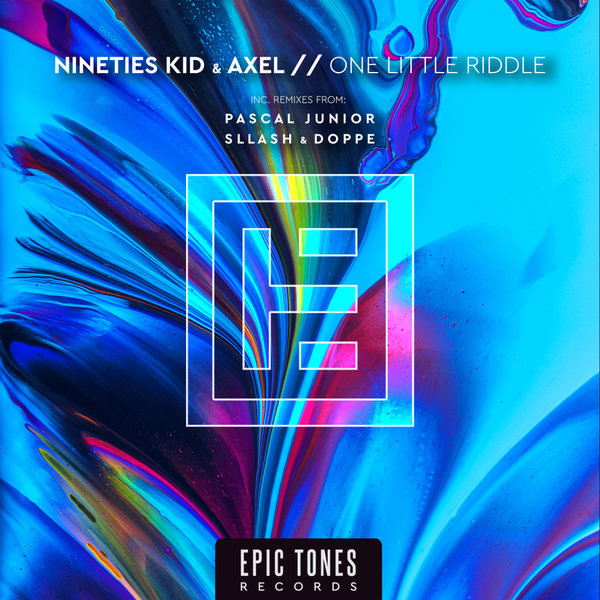 Nineties Kid is popular for his memorable releases like, 'Dark Personality' and 'Dido.' He has now re-released his 2014 melodic banger with Axel called, 'One Little Riddle.' Issued by Epic Tones Records, the song is a blissful experience to listen to. It is packed with explosive moments and features many gladdening elements that make the song so captivating. The melodic arrangements and the vocal have a majestic aura that will instantly cast a spell on you. The track has a contagious catch and is driven by sweet melodies topped with mesmeric vocals, making the track's ambiance very inviting. Epic Tones Records has issued 'One Little Riddle EP' which apart from the remastered original version, contains two outstanding remixes of the track by Pascal Junior and Sllash & Doppe.
The first remix is by Pascal Junior. His version of the track is extremely euphonious and is sharpened by a blooming bassline, eloquent vocals, and spellbinding key changes. The track opens with soothing pads that are layered over the melody of the original track before he picks up the pace by introducing some groovy percussion that increases the infectious factor of the remix. Released on Epic Tones Records, Junior's version of the song really makes 'One Little Riddle EP' special.
The second remix on the extended play is by Sllash & Doppe. Their take on Nineties Kid & Axel's 'One Little Riddle' is simply irresistible. The duo blazed the track with clattering melodies and shaking basslines, transforming it into a perfect Tech House banger. The song takes the Tech House groove with fierce beauty. Adding a touch of percussive swing, this remix really creates a trance-inducing energy.
Epic Tones Records' 'One Little Riddle EP' is a fantastic effort that includes two highly infectious versions of the popular Nineties Kid & Axel's song. Both of the remixes featured on the EP by Pascal Junior and Sllash & Doppe sound fresh. We are extremely thrilled to feature this extended play.
Stream 'Nineties Kid & Axel – One Little Riddle EP' on SoundCloud below!
Streaming Options:
Nineties Kid & Axel – One Little Riddle EP Apple Music
Nineties Kid & Axel – One Little Riddle EP Spotify
Nineties Kid & Axel – One Little Riddle EP Soundcloud
Nineties Kid & Axel – One Little Riddle EP FREE DOWNLOAD
Nineties Kid & Axel – One Little Riddle EP Download
More Streaming Options HERE
---
More About Nineties Kid:
As many people know, there`s nothing more beautiful than childhood. But growing up in the 90s, was a hell of a time to be a kid. Codita Bogdan – Stefan (Nineties Kid) was born in the year 1990. Since his early stage he was introduced to a whole lot of music genres like techno, house, pop-rock, hip-hop and so on. At the age of 13, he first set foot in the local club in his hometown, and then, he has discovered a whole new world. Fascinated about what was going on, he started to have a dream, a dream where he would conquer this new world he has discovered, the world of clubbing. It was 4 years later when he first started his debut as a DJ in the local club. Since then, people started to notice him and his originality in playing different styles of music. It didn`t took very long for him to start building a reputation in his area. He started playing music in different clubs in cities located near his hometown. Two years later he decided to push things to a whole new level, he decided to begin producing music. He started making his own rhythm, style and sound. He remixed the songs of different artists like Nadia Ali, Dido, Sasha Lopez, Inna and so on. You can find his creations in sets of various DJs. Nineties Kid, is all about music, all about finding the perfect match between rhythm and sound.
More About Sllash & Doppe:
Sllash & Doppe have met in the backyard, while playing childhood games. They were not neighbors or friends, but their connection was even stronger, they are those inseparable cousins. Constantly laughing and making fun of each other, their playground moved inside when they received "Dance eJay", a PC program that caught all of their attention. Many years later they changed the program, but this still remained the activity that they are passionate about until today, producing music. As they were enjoying every part of it, they've put all the fun and good feelings in the music they produced. A lasting and strong relationship was created through music and the two of them realized they're better together than alone. And that's how they decided it they would be until the end of.. decks and players. Today, labels like Toolroom Records, Great Stuff, Glasgow Underground, Safe Music, Kittball and many more are knoking on their door. Their music is constantly found in the sets of artists like Mark Knight, Solomun, Bedouin, Blond:ish, Martin Solveig, Danny Howard, Roger Sanchez and many more. The playful cousins are now conquering the world, from deck to deck, stopping at the studio in between.