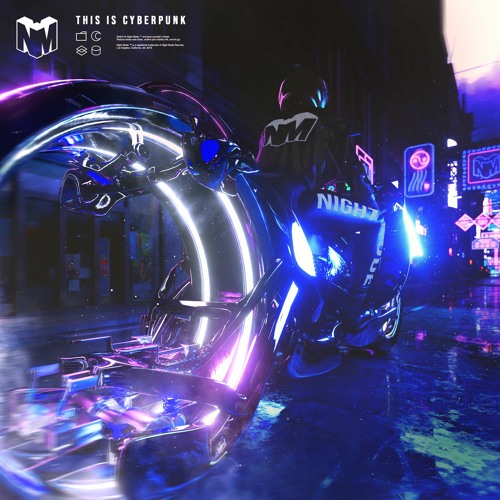 Night Mode has brought together an exciting lineup of EDM artists on its compilation album titled 'This is Cyberpunk.' Released as a tie-in for the long awaited RPG video game, Cyberpunk 2077, this Night Mode compilation conjures a dynamic megapolis elevated by the groundbreaking sonic madness from different artists such as NEUNOSIEM, LINK, Heimanu, Bishu, and many others. This particular record boasts a selection of 13 dynamic tracks that will make your head spin. The album is flourished with some of the most mind-blowing bangers in the genres of Wave, DnB, Dubstep, Trap & Future Bass. A great thing about this Cyberpunk 2077 music influenced album is also that it falls in the DMCA Free EDM music category. This means that you will be able to use all 13 tracks for your own personal YouTube videos. How cool is that! All in all, Cyberpunk music is dark and oozes with electrifying energy.
This Night Mode compilation successfully combines the world of electronic music and gaming in an explosive presentation we now know as 'This is Cyberpunk.' The Cyberpunk 2077 music collection samples a whole range of sonic fusions that will transport the listeners to a futuristic and dystopian universe. What's more! The 13 songs are laid out in a perfect symphony to unveil the sinister world of the Night City. This transitive Cyberpunk music mix soars high, hits hard, and drifts above and beyond.  
The intriguing opener on the compilation is Heimanu's NuRave song called 'Atrea.' This tune is charged with storming melodies, melodramatic and vulnerable vocals embedded in an incredible vitality and raw intensity. Featuring on the epic Night Mode compilation, the ethereal rhythms, sweeping chords, and sharp percussion bring together a resilient, cinematic delivery that makes for a mind-numbing release.
The second song on the album is by Killabyte and is called 'Racing Lights.' This track shines in the Cyberpunk 2077 music album due to its sheer intensity as ambient and upbeat pulses heat up the atmosphere. The song is structured with trailblazing rhythms that are layered over uplifting riffs that shimmer and collide beautifully. This fierce DnB delivery dominates synchronous drums and pounding basslines that will give you an adrenaline rush.
The next song on the tracklist of 'This is Cyberpunk' is called 'Adrenaline' by PRXZM. It is an Electro Pop flavored song that generates a pulsating and melodic atmosphere. This mellifluous opus is synchronized with ultra-rhythmic beats that blend smoothly with the heavenly vocals. The splendid mix of Synthwave-style synthesizers and bouncing bass will have your endorphin flowing, catapulting you into a dizzying euphoria. It is certainly an ear-warming addition to the Cyberpunk music album.  
The subsequent track on the Night Mode compilation is a charismatic and exciting delivery from KTrek called, 'exoh'. This mysterious number will put you in a trance with its subtle pads and intricate sound design. The fusion of distinctive vocal snippets and gloomy melodies of the song are supported perfectly by hyped percussion. The listeners will gravitate towards this track due to its expressive and melancholic connotations.
The atmosphere transforms into a cosmic realm with the heavy-hitting Electro House track 'CULT' by JACKNIFE & totto. This reverberating track comes alive with the use of vigorous percussion and intoxicating rhythms. It is a razor-sharp tune that gives off an enigmatic yet energetic vibe. This track will perk up any livestream or vlog as it's a DMCA Free EDM song.
The next track on this Cyberpunk 2077 music inspired record features the galvanizing entrée 'Wait' by NEUNOSIEM. The song is decorated with lustrous melodies, luxurious vocals, and merciless basslines. It is a soul-crushing tune that has all the potential to crush the music charts. This Midtempo Bass track echoes precision as the intricate song structure and stirring vocals create an impassive aura.
The next gem on the 'This is Cyberpunk' compilation is the explosive track 'Carmageddon' by Lektrique. This Electro House tune comes out with blowing horns and is full of vibrancy and vitality. The heavy hybrid is laced with ethereal percussion and enthralling rhythms along with catchy hooks that drive this intoxicating song. This one is definitely a peak-time festival banger.
At halfway through the Night Mode compilation, the tracks become even more pungent and edgy with each delivery which is evident on 'BREAK.' Produced by the dynamic composer LINK, the song features an incredible sound design that comes storming with power-fueled vitality which will startle the listeners. This Speed House track shifts and evolves with an oscillating momentum displaying the artist's prowess. The energy on this one is absolutely relentless, so, be ready!
Bishu then brings the bone-chilling Dubstep cut, 'XBOW' to the finally available compilation inspired by the Cyberpunk 2077 music. This massively vivacious tune intensifies with shifting synth stabs, powerful beats, and deep bass tones that will send shivers down your spine. The song will take your breath away with its earth-shattering and piercing cadences. 
The Cyberpunk music compilation goes all out with Deadcrow's Trap delivery entitled 'Hive Mind.' On this song, the artist has fused crashing synth and bouncing rhythms splendidly, making this razor-sharp and exciting cut highly intoxicating for the listeners. This is a powerful Trap music release with the uplifting side of Wave music. Pure festival material!
The next stop on the Night Mode compilation is 'STASIS' by KILL SCRIPT. The gorgeously layered and dramatically impactful Techno addition will be raved by music lovers and content creators alike as it's also DMCA Free EDM music. This song is a cohesive delivery that is rampant with catchy percussive hooks and addictive drums. This one needs a little warning sign next to it, while the anticipation builds slowly, you simply cannot possibly be ready for the drop! You've been warned!
The second last track on the 'This is Cyberpunk' compilation is a thrilling ode to the Cyberpunk world, titled 'ACID NATION' from REVEL. Featuring elevated artistic prowess, this song is a sublime mix of acid and old school rave flavors. The track is flooded with lethal elements, dynamic vocal chops, and overarching stimulating notes that will send you in a frenzied jolt. This Electro House song is a potent dose of acid emulating the futuristic cyberpunk lifestyle.
The ambitious Cyberpunk music compilation comes to perfect closure with a warm and resonant atmospheric banger, called 'Shadowrunner.' This Cyazon creation is an edgy Electro House song that culminates with a classic cyberpunk feel towards the end. The jagged percussion and the bright, churning synths give this track a poised rhythmic vibe. Content creators will definitely emblazon this DMCA Free EDM music song on their streams all over the internet. We couldn't think of a better closer for this album, as it leaves on a grandiose cinematic note without compromising on the high-energy level.
The dynamic compilation 'This is Cyberpunk' by Night Mode is an epic affair that is an amalgam of sizzling creative energy. The featured artists have crafted a sinfully stimulating journey with incredible trunk-rattling sounds that effortlessly melt from one swinging melody to another grazing melodic chaos. This magnificent opus is available as DMCA Free EDM music that can be used by gaming content creators without the fear of copyright strikes. The Cyberpunk 2077 music is an orgasmic mix that will overwhelm gamers and music enthusiasts alike.
Stream 'Night Mode – This is Cyberpunk' on SoundCloud below!
Streaming Options:
Night Mode – This is Cyberpunk Apple Music
Night Mode – This is Cyberpunk Spotify
Night Mode – This is Cyberpunk Soundcloud
Night Mode – This is Cyberpunk FREE DOWNLOAD
Night Mode – This is Cyberpunk Download
More Streaming Options HERE.
---