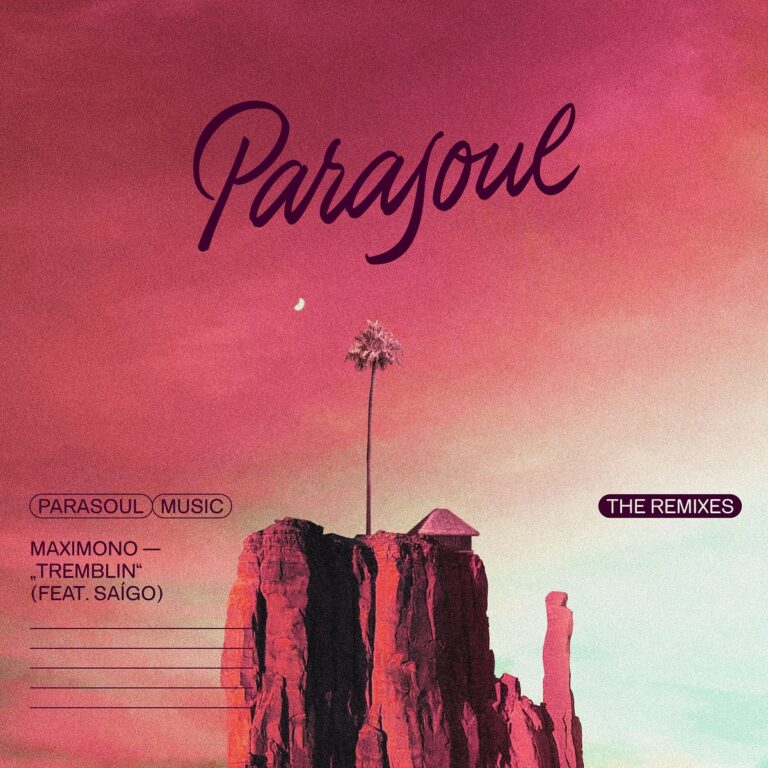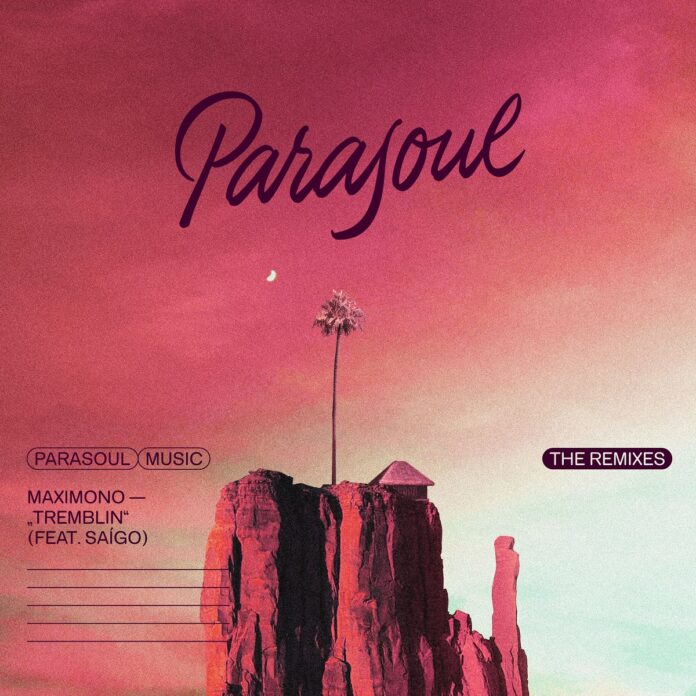 It's a day of new beginnings for the German producer Maximono. He recently released his first new track on his brand new label Parasoul Music. Thanks to the remix pack he also released, we now have the Maximono  – Tremblin Remixes EP! The experimental House & Techno producer has roots in the world of Drum and Bass but has since turned his hand to all things four to the floor. This new EP features a Santé Remix, a Black V Neck Remix, a Satl remix and a Nowheretobefound remix. Each one brings a completely different flavor of electronic music and a fresh take on the original track.
The Santé remix is a bouncing, minimal Tech House mood. It does away with the summery, feel-good atmosphere of the original and replaces it with some after-dark vibes. All of the original elements have been cut up, twisted and nefariously repurposed. It speaks to Santé's productions skills that his remix can be so recognizable but so unfamiliar at the same time.
On the other hand, the Black V Neck remix does something different. He brings up the tempo and injects a lot more energy into the track. The vocals are chopped and ravaged with effects, providing a backbone for the track. This track has more of a Bass House feel to it and would go down well on a sweaty dance floor at 2 AM. 
The whole EP is a fantastic musical journey exploring variations on a theme. From the minimal vibes of the Santé remix to the liquid vibes of the Satl remix, the Maximono – Tremblin Remixes EP really does have something for everyone. With a start like this, we predict great things for the new label Parasoul Music. Grab yourself a copy of the EP; you won't be disappointed!
Stream 'Maximono – Tremblin ft Saigo (The Remixes)' on SoundCloud Below!
Streaming Options:
Maximono – Tremblin ft Saigo (The Remixes) Apple Music
Maximono – Tremblin ft Saigo (The Remixes) Spotify
Maximono – Tremblin ft Saigo (The Remixes) SoundCloud
Maximono – Tremblin ft Saigo (The Remixes) FREE DOWNLOAD
Maximono – Tremblin ft Saigo (The Remixes) Download
More Streaming Options HERE.
---
More About Maximono:
"No Rules!" – it's the first thing MAXIMONO jots across his blackboard in the morning, as he enters his beat-lab. With cliche sketches ending up in detention, we can always depend on Sebi to deliver a unique piece of music. The crafty German earned his tenure in the electronic music scene during the late 90s, meticulously honing his craft in the world of breakbeats, jungle and drum & bass. In 2015, he flipped the script to go on a genre bending crusade with his new interpretation of house music, rapidly catching the attention of the biggest players across the scene. Borrowing the best ingredients from genres such as drum & bass, hip hop, funk and even trap – the bass music veteran mixes these elements like a true chemistry professor.
His very own formula of kinetic house music would quickly be acknowledged by tastemaker labels such as Dirtybird, This Ain't Bristol, Sweat It Out, Confession, Insomniac and CUFF. Consequently, these industry-leading imprints had no problem pushing the Maximono sound, resulting in a slew of singles, EPs and remixes that dominated the dance charts for weeks on end. With a masters degree in low-end theory and a minor in spaced out, wobbly leads, Maximono teamed up with fellow bass graduates and heavy hitters like Malaa, Mat.Joe, Huxley, Kevin Knapp and Marten Hørger to release critically acclaimed songs such as "Arsenic", "Drummer Loco" and "So High". Check out their latest release on Parasoul Music – the Maximono – Tremblin Remixes EP!
More About Santé:
Santé, hailing from Berlin, is part of a new school of artists championing musicality, skillfulness and creativity over mindless loops and endless repetition. His productions, like those on his record label AVOTRE, ooze character, charisma & humour, feelings so often overlooked in the realms of house music.
Santé's career trajectory has grown hand in hand with AVOTRE's reputation. His success has allowed the brand, founded in 2012, to grow incredibly quickly, to the point where it is now an established label selling out at least two international showcase events every month while continuing to act as a 'go-to' label for the undergrounds hottest acts. 2015 saw the release of two further successful House Lessons releases – One from long term friend Russ Yallop, and the other, touring and production partner Sidney Charles.
The House Lessons concept itself comes from one of the label's first releases AVTR003 – Sidney Charles' genius track of the same name that has led to a musical concept, fully embraced by Santé and the AVOTRE family. Culminating in the February 2017 with the release of Santé's own House Lesson's LP, the twelve track concept album is a compilation of collaborative tracks, featuring some of house and techno's most influential artists including wAFF, Marshall Jefferson, Ann Saunderson, and Solardo amongst others. Check out their latest release on Parasoul Music – the Maximono – Tremblin Remixes EP!
More About Black V Neck:
Shiba San discovered the duo and signed their first big release on his label Basement Leak. Their track Let Me Smash gained traction on the Beatport charts and subsequently kick-started their musical career.
Shortly after, they appeared on Claude VonStroke's radar due to their quality of production and creativity, which led to the release of the Mouth Music EP on DIRTYBIRD. Both tracks, Sex, Drugs, Alcohol and Mouth Music, remained on Beatport's Top 100 Tech House chart for weeks, solidifying Black V Neck's ability to consistently deliver captivating music.
Black V Neck tracks have made their way into festival performances, club sets, and radio shows worldwide. Their music has continuous support from artists such as Claude VonStroke, Chris Lake, Green Velvet, Lee Foss, Shiba San, Diplo, AC Slater, and Jax Jones. 2020 has not slowed the boys down; They signed their first Defected release, remixing the summer hit Deep End, which has become their first track to break through Beatport's Top 10.
Ian and Julian continue to work diligently, having recently released records on Lee Foss' South of Saturn, Club Sweat, CID's Night Service Only, Insomniac Records, and OWSLA. Black V Neck has remixed tracks from Salvatore Ganacci, Bruno Furlan, Volac, Walker & Royce and VNSSA, with more to come. Check out their latest release on Parasoul Music – the Maximono – Tremblin Remixes EP!