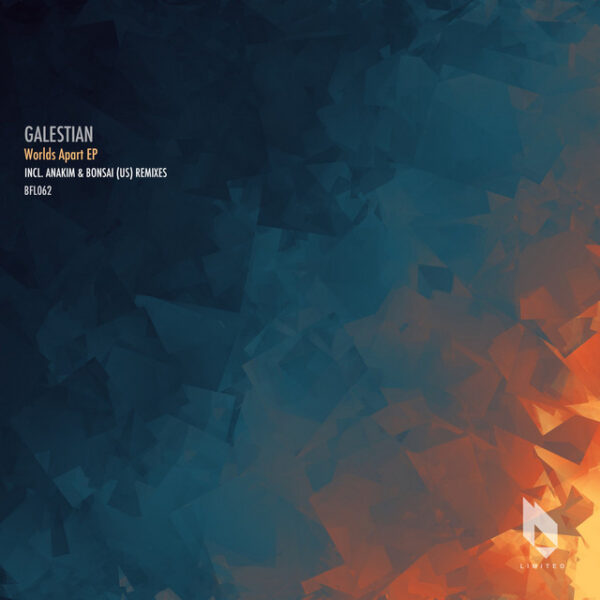 The Los Angeles (born) – Berlin (based) combination seems to work wonders for Melodic House & Techno artist Galestian. He's been sharing studios and stages with the likes of Carl Cox, Armin van Buuren and Paul Oakenfold. And "Worlds Apart," his latest five-song EP, just proves why. Galestian notes that for the last five years he has been traveling around the world with his music, making him get in touch with his audience and fans. However, the current pandemic is doing exactly what the title of his EP says – keeping us all "Worlds Apart."
The EP contains three original tunes, the title theme "Worlds Apart", "Mesmerized" and "Odyssey." "Worlds Apart" and "Odyssey" also received amazing remix treatments by Bonsai (US), and Anakim, respectively. All the titles exemplify why Galestian can be considered a force to be reckoned with among Melodic House & Techno artists. The original version of "Worlds Apart" starts out with beats that gradually build up, with Galestian introducing Tangerine Dream-like synths that slowly take over. He then about mid-way through introduce acoustic oud, giving us a taste of the Middle East and the world, only for the track to shift back to its original theme. Bonsai's remix gives another umph to the beats and, eases up on the synths and lets electronics take the part of the oud.
"Mesmerized" doesn't get a remix here, but as the title theme and its remix, it has no flaws you can talk of. Galestian again works out another small Melodic House and Techno miracle, combining a deep beat with some electronic can-banging, which is suddenly combined with a sound of ringing glockenspiel and washing synths. The (positive) influence of the seventies German electronic music works a charm here.
Galestian starts the original "Odyssey" with sparser beats combined with somewhat more sinister Melodic House & Techno tones from the synths and the glockenspiel. At moments, you get the impression as if it is an electronic train running through your mind. Very late at night. Suddenly, the rhythms and instruments all pick up the tempo, as the shadows are suddenly transforming into light. Anakim's remix goes more for a straight-ahead dance Techno effect without at any point losing the original theme and intention behind the song. "Worlds Apart" EP should only confirm the high position Galestian has on the Melodic House & Techno scene.
Stream "Galestian – Worlds Apart" EP on YouTube below!
Streaming Options:
Galestian – Worlds Apart EP Spotify
Galestian – Worlds Apart EP Soundcloud
Galestian – Worlds Apart EP Apple Music
Galestian – Worlds Apart EP Free Download
Galestian – Worlds Apart EP Beatport
More Streaming Options
More About Galestian:
LA-born and Berlin-based, Galestian's roots in electronic dance music stretch back to LA's underground music scene of the 1990s. He began making a name for himself on KUCI 88.9 FM in 2003, where he opened the studios to world-renowned artists such as Carl Cox, Dubfire, Above & Beyond, and Armin van Buuren.
In 2018, he signed to Paul Oakenfold's Perfecto Black label and was featured as a guest on his Planet Perfecto Radio show (episode 383), reaching over 27 million listeners in 70 countries. His monthly 'Global Entry' radio show is syndicated worldwide on outlets including Mambo Radio 89.4 FM in Ibiza and di.fm. His mixes have been heard on SiriusXM Satellite Radio, iHeartRadio, and terrestrial radio stations all over the world.
His most recent collaboration with Oakenfold called "Summer Nights" celebrates Perfecto Black's 50th release and has been featured on Dancing Astronaut, DJ Mag Latin America, and many other publications.
From Burning Man to Sankeys Tokyo and Exchange LA, his love for music is as unstoppable as his love for travel. Gallivanting through North America, Europe, and Asia, he has shared the stage with artists including Fehrplay, Grum, Tritonal, Chris Lake, Matthew Dekay, Lange, Aly & Fila, Frankie Bones, and countless more.
His distinctive music style remains difficult to pin down, covering a wide spectrum of melody-infused genres like deep and progressive house, melodic techno, and beyond.