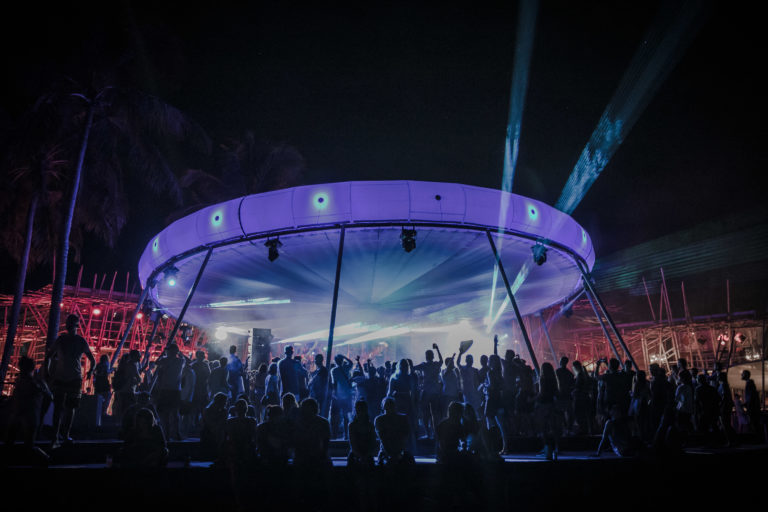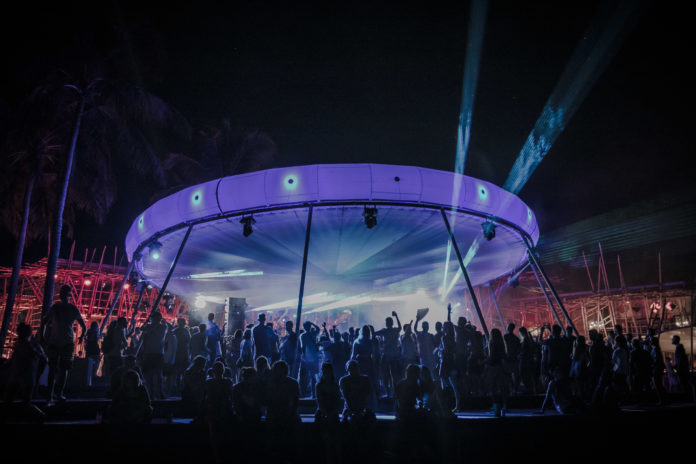 Vietnam's Epizode Festival is back for its fourth edition on December 27 – January 7 2020, on the paradisiac island of Phu Quoc (pronounced Fu Kwok), and we just can't wait!
With a stellar lineup including performances by Agents of Time, Fideles, Agoria, Butch, Giorgia Angiuli, Eats Everything, Patrick Topping, Anja Schneider, Behrouz, Birds of Mind and many many more, the 11 days & nights festival is looking very promising!
It was already announced that to celebrate the first sunrise and sunset of 2020, party-goers will have the chance to see the legendary Satori live. On top of that, the Gardens of Babylon crew will be bringing their unique party experience and next-level stage to host Parallels live, Sam Shure and Ramo. HVOB's full electronic live band will also perform the closing sunset ceremony of the festival! So many magical moments are coming this NYE in Phu Quoc, you don't want to miss out on that!
But that's not all, the organizers are also bringing many more showcases to Epizode Festival this year, the event will feature Detroit Love (Carl Craig & Moodymann), Arma17 (Ricardo Villalobos, Raresh and Sonja Moonear), MDRNTY (Apollonia and Dewalta & Shannon), Cymatiks (Agents of Time and Mathew Jonson live plus Fideles) and Giegling (Mountain People and Molly) as well as Yoyaku (Cabanne, Zendid and Varhat b2b Janeret).
Just to make sure you are picturing this correctly, Epizode Festival is 11 days and nights of live music and art,  but that's not all it has to offer. The festival also offers daily activities, a food-court, a marketplace, yoga, sports, group meditation classes and healing sound sessions. So it is much more than just an almost two weeks long rave. Of course it is a real delight for fans of underground Techno and House music, but it is also an immersive cultural and spiritual experience.
Unfamiliar with Phu Quoc? Just to give you an idea, the location of the festival is at the Sunset Sanato Beach Club on the west side of Phu Quoc island, only a few KMs from the city center. It is a place known for its gorgeous beaches and magestic sunsets.

Check out the highlights from last year.
Here is our Top 5 Must-See Acts  @ Epizode Festival:
Andrea Di Ceglie, Fedele Ladisa and Luigi Tutolo are the threeman Italian live electronic band Agents Of Time. They are pioneers of the Deep Melodic Techno sound with an immersive dark twist. The trio was formed in 2013 and since its inception, they have been touring the world and performing at the biggest festivals. They also received support from some of the biggest names on the Techno and House music scenes, support from the likes of Tale of Us, Dixon, Tiga, Agoria, John Digweed, Stephan Bodzin, and Miss Kittin. They are also the founders of the Obscura record label.
#2 – Fideles
Fideles (Daniele Aprile & Mario Roberti) is an Italian duo that has been around since 2010, if Melodic Techno is your cup of tea, chances are you already heard their music. They released music on Afterlife, Bedrock, Poker Flat, Stil vor Talent, Innervisions and Exit Strategy (not too shabby eh?). Their performance at Le Cercle in August 2019 is already at over 600 000 views and is definitely a must-see for fans of Techno music. Can't wait to see them at Epizode!
Eats Everything, real name Daniel Pearce, is an English DJ and electronic music producer that needs no introduction. Since releasing "Entrance Song" on Pets Recordings in 2011, he has received critical acclaim for multiple releases on Dirtybird, Hypercolour and Futureboogie. His unique sound combines house music with UK bass, garage house, techno and jungle flavors.
Although only 30 years old, Patrick Topping, British House and Techno DJ & producer, already has hit Number 1's on the Beatport charts, performed at Tomorrowland, Awakenings and WMC, received the "Newcomer DJ Award" and "Track Of The Season" in Ibiza. Pretty impressive resume, right? Patrick is not showing any signs of slowling down, his blend of old school and nu school Techno and House is rocking crowds around the world, and Epizode is next!
Italian classically-trained composer and multi-instrumentalist, Giorgia Angiuli delivers a fresh sound that resides somewhere between pop, melodic techno and progressive house. She sings and combines keyboards, drum pads and theremin with the sounds of various toys (yes, you read that correctly, toys!) like flute, sax and trumpets. Her blend of samples and loops creates a vibrating and mesmerizing energy that has been setting fire to dance floors all around the globe.
Check out the full lineup below!

INDEPENDENT SHOWCASES
Gardens of Babylon
– Parallells live
– Sam Shure
– Ramo
Detroit Love
– Carl Craig
– Moodymann
Arma17
– Ricardo Villalobos
– Raresh
– Sonja Moonear
MDRNTY
– Apollonia
– Dewalta & Shannon
Cymatiks
– Agents of time live
– Mathew Jonson live
– Fideles
Giegling
– Mountain People
– Molly
Yoyaku
– Cabanne
– Zendid
– Varhat b2b Janeret
FULL LINEUP
3LIAS
ABELLE
AGENTS OF TIME
AGORIA
AKILAM
ALCI
ALINEP
ALVARO SUAREZ
ANJA SCHNEIDER
ANNA NOVA
APOLLONIA
ARAPU
ASAEL WEISS
BALINSKY
BEHROUZ
BEN POUND
BEN UFO
BINH
BIRDS OF MIND
BOBBY.
BRUNO CURTIS
BUTCH
CABANNE
CARL CRAIG
CHAIM
CHRISTIAN LÖFFLER
CINTHIE
CRAIG RICHARDS
DENIS KAZNACHEEV
DEWALTA & SHANNON
DI LINH
DIGBY
DJ DUSTIN
DJ MASDA
DJEBALI
DOTT
EСHONOMIST
EATS EVERYTHING
EGYPTIAN LOVER
ELLI
ELLIOT ENGLISH
ERNEST KALININ
FIDELES
FRANCESCO DEL GARDA
FUNKWISE
GAB RHOME
GABBY
GABRI-L
GABRIELE SACCANI
GESCU
GEVORG SIMONYAN
GIORGIA ANGIULI
GIVEN
GOOSEBUMPS
GUTI
HERB CABRAL
HILU
HURRYUP
HVOB
JAMIE JONES
JANERET
JENIA TARSOL
JOHN LOO
KABUTO
KARINA SAAKYAN
KERRY WALLACE
KIASMOS DJ SET
KINO TODO
KOLFORD
KONSTANTIN
KONSTANTIN SIBOLD
LEAFAR LEGOV
LEHAR
LEVI OI
LILLY PALMER
LOCO DICE
LORENSIYA
MAP.ACHE
MARCO YANES
MARTIN LUGTU
MASHKOV
MATHEW JONSON
MATIAS AGUAYO
MICA
MOLLY
MOODYMANN
MOUNTAIN PEOPLE
NAOKI SERIZAWA
NASTIA
NESTA
NICOLAS LUTZ
O.BEE
OUISSAM
PANTHERA KRAUSE
PAQUITA GORDON
PARALLELLS
PATRICK TOPPING
PAWSA
PETRE INSPIRESCU
PHUONG DAN
PI-GE
RAHA
RAMMÖ
RANISHE NIYAAK
RAPHAEL MERHEB
RARESH
RED AXES
RHADOO
RICARDO VILLALOBOS
RICHY AHMED
ROCCA
S.A.M.
SAM SHURE
SANCHO
SATORI
SE/RIO
SOFIA RODINA
SONJA MOONEAR
SOUNDWALK COLLECTIVE
STEFANO NOFERINI
SUNJU HARGUN
TAL COHEN
TIJANA T
TRIKK
VARHAT
VERA
VLADA
wAFF
WILLIAM DJOKO
YATE
YOUANDME
ZENDID
Epizode Festival Spotify Playlist
We also created a 169 tracks Spotify playlist featuring the whole Epizode roster, many super talented artists to discover, make sure to follow the playlist HERE
More about Epizode Festival:
EPIZODE is a music and art festival held at Vietnam's most picturesque island getaway, Phu Quoc. The 11-day long festival kicks off after Christmas and ploughs through the hustle and bustle of the New Year. Over the last three editions, the festival has successfully featured some of the biggest electronic music headliners including the likes of Carl Cox, Ricardo Villalobos, Loco Dice, [a:rpia:r], alongside some of the most prolific talents in Asia. In 2019, attendance rates doubled from previous years, with more than 10,000 people from 79 countries. In only three years, EPIZODE is already recognized as one of the most iconic electronic music festivals in Asia. It is also touted as one of the best NYE music getaways that gathers ravers, industry folks and avid travelers in a dreamy environment equipped with an unparalleled music selection, combined with next level production and in artistic setting.
This year's event will take place on a larger site with chill-out and daily activities zones, a food-court and market place. A significant effort is also put into the creation of a comfortable leisure area with yoga and sports, group meditation classes and healing sound sessions that will bring the mind and the body to balance.
The art-program remains a priority with more new installations and a full list of the artists and key projects to be announced soon. Add in a world class team who bring exceptional sound systems, lights and next level ideas in the field of stage and light design and you have a wonderfully high class and immersive experience in paradise.
This year the festival will also focus on green credentials with a new eco-initiative that will substitute plastic straws with organic ones made in Vietnam, introduce a cup-sharing system, reusable pocket ashtrays and a focus on educate the team, local partners and the audience about the responsibility that one can take to prevent the collapse of the eco-system. through a series of advisory meetings, lectures, cleaning actions on the beach, in the forest, on the road and so on, all of which adds to the importance of Epizode Festival.
Tickets are available now via Epizode.com! Get yours before they sell out!
Make sure to follow Epizode Festival!