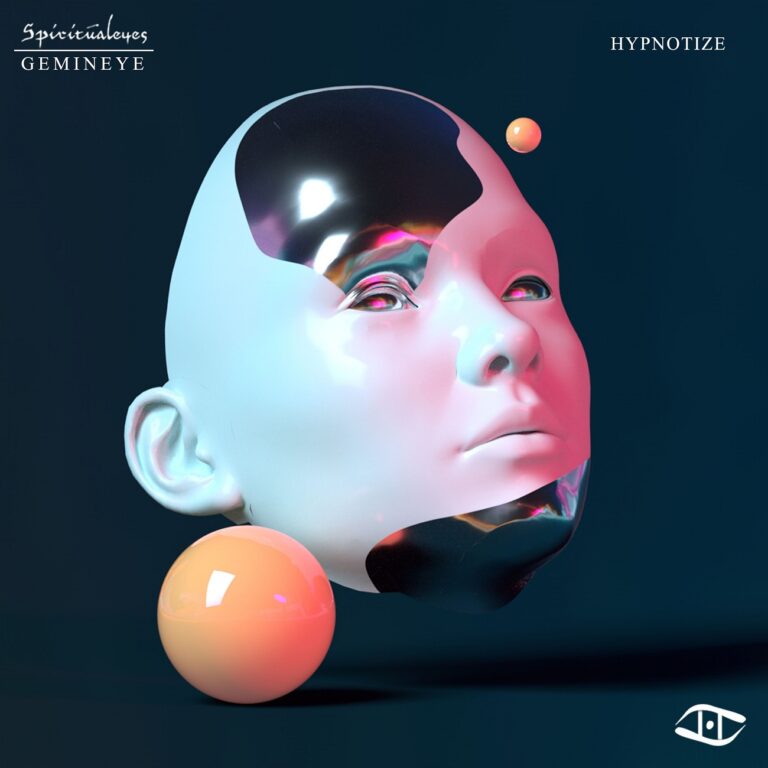 Just like the title of the song indicates, 'Hypnotize' by spiritualeyes will hypnotize you with its scrunched-up vibe and glowy embrace. This Midtempo Bass song brings a dirty and distorted environment with a blend of eerie elements and blown up vocals. Known for their signature bass-heavy sound, spiritualeyes have done an applause-worthy job on their latest tune. A stint on flowing melodies, luxurious synth, and sweeping bass, along with glimpses of meticulous rhythms echoes a true hard-hitting festival anthem.
This particular track by spiritualeyes is an enticing delivery and brings a unique blend of sonic sanguinity. With a lyrical maturity, 'Hypnotize' is a peak-time banger that will leave you stunned. This song is a perfect treat for bass-heads. This crunchy cut is an all-out festival banger, loaded with overdriven percussion and robotic sound design that inject intensity in the atmosphere of the track. This release bumps into churning harmonies, throbbing synths, and pulsating basslines layered over intoxicating beats.
The ravishing waves of crisp percussive energy create an unrelenting aura that will compel the crowd to go wild. Right from the opening, spiritualeyes delights the listeners with the melodic flow and swirling rhythms that strengthens into hard-hitting and edgy sections. The jagged percussion and the bright, churning synth stabs strike the poised rhythm like spikes, adding to a subtle vibrance. This carefully constructed Midtempo Bass song has zestful orchestral embellishments which make for an impressive listening experience. This bold tune is enhanced by the pulsating structure and truly creates a thrilling ride.
spiritualeyes shows the courage to intricately craft 'Hypnotize' into a festival anthem layered with engaging and exciting exuberance throughout. This song has bone-chilling riffs and crunchy motifs with harmonic twists and turns. This Midtempo Bass song will surely snag a spot in the most coveted bass-savvy playlists.
Stream 'spiritualeyes – Hypnotize' on SoundCloud below!
Streaming Options:
spiritualeyes – Hypnotize Apple Music
spiritualeyes – Hypnotize Spotify
spiritualeyes – Hypnotize Soundcloud
spiritualeyes – Hypnotize FREE DOWNLOAD
spiritualeyes – Hypnotize Download
More Streaming Options HERE
---
More About spiritualeyes:
'Spiritualeyes' is the performance and production alias of Jonathan (Johnny) Spadafore & Evan Morris. The duo possesses a love for all things music and delicately intertwines their inspiring story of hope with their unifying message and experimental heavy bass music. After fortuitously meeting in Florida in 2018, they immediately became close friends. Connecting and inspiring each other through their challenging pasts with substance abuse and mental health, they decided to begin creating. Johnny (previously 'Johnny Doe') has been DJing along the East Coast since age 17, and managed to secure a night time slot at EDC Las Vegas 2018 at just 20 years old. Evan (previously 'Catch & Flow') has been producing music for over 11 years. A multi-instrumentalist with a knack for learning, Evan's journey began with graffiti art in high school and led to his teaching himself to DJ in college. From there it wasn't long before he was producing his own original songs. With Johnny's entrepreneurial mind and Evan's musical expertise, the two decided to create 'spiritualeyes.'
Evan and Johnny drove to Los Angeles in 2019 to pursue their passion for music and share their story with the world. While many of those who are close to them know their story, they seek to share it with those who don't. From personal experience, they know that many members of the EDM community struggle with issues of mental health, addiction, and other feelings of personal disillusionment, often feeling too alone or afraid to reach out.
"I remember when I would go to shows with my friends," Johnny says, reminiscing, "we were all relying on drugs to have a great time, but I was always different. Everything was always more extreme for me, and my 'rave' friends weren't around the next day when I was dealing with depression and withdrawals. The one thing that will always remain constant is the music, let's make this about the music again." Whether it be through their undeniably heavy music or through their goal to unify and help those within the EDM community, Spiritualeyes has big things planned.
In 2019, Spiritualeyes released their first single, "About You" ft. Cayte Lee, on all platforms. They followed this up with another single – "Fresh Like" – to close out 2019. Originally aiming to make melodic future bass, the duo has since pivoted. They kicked off 2020 with what has since become their most popular release. "Approach," a track that fuses elements of hip hop with electronic genres future bass and dubstep, has amassed over 100,000 streams on Spotify. Evan and Johnny are currently finishing up their five-song Gemineye EP, with three of the tracks – "Mesmerize," "Tribalize," and "Sensitize" – already released on streaming platforms. Today, the duo has begun to gain heavy traction in the EDM community. Spiritualeyes is definitely a name to keep an EYE out for, as we make our way into 2021.