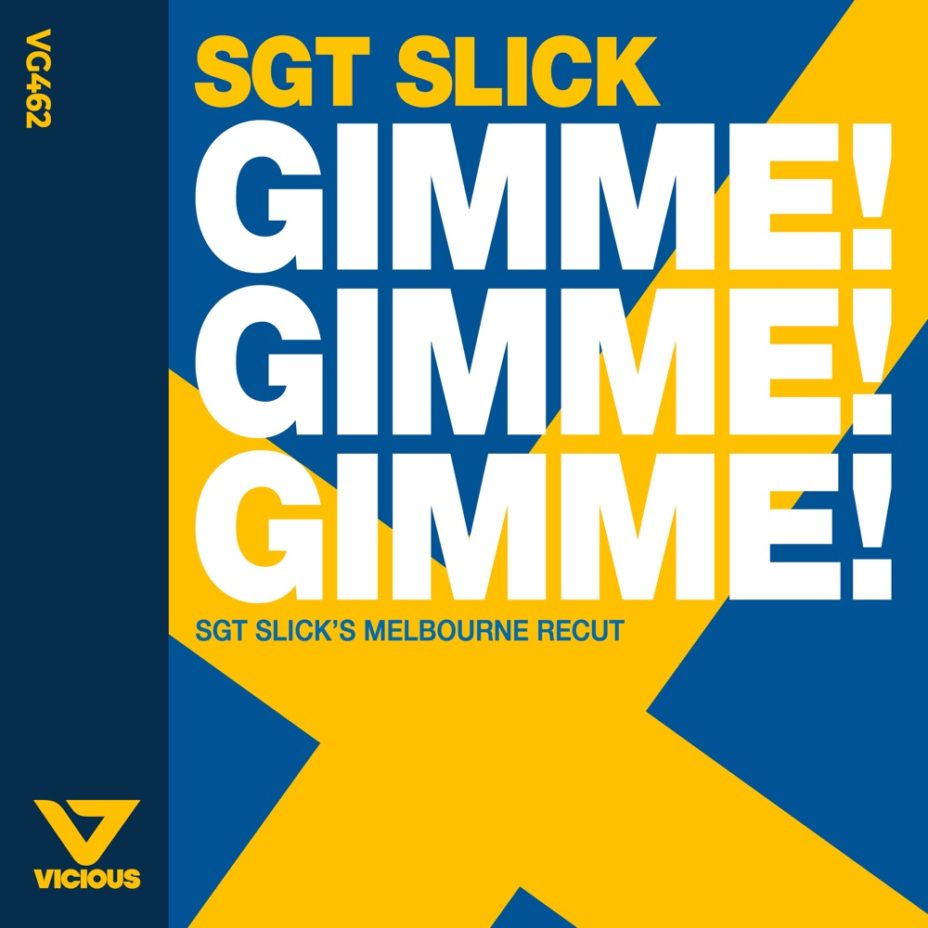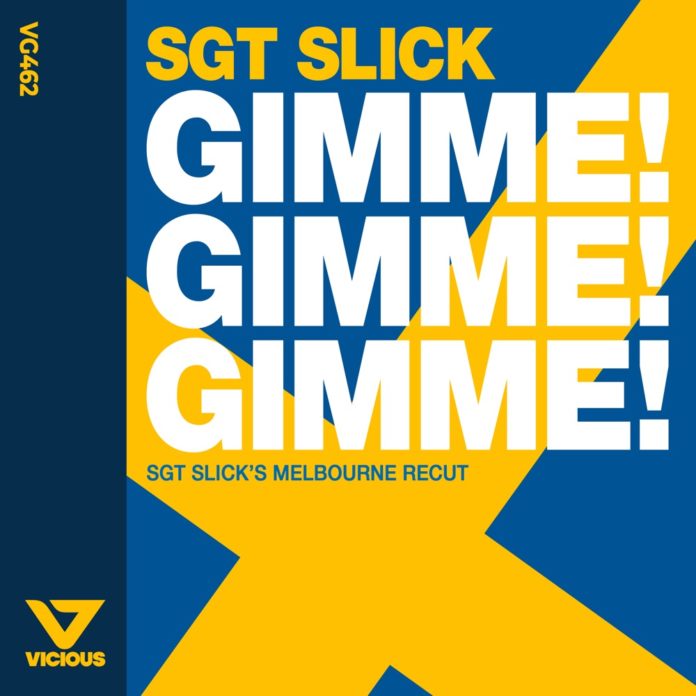 Sgt Slick finally dropped his Melbourne recut of the classic Abba Disco song "Gimme! Gimme! Gimme!" and this one is an absolute party starter and DJ weapon!
Starting off as a bootleg that Slick was playing live, his take on "Gimme! Gimme! Gimme!" finally has a full release. The package comes with the original Melbourne recut, an edit of it and the new Disco Edit from Sgt Slick and Vicious Recordings head honcho John Course. If you've been partying in clubs and festivals like "Beyond The Valley" in the past months in Australia, chances are you might have heard this killer tune already. It has already been creating magical festival moments, and it is pretty clear why!
His bootleg was so much in demand that Slicks' Dropbox received a "warning" because it received too much traffic! You know you are unto something good when DJs rush to your Dropbox to get your promos!
This song will also bring back some serious nostalgia from the good ol' days, some will remember it from the original Abba song, some others might remember it from the Madonna hit "Hung Up" that used the same melody and some will surely remember it from one of the dozens (if not hundreds) of remixes/bootlegs that used the main melody and vocal before. No matter what you remember the track from, this version is definitely the ultimate club one!
Sgt Slick weaved the lead vocal in and out and used it to perfection for maximum catchiness. The vocal and the main melody are so timeless and Slick couldn't have exploited them better.
Sgt Slick really took a masterpiece and gave it just the right twist to make it a magical club track for a new generation. Make sure this one surfaces to the top of your party playlists!
Stream

"Gimme! Gimme! Gimme!"

on Spotify below and grab your copy on Beatport!
More about Sgt Slick:
The past 5 years have seen the ascendancy of Melbourne's Sgt Slick into the upper echelon of Australia's Premier DJs, Producers and Remixers. The level of his consistency in the studio, coupled by his unwavering motivation and dedication on the decks has made Sgt Slick the go to guy in all three dance music categories.
In 2011, Slick hit some of his finest production form to date, punctuated by a number of successful releases that landed at the top end of global club charts and onto the playlists of the world's biggest and most influential DJs. In that year he scored one of his biggest singles to date, "Everyday", that achieved a top 10 Beatport position (after the track was championed by the likes of Kaskade, Tiesto, David Guetta and the SHM) becoming one of the most popular records of the 2011 Ibiza and Vegas party seasons.
Sgt Slick followed up Everyday's success with "Like This", racing up the Beatport chart to #2, only being held off top position by the world's biggest electronic act in Deadmau5. His collaboration with DJ Chuckie "The Bass Kicks Like This" replicated earlier success and featured as lead track on Chuckie's "Dirty Dutch Digital Vol 3" compilation.
In 2013 Sgt Slick has continued to push the production envelope with a multitude of successful productions, remixes and bootlegs that have been played on the world's biggest stages by some of EDM's most elite names. Throughout the year he has peppered the Beatport charts with releases on iconic Melbourne label "Vicious Recordings" including "Saturn", "Feel The Fire", "Just Keep Rocking" and "Pump This Party" (in collaboration with LA's "Vice"). Documented radio and club support has continued to be forthcoming from such names as Tiesto, Diplo, Paul Oakenfold and David Guetta, amongst many more.
In clubland Sgt Slick has continued to make his mark on the populace. Following a late 2012 relocation to Los Angeles he has forged a path across the US with a string of high profile headlining gigs, as well as returning regularly to Australia and Asia where his DJ skills remain in high demand. The journey has included stops at Marquee, Lavo, Create, Playhouse, Sound, Gypsy Bar, Club LIV, Greystone Manor, XIV, Hyde Bellagio, Mixx, Dim Mak Studios, Emerson Theatre, Drais, Horizon, Luna, Studio Paris, and many more. Supports along the way have included the likes of Dirty South, Roger Sanchez, Tommy Trash, Carl Cox, Fatboy Slim and Vice.
A 10 year relationship with Australia's leading club label "Vicious" under the Sgt Slick moniker has seen a slew of releases to his name, including one of Australia's finest house music moments in "White Treble Black Bass" (ARIA Award Best Dance Release Winner), "Right In The Night", "Back On Black" and "Automatic Machine". In addition to his own production work, he has added his masterful touch to releases from Avicii, DONS and Stonebridge amongst countless others. He has numerous mix CD releases to his name (including several editions of the iconic Vicious Cuts series) and has been prolific on all other media including hosting Australia's largest syndicated mix show "Loaded" on the Austereo radio network for 5 years.
2014 will see Slick continue to play a leading role in shaping and crafting the high quality output of LA's "MyVice" production house, as well coming to the party with a fistful of fresh releases of his own, beginning with the new single "POW!". A slave to House Music and an unrelenting perfectionist both in the studio and the DJ booth, he continues to take the world by force to the rhythm of his own beat, one dance floor at a time.
Follow Sgt Slick:
Facebook
Twitter
Spotify
Join us on:
Spotify
Soundcloud
Mixcloud
Youtube
Facebook
Twitter
Instagram