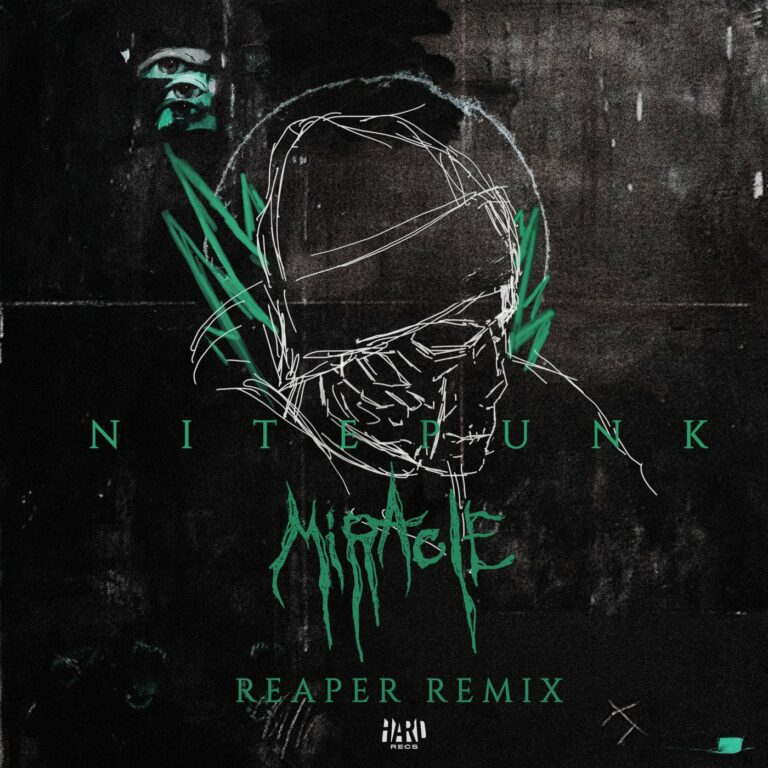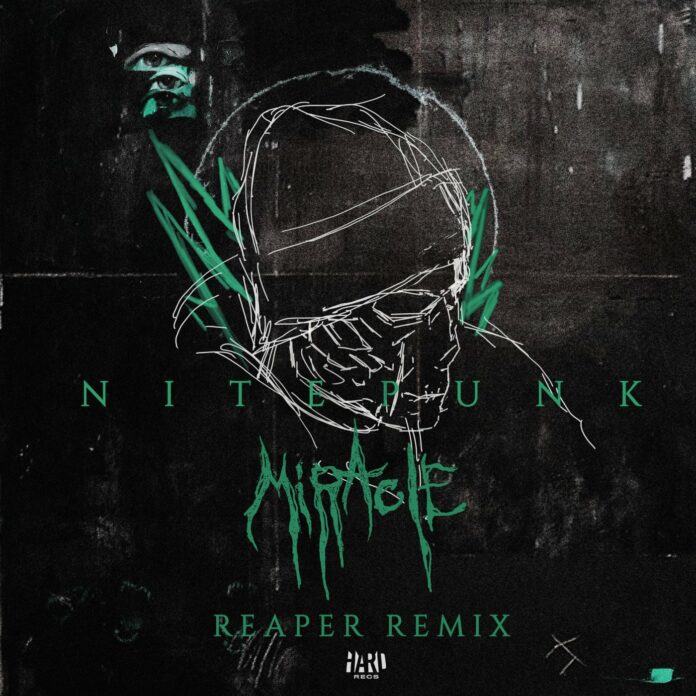 Aimed at fans of heavy metal Drum and Bass, HARD Recs dropped the eagerly anticipated Nitepunk – Miracle (REAPER Remix). With the original receiving support from NGHTMRE, Slander and Zeds Dead, expectations are high for the American D&B prodigy's remix. There is no reason to worry, because young REAPER does not disappoint. Howling wind instruments quickly introduce a savage bass drone, a twisted vocal and trippy atmospherics. All of that pleasantry goes to the wayside though, as it is quickly mowed down by uber aggressive power chords & soul rattling bass.
Filtering and twisting its way to the first drop, Nitepunk – Miracle (REAPER Remix) goes full scale Drum & Bass after the build. It's kicking in hard and absolutely eviscerating everything in its path with maniacal bass and rapid fire rhythms. This belter will have the hardest metal Drum and Bass fans headbanging like they're at a 90s death metal concert. With hints of early Spore or Noisia records peaking out from the darkness, this is American D&B at its maximum velocity. "Miracle" tears through sub woofers like a hot chainsaw through butter.
Sure to become a metal Drum and Bass anthem for 2021, Nitepunk – Miracle (REAPER Remix) is as savage as savage gets. There is nothing light hearted about this record. It's an audio warzone out here and that's just the way American D&B heads like it. Full tilt, no apologies, no remorse, just pedal to the metal.
You like what you hear? For more music from these artists, check out our features on REAPER's tracks, Make a Move, Pulse, Barricade, Heatseeker and Hysteria and Nitepunk's tracks, Flow and the Flow Habstrakt remix.
Stream Nitepunk – Miracle (REAPER Remix) on Spotify below!
Streaming Options:
---
More About REAPER:
Shrouded in mystery, the REAPER project is one of the most exciting acts to burst onto the dance music scene in years. His sound can be described as chaotic, transcendent, and evil. The D&B influence coupled with modern sound design illustrates a dark, aggressive picture of what bass music can evolve into. The journey has only just begun and the impact is already evident. With support from industry leaders such as Illenium, RL Grime, Zeds Dead, Kayzo and more. Since his debut with Monstercat he's amassed over 7,500,000 streams across digital platforms and with no sign of slowing down. The live side of the project launched in January 2020. Successfully debuting with Brownies and Lemonade at 1720 Warehouse in Downtown Los Angeles.
Following the debut, REAPER was set to jump on over a dozen Spring tour dates with Kayzo in US markets from coast to coast. He has also been a fixture in the live streaming space because of sets for Insomniac, Brownies & Lemonade, Monstercat, and more. REAPER is the voice of the future, the culmination of over two decades of bass. His music is a portal to the new era, the scene's gateway to drum and bass. Nitepunk – Miracle (REAPER Remix) is just the next step for this exciting young talent.
---
Looking for more tracks like "Miracle (REAPER Remix)"?