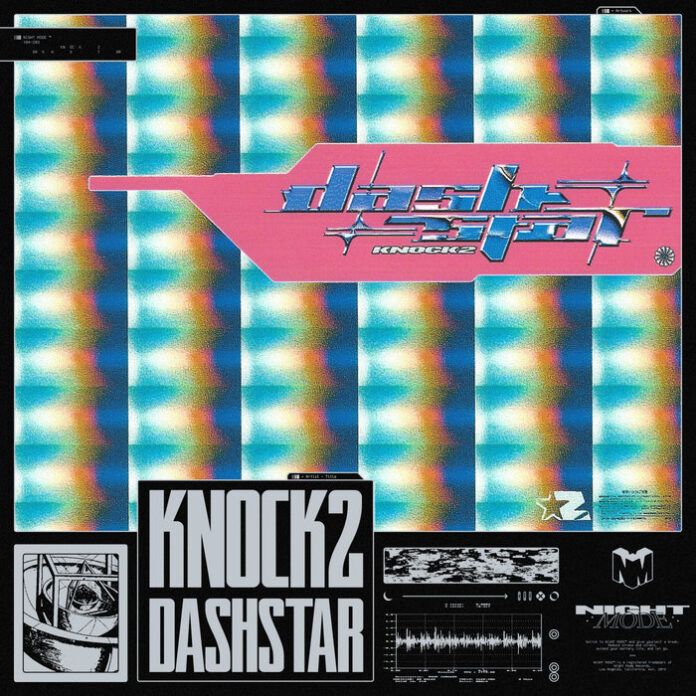 Knock2 is a man of many talents. He can turn his hand to anything, from Trap to House. But the more you listen, the more a theme begins to emerge. His sound is volatile, abrasive, and refreshing. Sometimes, new music can be repetitive, hearing the same sound design tricks, track after track. But new Knock2 music always delivers something fresh and original. His new release on Night Mode Recs entitled 'dashstar*' does just that. If there were any festivals happening, this track would be blowing up their stages all season long. 
The San Diego-based producer has a pretty extensive back catalog of flips and remixes. He's covered everything from Brockhampton to Skrillex, and he's given all of the Knock2 treatment; rippling highs and thundering lows, all anchored by some seismic drums. 'dashstar*' has all of this and more. Just ten seconds into the track and you've already got whiplash. The pace changes so quickly. Different stylistic markers appear and disappear, giving you mixed signals. Listening to 'dashstar*' feels like you're running as fast as you can, desperately trying to keep up with it. But once you've finally caught up, it takes a sharp turn and you're off again. 
This energy and originality are exactly what we wanted from new Knock2 music. This is his debut release on Night Mode Recs but we're hoping there will be a lot more in the future. His high-octane pace and searing, speaker-shredding sounds are the perfect fit. But, the SoCal producer has a lot more to offer than what this one Bass House track demonstrates. He'll be coming at you from all different angles in 2021 and he'll be breaking barriers, rules, and anything else that gets in his way.
Stream 'Knock2 – dashstar*' on YouTube Below!
Streaming Options:
---
More About Knock2:
Knock2 is based out of San Diego, California. With no genre being off-limits, there is no denying bass enthusiast that has cooked up quite the arsenal of club-ready weapons. From bass house hits to bone-rattling trap anthems, this promising producer has made a lasting impression throughout the past year with a number of mind-blowing releases engineered to light up the club and festival circuits. In addition to being a power player on RL Grime's blossoming Sable Valley imprint, Knock2 has proven to be one of the true driving forces breaking down the traditional boundaries of bass music for the better. Knock2 is one to watch if you're looking for a proper adrenaline rush.