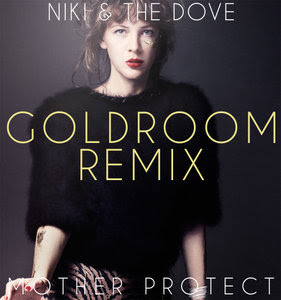 Born out of Los Angeles synthpop trio NightWaves, Goldroom is Josh Legg's solo effort and production alias. An amalgamation of dreamy synths, emotive vocals, and tropical disco grooves, Goldroom paints the soundscape of summertime in Los Angeles. A breezy response to the heavy, dub-laden clubs around Southern California, Goldroom's music is ready-made to soundtrack a poolside soiree. Influenced heavily by French Touch innovators like Alan Braxe and Fred Falke, Legg has crafted an uniquely Californian take on the genre, incorporating live instrumentation and percussion with elements of downtempo disco to create something more than the sum of its parts.
Everything Josh Legg touches really does turn to gold. Today we have two new Goldroom remixes for you to check out.
Niki & The Dove – Mother Protect (Goldroom Remix) peaked at #4 on the Hype Machine Most Popular chart last week and with good reason. It was included in many high-profile mixes like The Magician's Magic Tape 17, Aeroplane's November Mix, and Mustang's November Mix. Download the remix here:
Niki & The Dove – Mother Protect (Goldroom Remix)
Goldroom also led his remix expertise (and even some original vocals) to Canadian DJ/Producer Pat Lok's debut "No Shame." It is currently in the Top 10 of Juno's Electro/House Charts.