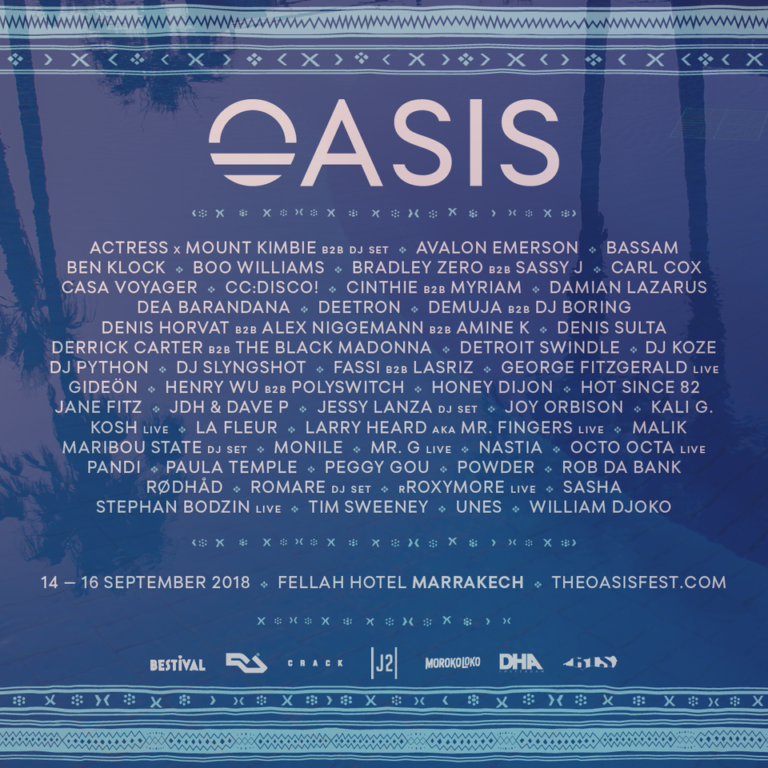 Oasis Festival 2018 is only a short month away. The festival, which is held annually in Morroco, is once again shaping up to be a crowd pleaser. The majestic deserts, colorful cities and lengthy coastline alone would make anyone want to visit. This years lineup will definitely make you run and pack your bags and head over to Marrakesh for 3 days of insanely cool acts and culture.
Oasis' lineup will have something for everyone, from Techno to House music, all the way to Disco Funk. Everybody in attendance is sure to find its little slice of heaven.
If you don't already have your tickets, you can grab them HERE and make sure to like the Oasis Festival 2018 official Facebook page HERE.
---
Here's our Top 5 Must-See House & Nu Disco artists @ Oasis Festival 2018.
---
CC:DISCO [AU]
If there is one certainty at this years festival is that this Melbourne lady of Disco will make you dance your ass off. Right in the mist of her UK/EU summer tour, CC:Disco (aka Courtney Clarke) is making a much anticipated stop at the festival. This busy lady has been a mainstay in the Melbourne club scene for more than 15 years.
Having worked on the radio since the age of 15 on various shows (her latest being the popular Smoke and Mirrors), CC Disco connects with her audience and all this work has made her a bonafide headliner all over the world. Marrakesh is the latest city in her path to world domination with her musical power of soul, funk, boogie, and disco.
---
HONEY DIJON [US]
This American DJ, producer, and fashion icon is sure to make you bounce. Honey Dijon began her career as a DJ in house scene with the likes of Mark Farina and Derrick Carter, in her hometown of Chicago, IL.
She later moved to New York City to continue her career. She has since performed at numerous fashion week events and other festivals around the globe. Being a transgender woman of color, this DJ has been a vocal advocate of trans rights. She continues to raise awareness to help the LGBTQIA community. Honey is sure to perform a set to be remembered at Oasis Festival 2018.
---
DETROIT SWINDLE [NL]
Detroit Swindle, a duo on the Heist Recordings label, will no doubt bring a fun set to the lucky festival goers. This great Danish duo has already collaborated with the likes of Mayer Hawthorne (from Stones Throw Label) as well as Hercules and Love Affair, just to name a few. Never settling for one style of music, their set is sure to be a house infused, disco, and African funk affair to remember.
---
DENIS SULTA [UK]
Denis Sulta (aka Hector Barbour) has not been on the circuit long. Only on the scene since 2012, this young newcomer has been making the good people of Glasgow go crazy and dance to his special brand of house music.
With three EP's on his own label, Sulta Select, Sulta is looking to break out of the UK. With is own brand of house techno, that is sometimes heavy on vocals, Sulta infuses different rhythms and great synth melodies that makes him an up and coming artist not to be missed.
---
JESSY LANZA [CAN]
The multi talented Jessy Lanza will grace Marrakesh with a mind altering DJ set this year. This Canadian songwriter, producer, and vocalist is sure to make you move with her unique style that mixes synth pop, funk, soul, and R&B influenced sounds. Having already two critically praised albums under her belt, the Oasis crowd will be in for a special treat with this Hamilton, Ontario native.
---
We also curated two very special Spotify playlists with some of our favorite tracks that you will most likely hear at Oasis Festival 2018.

---
Here's the epic Final Lineup for Oasis Festival 2018:

Actress x Mount Kimbie (b2b DJ Set)
Alex Niggemann b2b Amine K b2b Denis Horvat
Avalon Emerson
Bassam
Ben Klock
Boo Williams
Bradley Zero b2b Sassy J
Carl Cox
Casa Voyager
CC:Disco!
Cinthie b2b Myriam
Damian Lazarus
Dea Barandana
Deetron
Denis Sulta
Derrick Carter b2b The Black Madonna
Detroit Swindle
DJ Boring b2b Demuja
DJ Koze
DJ Python
DJ Slyngshot
Fassi b2b LasriZ
George Fitzgerald (Live)
Gideön
Henry Wu b2b Polyswitch
Honey Dijon
Hot Since 82
Jane Fitz
JDH & Dave P
Jessy Lanza (DJ Set)
Joy Orbison
Kali G.
Kosh (Live)
La Fleur
Larry Heard AKA Mr Fingers (Live)
Malik
Maribou State (DJ Set)
Monile
Mr. G (Live)
Nastia
Octo Octa (Live)
Pandi
Paula Temple
Peggy Gou
Powder
Rob da Bank
Rødhåd
Romare (DJ Set)
rRoxymore (Live)
Sasha
Stephan Bodzin (Live)
Tim Sweeney
Unes
William Djoko