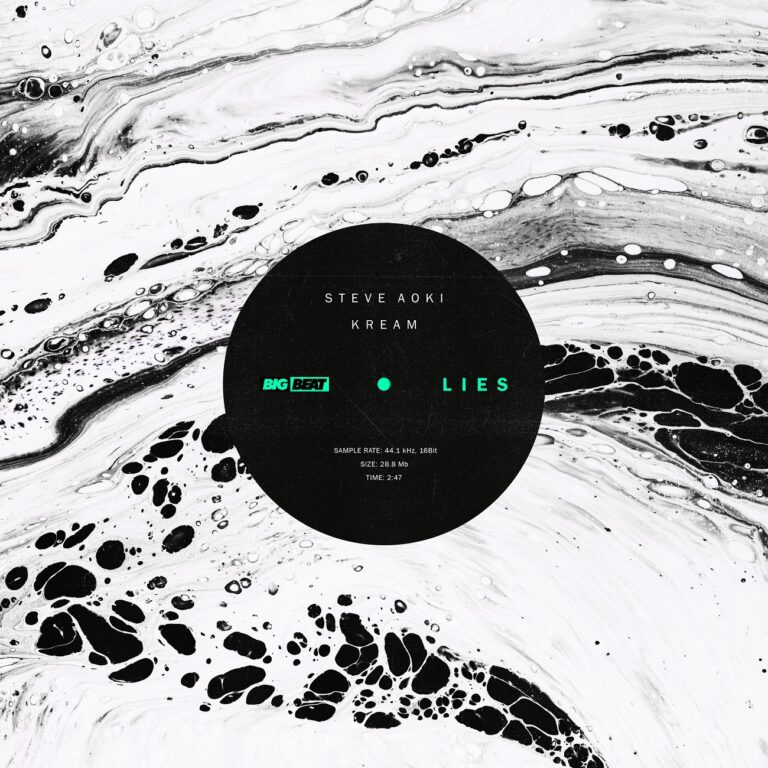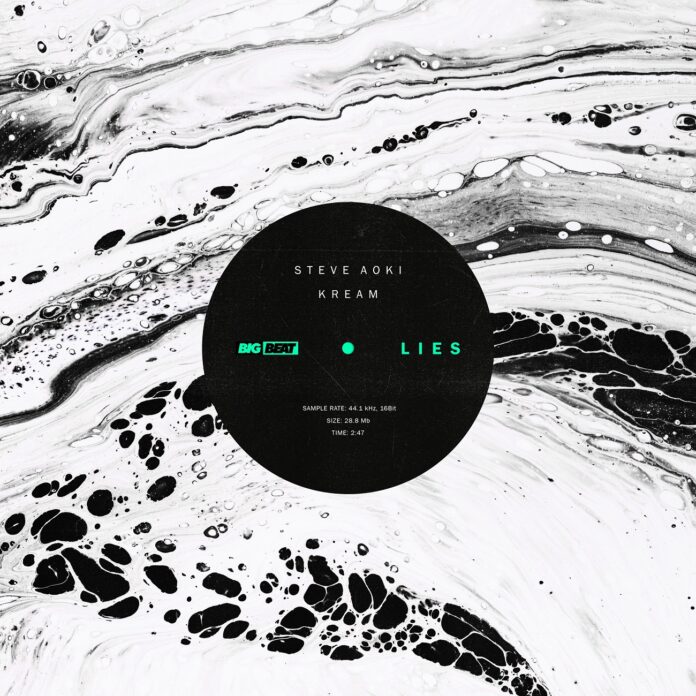 Big Beat Records just released an epic dream team collaboration by bringing the Grammy-nominated Steve Aoki and music visionary, KREAM, together. The track is an absolute club smasher. Dare we say the initial vibe of the track has a very 60's swingy feel to it. However, the song transforms into an edgier momentum as we reach the buildup. The whole transcending vibe of the track from nostalgia to modern twist makes 'LIES' a treat to the ear.
Steve Aoki and KREAM decorated their new track 'LIES' with slow bubbling keys and sparkling synths. It is a mix of throbbing beats and sly bits of celestial percussion; coupled with the honey-dipped vocal and an effortless flow, making it a serious stomper. The tune imbibes a great deal of energy, atmosphere, and strong melody. The talented musician duo has made sure to add the glossy production embellishments fit for modern-day music. The tune entices and lures its listeners into a frenzied state with not a single dull moment.
While listening to 'LIES,' it goes fast-paced and intense, but at times spacy and blunt as well. Issued by Big Beat Records, the track is a fantastic blend of styles between the two artists. Steve Aoki and KREAM romp all over the map with their massive beats and intense hooks. This Deep House tune is a stepping stone to potential greatness that is rich with twisting rhythms and crispy vocals. The thriving basslines and shinning synths are extremely compelling and engaging. The flourishing melodies mingle with vivid storytelling that is punctuated by the comforting vocals. The highly reverbed tune fronted by hazy, astonishing vocal harmonies is quite captivating.
The track's rugged and rough elements are skillfully juxtaposed with an effortless swing that gives off a vibrant mood. Steve Aoki & KREAM's 'LIES' offers an insight into the duo's penchant for creating a traditional flavor as a nod to past influences. However, the track never compromises on the relevance to current times. Big Beat Records has delivered a bold yet contemporary tune with finesse. Kudos to the duo for releasing a track that will definitely make it to the dancefloors of the hottest clubs around the world.
Stream 'Steve Aoki & KREAM – LIES' on YouTube below!
Streaming Options:
Steve Aoki & KREAM – LIES Apple Music
Steve Aoki & KREAM – LIES Spotify
Steve Aoki & KREAM – LIES Soundcloud
Steve Aoki & KREAM – LIES FREE DOWNLOAD
Steve Aoki & KREAM – LIES Download
More Streaming Options HERE
---
More About Steve Aoki:
Electronic dance producer and award-winning DJ Steve Aoki built his brand around raucous live sets, high-profile remixes and collaborations, and his indie label, Dim Mak Records. Active since the mid-'90s, his official debut album, Wonderland, received a Grammy nomination for Best Dance/Electronic Album in 2013, while subsequent releases remained a steady presence in the Top Five of the U.S. dance chart, including a pair of chart-toppers with Neon Future, Vol. 1 (2014) and Neon Future, Vol. 3 (2018). Dim Mak, founded in 1996, went on to count indie bands and electronic acts such as Gossip, Bloc Party, the Kills, Klaxons, MSTRKRFT, and Bloody Beetroots among its stable of signees. Aoki is one of the most collaborative producers around, with hundreds of features and remixes under his belt, including Top Ten dance hits for "A Light That Never Comes" featuring Linkin Park, "Just Hold On" featuring Louis Tomlinson, "All Night" featuring Lauren Jauregui, and "Waste It on Me" featuring BTS.
Born in Miami in 1977, Steven Hiroyuki Aoki (stage name Steve Aoki) grew up in California — the Japanese-American son of former wrestler and restauranteur Rocky Aoki — where he balanced academics, athletics, and social activism with his love of music, double-majoring at University of California, Santa Barbara while also playing secret shows from his college apartment. In 1996, Aoki took his D.I.Y. record production hobby and made it official with the formation of indie label Dim Mak Records. On the side, Aoki continued to perform in bands and solo sets.
In 2007, Steve Aoki released his first official compilation, Pillowface & His Airplane Chronicles, on Thrive Records. Featuring tracks by Justice, Klaxons, Mystery Jets, Peaches, Datarock, Yelle, Franz Ferdinand, Bloc Party, and Scanners — most of them remixed — Pillowface & His Airplane Chronicles represented Aoki's renown as a taste-making dance party DJ. The mix peaked in the Top Ten of the U.S. Dance chart.
In 2009, Steve Aoki's remix work brought rapper Drake's single "Forever" to the dancefloor, while 2010 saw him release the "I'm in the House" single with Zuper Blahq, alter ego of Black Eyed Peas singer will.i.am. Further high-profile artists' material was also reworked by Aoki during this period, with tracks by Michael Jackson, the Killers, and Lenny Kravitz all benefiting, while collaborations with like-minded producers such as Armand van Helden and the Bloody Beetroots continued to appear on Dim Mak. By the end of 2011, the early fruits of sessions for his debut album had materialized as the singles "Earthquakey People" — a collaboration with Weezer singer Rivers Cuomo — and "Tornado," on which Aoki combined forces with the multi-award-winning Tiësto. Wonderland arrived in early 2012 and marked Aoki's first appearance on the Billboard 200. The album was later nominated for Best Dance/Electronic Album at the 2013 Grammy Awards.
In late 2012, Steve Aoki released his first EP, It's the End of the World as We Know It. More collaborations followed, including a single between Aoki and Linkin Park titled "A Light That Never Comes," which was expanded as an EP featuring remixes by Rick Rubin, Vicetone, Coone. The track became Aoki's highest-charting single to date.
In 2014, Steve Aoki announced details of his sophomore effort, Neon Future, Vol. 1. Marketed as a two-part record, the first installment arrived later in the year, topping the Billboard Dance chart with the help of guests such as Fall Out Boy, will.i.am, and Waka Flocka Flame. Neon Future, Vol. 2 followed in 2015 with appearances from Rivers Cuomo, Snoop Dogg, and J.J. Abrams. The next year, Aoki collaborated with One Direction's Louis Tomlinson on the single "Just Hold On," which debuted at number two on the U.K. singles chart and just outside the Top 50 on the U.S. Billboard Hot 100. Aoki's fourth effort arrived in the summer of 2017. Kolony featured appearances by trap rappers Migos and Lil Yachty ("Night Call"), Gucci Mane ("Lit"), Lil Uzi Vert ("Been Balling"), and 2 Chainz ("Without You").
The next year, Steve Aoki released the single "Azukita" with Daddy Yankee, Play N Skillz, and Elvis Crespo. He followed with a quintet of big-bass, high-energy singles — featuring guests Hardwell, Laidback Luke, Loopers, and even his mother — which all landed on the 5OKI EP. 2018 continued to be a busy year for Aoki, with collaborations (including "Pretender" with Lil Yachty and AJR and "Be Somebody" with Nicky Romero and Kiiara) and remixes (including the star-studded "Girls" by Rita Ora, Cardi B, Bebe Rexha, and Charli XCX) occupying much of his output. He was also featured on a pair of tracks on the record-breaking Love Yourself: Answer by K-pop group BTS, lending his talents to the ballad "The Truth Untold" and a remix of "MIC Drop."
A third BTS pairing, "Waste It on Me," was just one of many high-profile collaborations on Steve Aoki's chart-topping Neon Future, Vol. 3. Landing at the end of 2018, the third installment in the series included appearances from blink-182, Jimmy Eat World's Jim Adkins, Lady Antebellum, Daddy Yankee, and even Bill Nye "the Science Guy." Neon Future, Vol. 4 arrived in April 2020, featuring Icona Pop, Desiigner, Monsta X, Sting, Backstreet Boys, Maluma, Travis Barker, will.i.am, Matthew Koma, Alan Walker, and Zooey Deschanel among its many guest artists. ~ Jason Birchmeier & Neil Z. Yeung, Rovi
More About KREAM:
KREAM features the talents of Norwegian brothers Daniel and Markus Slettebakken. KREAM has garnered worldwide attention for their unique blend of bass-driven dance music and emotive vocals. Initially discovered on SoundCloud through their remixes, their original music has now been played over 400 million times. The duo has become an in-demand remixer for major artists such as Dua Lipa, Anne Marie, Tove Lo, Bazzi, Zara Larsson, Martin Solveig, Kehlani and Jess Glynne++
In 2020 they launched LIQUID : LAB, a new kind of mix-show that blends different elements of current songs together, in effect creating 1 hour of never-heard-before remixes.