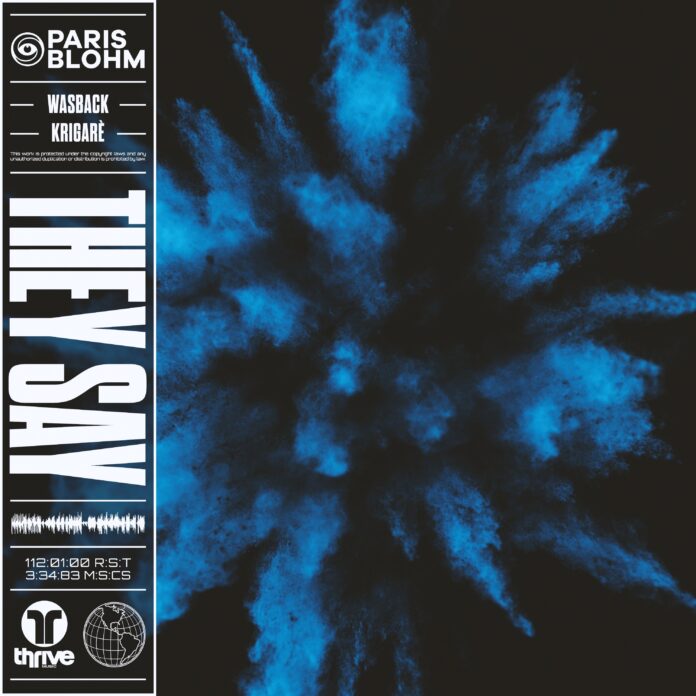 Paris Blohm is an international DJ and producer who is famous all across the globe for his signature style of blending House and Techno sounds together. During his journey, he has performed at many popular festivals including Ultra Music Festival and has also been supported by mainstream artists like Hardwell, Dada Life, and KSHMR. He is also known for remixing songs by The Chainsmokers, Galantis, and Seven Lions. Blohm is now back with his latest track called, 'They Say.' It is a collaborative effort with Wasback which features the enthralling vocals from Krigarè. Released by Thrive Music, it is a magnetic opus that will put you under a spell. 
'They Say' is a melodically pleasing track by Paris Blohm and Wasback. The overwhelming and fascinating nature of this Melodic House & Techno song repletes with massive pads and club-friendly rhythms. The duo delivers a course of infectious percussion before locking the track into steady-paced beats and rumbling bass. The adrenaline-injected melodies and beguiling vocals of Krigarè establish an interplay that reigns masterfully. Leaping out of the shadows, the song pumps vitality into the unsuspecting listeners before it explodes with peerless melodies.
Paris Blohm and Wasback latched on to a formula of lovely melodies and hypnotic riffs that are overloaded with a touch of sensational vocals that build on the delightful recipe. Issued on Thrive Music, 'They Say' is a well-oiled, streamlined effort that hits the ground running. Fulfilling the mission of loading the track with soaring bass and mesmerizing synths, the duo garnishes it with the flair of Krigarè's vocal ability and song craftiness as the vibration of the pads fill every empty space in the air. 
Structured by Paris Blohm and Wasback, 'They Say' is ladened with beautiful vocals of Krigarè that compliment the crunchy rhythmic riffs, and shredding percussion, turning this track into an upbeat banger. This captivating affair opens a new chapter of a musical escapade for Blohm & Wasback as composers. This Thrive Music release is really special for the fans of Melodic House & Techno music and has got us completely hooked.  
Stream 'Paris Blohm, Wasback ft Krigarè – They Say' on YouTube below!
Streaming Options:
Paris Blohm, Wasback ft Krigarè' – They Say Apple Music
Paris Blohm, Wasback ft Krigarè' – They Say Spotify
Paris Blohm, Wasback ft Krigarè' – They Say Soundcloud
Paris Blohm, Wasback ft Krigarè' – They Say FREE DOWNLOAD
---
Connect With Paris Blohm:
Join Us On:
---
More About Paris Blohm:
After taking a yearlong break, Paris Blohm returns with a new sound. Paris has played some of dance music's largest festivals including Ultra, EDC, and Electric Zoo, and gained support from top DJs including KSHMR, Dada Life, Hardwell, and many more.