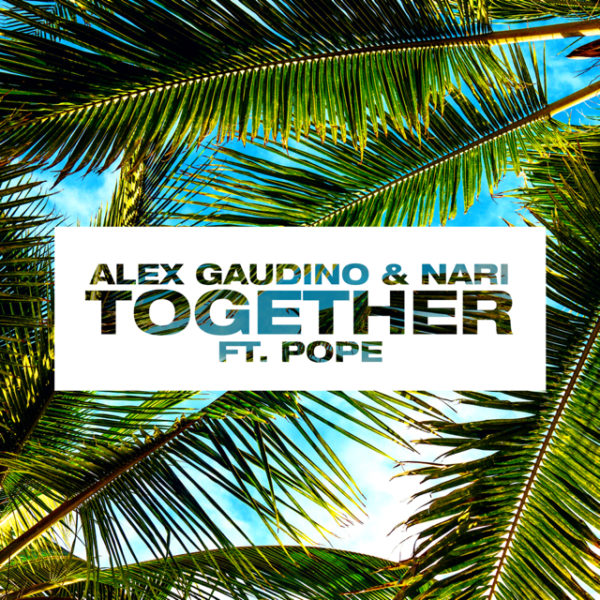 Legendary Italian DJ & music producer Alessandro Alfonso Fortunato Gaudino, better known as Alex Gaudino, is back on Ultra Music for a brand new great playful House tune.
The name Alex Gaudino rings a bell? Of course it does, he is responsible for the chart topping hits 'Destination Calabria' featuring Crystal Waters and "I'm In Love (I Wanna Do It)". He also has had more worldwide hits than any other Italian dj & is Italy's most played DJ on Spotify every month. Not too shabby, eh?

This time he teamed up with rising London singer Pope and fellow Italian Maurizio Nari for delighful and refreshing new summer vibes on "Together". The synergy between these three talented artists is just epic and the result is brilliant.
With an old-school dance flavor and a mesmerizing catchy hook, this well-rounded opus is what feel-good music is all about. "Together" will satisfy party-goers and will surely get jillions of plays in nightclubs and radios around the world.

A few words from Alex Gaudino about "Together"
"I'm really thrilled to be back on Ultra and equally thrilled to be

collaborating with my old sparring partner, Nari. Very pleased with how this track came TOGETHER. Pope is very talented and it's an honour to feature him."
Stream Alex Gaudino & Nari – Together feat. Pope on Youtube below and grab your copy HERE.

More about Alex Gaudino:
Alex Gaudino began his adventure in the music business in Italy in 1993 at the famous Flying Records and UMM. In 1998 Alex founded RISE Records, which soon became one of the most respected European labels, signing hit records like The Tamperer and Black Legend – Alex is the only Italian A&R who had two Number 1s in the UK sales chart.
Bang by Robbie Rivera got Alex a nomination as best European A&R at the European Music Awards in London in 2000. In 2003 he produced singles with Crystal Waters and Ultra Natè. The single Destination Unknown got massive support andand reached the top of the UK Buzz charts.
Alex is also behind the projects Supacupa & Sambatucada (Gaudino da Costa) and his remix of Is it Cos Im Cool by Mousse T left its mark on 2004.
The year after, his record Lil Love Little Love, was a worldwide club hit. The following year he remixed Pete Tong & Chris Cox (Deep End), Mousse T (Horny) and James Kakande (You You You-played by Pete Tong), and released his own track Reaction on Ministry of Sound of Alexs single Reaction and his Blue Lipstick project Head over Heels on Hed Kandi.
Alex's career then changes gear with the massive crossover hit Destination Calabria, a track that had gained a cult following as a bootleg before Data Records cleared the rights and released it officially. The track was a top 5 hit in singles sales charts in UK and many other countries around the world.
In 2008 and 2009, the follow-up single "Watch Out" made the top 20 in UK and dominated charts around Europe and Asia. His cover of the Joan Jett classic I love Rock n Roll was a massive airplay and chart hit in France.
Two years later Alex is back with another hit, proving definitively that he's one of the most successful producers of crossover dance record hits of recent years. I'm In Love (I Wanna Do It) went to #10 in the UK singles sales charts, #1 in the iTunes UK dance singles sales chart, #1 in the Billboard Dance Airplay chart in U.S.A. and many, many other chart results, getting huge radio airplay.
His remixes over the last couple of years read like a roll call of dance music's biggest players, including Armin van Buuren's Never Say Never', 'Peace Song' by Bob Sinclar, 'Escape Me' by Tiesto and "Spaceship" by Benny Benassi, "I'm Glade You Came" by The Wanted.
Alex is constantly on tour worldwide bringing his cracking sets to stylish clubs and hot festivals on both sides of the Atlantic. Alex is just at home in London, Paris, Moscow and Miami as he is in his native Italy. This year he span his records at the Ultra Music Festival in Miami, Beatpatrol near Vienna and Sensation in Poland, as well as his usual circuit of cool clubs.
In 2011 another hit for Alex: Alex Gaudino Ft. Kelly Rowland "What A Feeling" , went to #6 in the UK singles sales charts, #1 in the iTunes UK dance singles sales chart, #1 in the Billboard Dance Airplay chart in U.S.A.
You like Alex Gaudino's accessible and super entertaining sound? Make sure to follow him on social media networks below to stay up to date with his releases.
Follow Alex Gaudino on:
Soundcloud
Facebook
Instagram
Twitter
Bookings

Follow EKM.CO on:
Spotify
Soundcloud
Youtube
Facebook
Twitter
Instagram