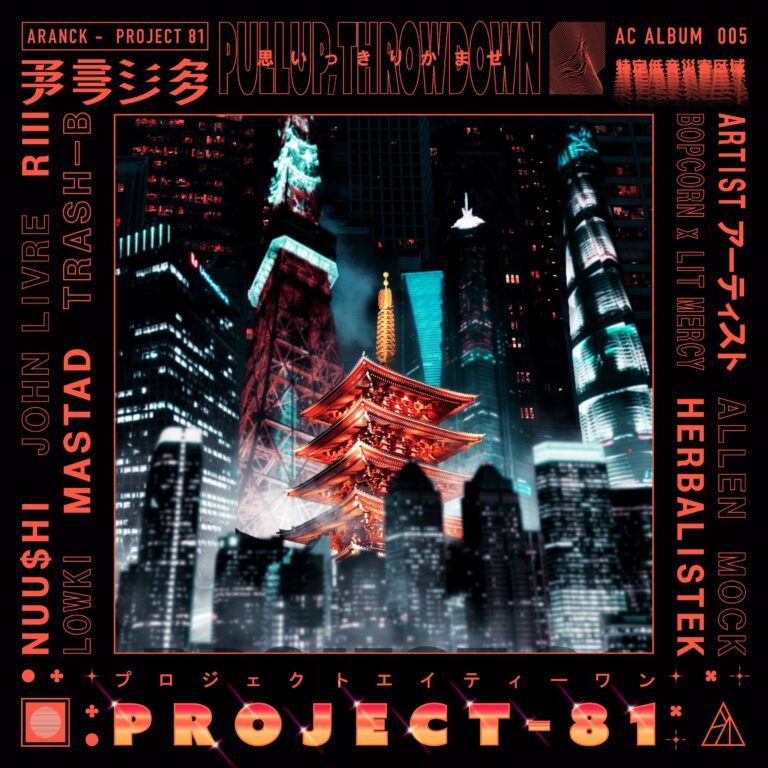 The prestigious and avant-gardist Japanese label ARANCK COLLECTIVE has been raising the heat on the EDM scene with their bass-driven EPs such as "PARADIGM" and "Bloodthirsty." They're now raising the bar to dangerously sinister levels with the release of the "ARANCK – Project 81 compilation". While the featured tracks on this compilation are trunk-rattling and nerve-wracking heaters; the two notable mentions are "Allen Mock – LFO" and "Herbalistek – Odd Signal." Both of these artists have been a true discovery on the bass music scene. Allen Mock has already been the talk of the EDM-town thanks to his addictive releases like "Phantom", a collaborative tune with Chow Chow, and "Tectonic." So, we had a clue that the new Allen Mock music would blow our sock off – and it did. However, an equally devastating and frenzied release on the label is Herbalistek's latest effort "Odd Signal."
We have been closely following the collaborative arc of Herbalistek and Allen Mock. So, we couldn't have been more ecstatic for the fresh singles from both artists featured on the "ARANCK – Project 81 compilation". "Herbalistek – Odd Signal" is a frazzling mania that will split your brain cells in a chaotic mess. The tune is that edgy and deviant. Fueled with intense breaks and glitches, this banger opens with a mechanical assault and spoken vocals to conjure a vivid yet mysterious ambiance. The palpitating bassline of the song melts into a combative and futuristic synth that will make your muscles twitch. The robotic drops and hits will slice through your body and create an intoxicating and intense ride.
"Allen Mock – LFO" is a true extraterrestrial sonic treat on the "ARANCK – Project 81 compilation". Brimming with electrifying chaos, this song is a real attention-hogging affair. This hybrid Trap music track is a warped and twisted tale of hair-raising percussions that are layered over crunchy synths. The trippy bass and hay-wired sonic styling on this new Allen Mock music will leave your spine-tingling. It is a sensational and gritty cut that will transport the listeners into Allen's twisted mind. This song sets the tone for the compilation perfectly.
"Herbalistek – Odd Signal" and "Allen Mock – LFO" truly shine on the "ARANCK – Project 81 compilation", it goes above and beyond our expectations. With these triumphant tunes, the artists have truly mastered the art of delivering a pit-curling mesh of fiery cannonballs that will leave the listeners in a mind-altering state. Do not miss out on these dark and raw cuts and stream them on SoundCloud below. You can also find more streaming options HERE.
Stream "ARANCK – Project 81 Compilation" on SoundCloud below!
Looking out for more music like the "ARANCK – Project 81 Compilation"?