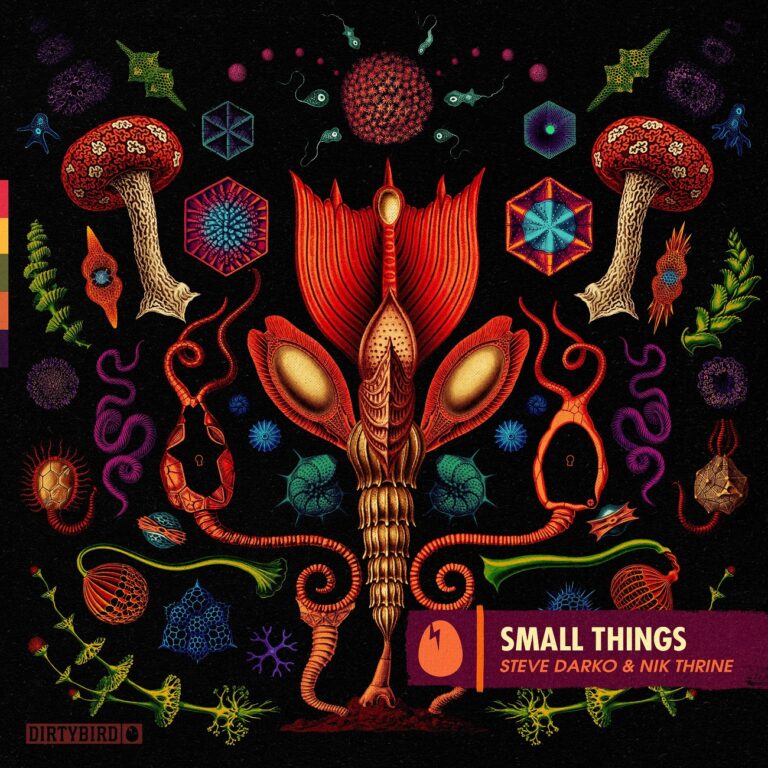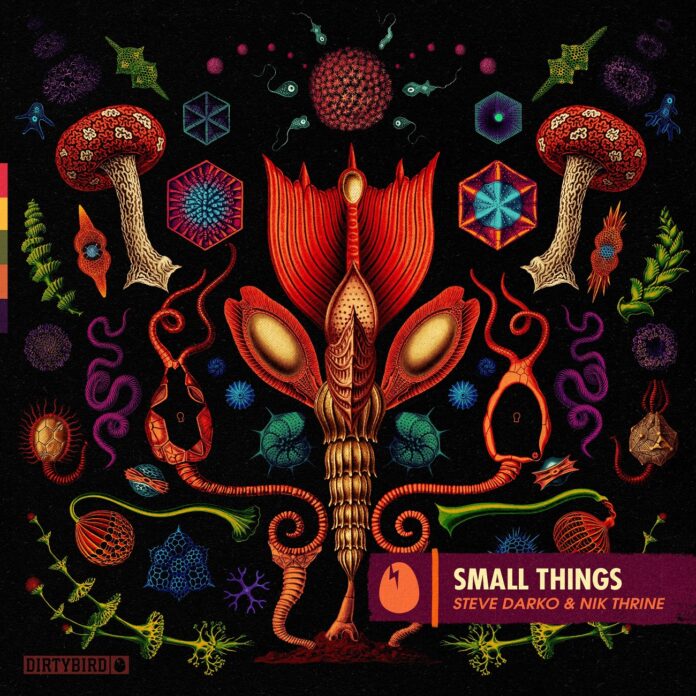 What's a Deep Tech House opus if it does not dwell on organic progressions and intense groove? The track entitled, 'Small Things' is exactly that. Landing on the Dirtybird Records 2021 portfolio, this song is a stunning collaborative effort by Steve Darko & Nik Thrine. After the release of a successfully divergent 14-track debut album, 'Midnight Swim,' this new Steve Darko music sees the artist returning to his roots and signature sounds. With eccentric lyrics and oscillating booming cadences, Steve Darko & Nik Thrine – Small Things is all about the collaborating artists' keen attention to details and an outstanding and jam-packed sound design that will leave your mouth hanging to the floor. It's that flawless!
Steve Darko & Nik Thrine – Small Things opens with nonchalant, and unassuming four on the floor rhythm until the whack takes over and pushes the song to the tipping edge. The perfectly spaced-out bassline on this new Deep Tech House track develops into furtive patterns and crisp synths that drive the atmosphere into trippy sonic realms. This Dirtybird Records 2021 release emulates the sound that we love and associate with Darko and then relapses into a classic grim, allowing Nik Thrine to display his potential at full throttle. 'Small Things' is an indulgent release that opens with a slow-burning momentum, but develops and morphs with chromatic intensity.
Nik Thrine has definitely delivered an eminent performance for his debut on Dirtybird Records 2021. Fans of Deep Tech House music will certainly dig the unexpected duality of Steve Darko & Nik Thrine – Small Things. This new Steve Darko music is splashed with traipsing glitches and galvanizing hooks layered with percussive hits that keep the rhythm well-energized. Steve Darko & Nik Thrine have spun a cerebral euphoria on 'Small Things' and we're sure that the listeners will absolutely love this elevated Deep Tech House collaboration.
Stream 'Steve Darko & Nik Thrine – Small Things' on YouTube below!
Streaming Options:
Steve Darko & Nik Thrine – Small Things Apple Music
Steve Darko & Nik Thrine – Small Things Spotify
Steve Darko & Nik Thrine – Small Things SoundCloud
Steve Darko & Nik Thrine – Small Things FREE DOWNLOAD
Steve Darko & Nik Thrine – Small Things Download
More Streaming Options HERE.
---
More About Steve Darko:
Rising producer/DJ and likable human Steve Darko is a music nut from the underground scene in Boston. Following a short stint producing hip-hop beats and what he calls "shitty instrumental mixtapes," he made the eventual jump to the dance floor after discovering electronic music. Today, Darko owes his chunky, bass-forward style to his musical upbringing, sonic curiosity and ever-expanding assemblage of analog gear.
Darko's sound lives at the intersection of house and techno, where bouncy bass and technical grace live in sonic harmony. His unique style offers a fresh take on house: gritty low end, thick and sub-rattling bass, alien-like sounds and warped-out vocal samples. That winning formula has garnered him the attention and support from the top labels in electronic music, including Dirtybird.
Dirtybird boss Claude VonStroke liked Darko's music so much he handpicked him to go on his entire 2018 fall/winter world tour, signing Darko to a multiple-release record deal on the imprint as well. After debuting on the label in May 2018 with his breakthrough Fried or Fertilized EP, Darko now leads off the new Dirtybird Campout West Compilation with "Switch It Up," a track getting plays from Music On in Ibiza to HARD Summer in Los Angeles.
Steve Darko's musical mission is to create art that's interesting and different and weird enough to intrigue clubs and entice dance floors around the world. Don't miss out on this up-and-coming star.
More About Nik Thrine:
Nik Thrine's passion is to create unique, timeless, forward thinking, electronic music inspired by everything classic to current. Deep House, Tech House, Progressive, Techno, Acid, Disco, and more. A true vibe curator on the decks he utilizes his unique style of DJing and various arsenal of music to mesmerize dance floors. Every set takes you on an journey full of twists and turns that keeps you dancing from beginning to end.
---
Looking for more tracks like "Steve Darko & Nik Thrine – Small Things"?