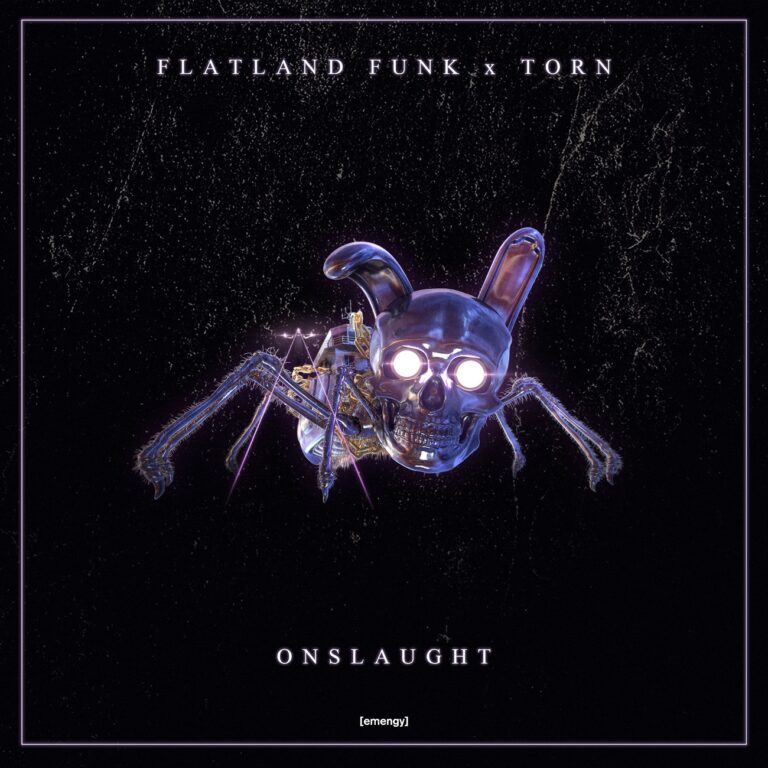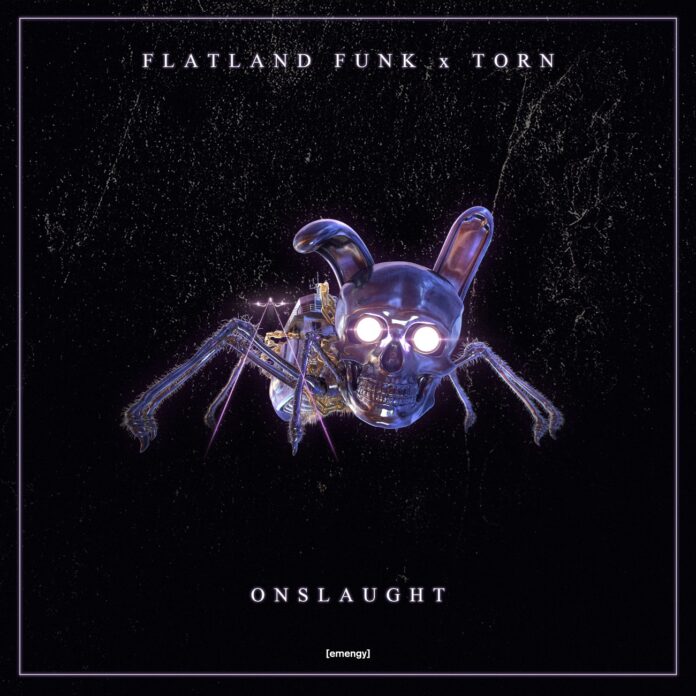 Flatland Funk x Torn – Onslaught is just the track to take away your Monday blues! Picked up by the Canadian label Emengy, this powerhouse collaboration is a magnificent display of artistic prowess and mad skills. With tracks like 'Living for Today' and 'Bone Snappa,' Flatland Funk has already marked his authority on the aggressive music landscape. Whereas, Torn is also exploring his craft with outstanding multi-genre releases like 'Harder,' 'Grim,' and 'RIP.' Therefore, this heavy Dubstep 2021 tune reaches the zenith of twisted chaos as both artists' raving elements collide with a stirring blend of bewildering beats. The headbanging vibes and warped hype on this new Flatland Funk music will be an otherworldly experience for the listeners. This Emengy Dubstep release runs its 3 minutes and 14 seconds course, but it will leave you feeling raw and just craving for more. It's that hardcore and frazzling!
This new Flatland Funk music will shake your primitive senses to the core. The collaborating artists truly go for the kill on this heavy Dubstep 2021 song. With crescendoing and descending pulses layered over hard-hitting distortions, Flatland Funk x Torn – Onslaught will catapult you in a destructive mode, perfect energy for the gym! The shattering synths and electrifying bassline truly conjure an edgy and sinister atmosphere. It's the combination of contorted screeches and urgency-fueled kicks and throbs on this Emengy Dubstep gem that will leave you paralyzed and gasping for air.
The sizzling rhythms and face-melting energy of Flatland Funk x Torn – Onslaught comes with death-defying hooks and devastating drops. This heavy Dubstep 2021 track is an intricate play of maddening buildups, guitar-led, and riff-rich cadences that will capture you in its web. On this Emengy Dubstep opus, both artists have outdone themselves. The palpable electricity that sizzles through this new Flatland Funk music is a pure assault of mind-numbing euphoria that is meant to be played on loop, or even better, on a festival main-stage!
Stream 'Flatland Funk x Torn – Onslaught' on YouTube below!
Streaming Options:
Flatland Funk x Torn – Onslaught Apple Music
Flatland Funk x Torn – Onslaught Spotify
Flatland Funk x Torn – Onslaught SoundCloud
Flatland Funk x Torn – Onslaught FREE DOWNLOAD
Flatland Funk x Torn – Onslaught Download
More Streaming Options HERE.
---
More About Flatland Funk:
While there are many DJs across the planet who illuminate their hometowns with a strong music scene, there are only so many who make a global impact with it, and although some DJs may see a lot of cities, the most successful ones are those who are no stranger to the three most powerful places on earth: the studio, the chair of a record label, and the biggest festival stage to be found.
One such Canadian artist, aptly named Flatland Funk for shaking bassbins near his home in Saskatchewan (which he calls the flattest land in the world), is making waves that tear through his territory and beyond, getting plays from gigantic global artists such as: NGHTMRE, Dirty Audio, Pixel Terror, Reid Speed, Young Bombs, MAKJ, Blasterjaxx, Dyro, Meaux Green, TJR, Tommy Trash, Bombs Away, and many more. And with the release of Flatland Funk x Torn – Onslaught, he is on a roll.
More About Torn:
Mack Vargas, known as TORN, is a Canadian Multi-Genre Bass Music Artist from Winnipeg, MB. In just a few short years, TORN has been making a name for himself with his unique approach to music production. Never limiting himself to the confines of just one genre, TORN welcomes inspiration from all corners of music – Dubstep, Trap, House, Dnb, Hardstyle, Hip-hop, Punk-rock, and even Classical/orchestral to name a few. If you've ever seen TORN live you'll know that he crafts his sets like his production; seamlessly blending one genre & bpm to the next while taking listeners on a new and unique journey each and every time. His creative versatility has landed him supporting roles for Barely Alive, Bandlez, Peekaboo, Hi I'm Ghost, Dirt Monkey, Akylla, Dr. Ozi, Twine, INF1N1TE, Matrix & Futurebound, Ed Solo, and more. TORN is the owner and co-founder of Hectic Events, Winnipeg's top hard bass music event company. Hectic Events organizes community events & shows to support local and touring artists, with a strong focus on promoting art & culture while creating high-quality experiences and productions for their patrons/community. And with the release of Flatland Funk x Torn – Onslaught, he is now showing any signs of slowing down.
---
Looking for more tracks like "Onslaught"?