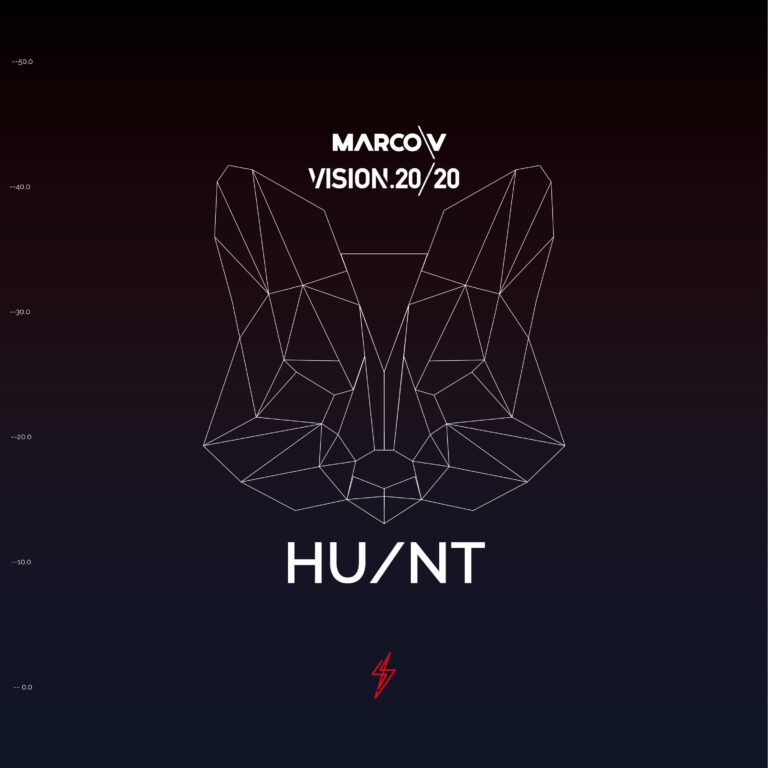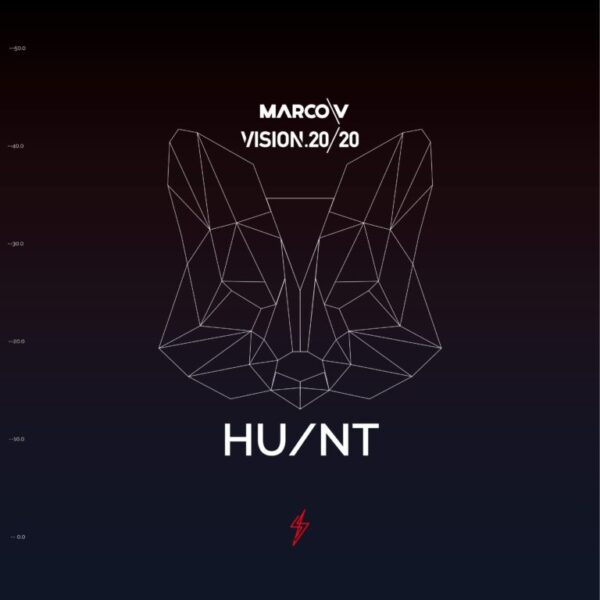 Marco V, after so many years in the game, is still finding new ways to change it up. His latest project, Vision 20/20, is back with a new track entitled 'HU/NT'. This is the follow-up track to his last release 'HO/PE'. The novel idea of a separate two-part release is something you don't see very often in electronic music. Concept albums have had their time, but maybe it takes some new Marco V music to bring them back! 'HO/PE' as a track had an airy, uplifting quality to it. However, 'HU/NT' represents something darker. Both are available on In Charge Records.
'HU/NT' hits the ground running. The weighty, noisy kick tells us that this track means business. The pace is fast and the energy is high, but this is nothing out of the ordinary for the famed producer and remixer. When the rhythm subsides, there's a euphoric swell of Trance chords. At this moment, we can hear and feel this track's relationship to the previous Vision 20/20 release. However, the two sections of the song so far are completely juxtaposed. This makes it even more intense when they collide. The Tech House-style kick thunders away and the Trance lead blazes brightly over the top.
After a quiet year, we didn't know what to expect from the veteran producer. It goes without saying, the new Marco V music we've heard so far is pretty much perfect. It's easy to imagine this track rocking venues and festival stages across the world. In the meantime, we'll have to put it on our home systems and crank up the volume. Expect more big things from Marco and In Charge Records in 2021!
Stream 'Marco V x Vision 20/20 – HU/NT' on YouTube Below!
Streaming Options:
Marco V x Vision 20/20 – HU/NT Apple Music
Marco V x Vision 20/20 – HU/NT Spotify
Marco V x Vision 20/20 – HU/NT SoundCloud
Marco V x Vision 20/20 – HU/NT FREE DOWNLOAD
Marco V x Vision 20/20 – HU/NT Download
More Streaming Options HERE
---
More About Marco V:
Inside the ranks of DJ MAG Top100 for 10 consecutive years, Marco V's indisputable position at the helm of the techier side of Dutch dance music continues to soar, inspiring the most innovative and diverse electronic artists of the decade.
Exploding across the burgeoning scene on both homeland and international levels, back in the day Marco's Southside Spinners project – together with Benjamin Bates – propelled the successfully acquired taste of 'Luvstruck' onto the radars of those who mattered, sparking a wave of interest surrounding his name.
This, and later releases like 'Simulated' and 'Godd' were a pinpoint commission that led to inspire a new generation of DJ/Producer's which include Fedde le Grand, Sander van Doorn and Hardwell. As a remixer in constant demand, he has reworked music from some of the biggest names in the music industry; artists that include Galantis, Madonna, 50 Cent and James Blunt.
Marco's festival history proves equally as impressive as he ticks off Mysteryland, Tomorrowland, Global Gathering, Sensation, Creamfields, Dance Valley, Mayday, Global Gathering, Kazantip and Ultra Music Festival Miami to his endless and impressive achievements.
Ever the innovator, Marco V continues to aspire to take his sound into new realms. Thanks to his boundary pushing capabilities, his pioneering status amongst the scene's elite is forever solidified. His latest track 'HU/NT' is out on In Charge Records.