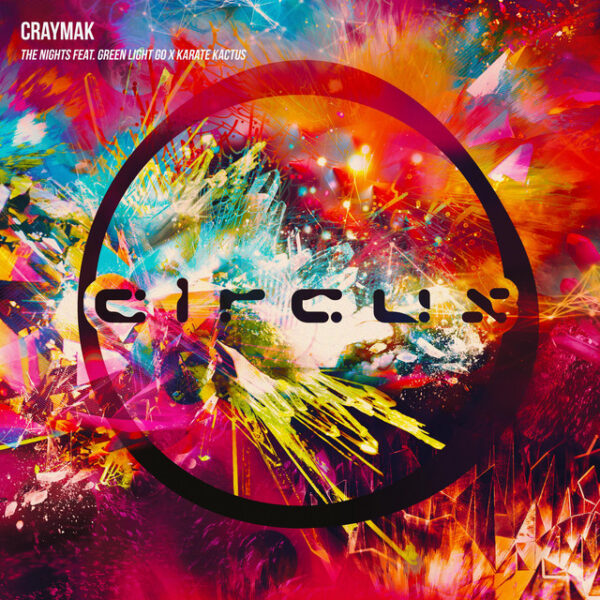 We've got a huge new Dubstep collaboration for you today! CRaymak has teamed up with Green Light Go and Karate Kactus on the memorable and emotional Dubstep heater "The Nights".
Released on the legendary Dubstep label Circus Records, founded by Flux Pavilion and Doctor P, "The Nights" is not your overly aggressive Dubstep kind of jam. Of course it offers hard-hitting drops that will rock any festival or club, but it also offers nice Pop and emotional sensibilities and a vocal that will hook you right away.
"The Nights" by CRaymak, Green Light Go & Karate Kactus is an impeccable production all around. From the marvelous work on the vocal, to the top-notch sound design and the invigorating melodic arrangements, it is a well-rounded track that will please Dubstep heads and EDM fans alike. The track offers a perfect balance of emotional depth, intense drops, mesmerizing melodies and Pop catchiness.
The trio of Canadian artists are rapidly showing their true potential and, although it is just the beginning, I'm sure we will hear and see plenty of outstanding material from these guys in the months and years to come.
"The Nights" is available now on all streaming platforms (see links below) and can also be purchased from Beatport.
Stream "CRaymak – The Nights feat. Green Light Go x Karate Kactus" on YouTube below!
Streaming Options:
CRaymak – The Nights feat. Green Light Go x Karate Kactus Spotify
CRaymak – The Nights feat. Green Light Go x Karate Kactus Apple Music
CRaymak – The Nights feat. Green Light Go x Karate Kactus SoundCloud
CRaymak – The Nights feat. Green Light Go x Karate Kactus Free Download
CRaymak – The Nights feat. Green Light Go x Karate Kactus Download
More Streaming Options HERE.
More About Karate Kactus:
Canadian DJ/ Producer Jason O'Grady better known as Karate Kactus is slowly on the rise in the east coast scene. His sound is said to be the perfect blend of good vibes and electro energy.
His official debut single "Shy" came out April 2019, on Dreaming Out Loud Records, with fellow Canadian artist FAANGS racked up over a million total streams and was nominated for an East Coast Music Award. He then followed up with 2 collaborations: "Wildfire" with Maura Whitman and a remake of La Roux's "Bulletproof" with Willa.
Maintaining a steady tour schedule across Canada, Karate Kactus also holds down multiple club residencies along the East Coast.
Being raised in Africa, Europe, the Middle East and North America it's not hard to understand the influence of world music in Karate Kactus' global sound. And you can hear this unique blend in his upcoming release "Shut Up & Say It", a strong pop tune with tropical flair that has to the potential to be a fresh summer anthem.
More About CRaymak:
Residing in Montreal, Canada and signed to Circus Records (label based out of the UK)
The shores of Eastern Canada are on the receiving end of the unforgiving Atlantic Ocean, it's no secret that this is why the people of Nova Scotia are tough, determined and have a well known appetite to explore. One of their most recent sons, CRaymak, is starting to make a name for himself and when you listen to his work you'll hear many of those characteristics coming through.
As a student of the high art that is Jazz, CRaymak is a multi-instrumentalist who was born to question the meaning of music, to voyage across it's boundaries and discover new sounds. Using 15 years of Classical and Jazz theory, this is an artist that incorporates advanced chord sequences and musical arrangements into dance-floor ready cuts for the modern world.
Born in St. Johns, Newfoundland and growing up in Halifax, Christien Raymakers spent many of his formative days listening to the greats, Miles Davis, Randy Brecker, Pink Floyd, The Roots, Linkin Park, Björk, System Of A Down and plenty more. But it was when he immersed himself in the cutting edge beats of Skrillex, Flux Pavilion and Seven Lions that he decided that Dance Music was his calling.
Unsurprisingly for an artist with such a diverse knowledge of music, genres are open season and you'll be hard pressed to put CRaymak in a pigeon hole. moving within the borders of bass music his sound is first and foremost hard, it is dynamic and always energetic.
More About Green Light Go:
Green Light Go is an emerging pop duo from Halifax, Nova Scotia. Veterans of top East Coast cover acts, their approach to songwriting and production is a product of countless hours studying and performing Top 40 tracks across Canada.