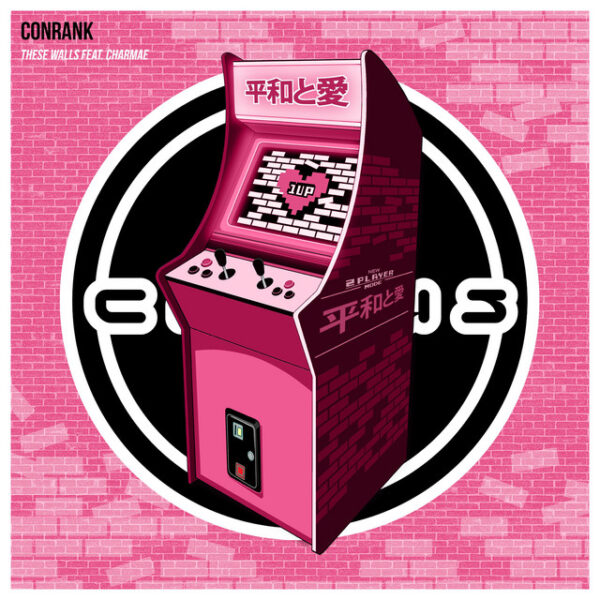 Based in Los Angeles, CONRANK has made a global impact with his music. What makes him so unpredictable is his ability to produce music in different genres whether it be Dubstep, Chillstep or Drum and Bass. He has a way of fusing melodic elements into his releases that makes his songs very fresh and appealing. This special DJ/producer has now collaborated with the gifted singer Charmae on the song called, 'These Walls.' Issued on Circus Records, it is an eloquent tune which contains elements of both Chillstep and Dubstep music.
Whenever CONRANK puts out new music, we know it is going to be huge and his latest track with Charmae entitled 'These Walls' is no exception. It is a brilliant tune that features an interesting fusion of translucent melodies with pulsating basslines, creating an eccentric mix that produces a lull atmosphere. We have to praise CONRANK for structuring this song so beautifully. However, not to take anything away from Charmae as her vocal really shines on this release. The duo took the ambition from numerous directions and fused them to strike an ideal balance between virtuosity and palatability.
The production and engineering of 'These Walls' is incredible. Released by Circus Records, this track is an auditory treat for those who like listening to soulful music. The song is polished with charming vocals and melodic lines that mesh between percussive instruments while the rhythm section binds the listeners tightly. It is a warm track that will surely get you hooked.
'These Walls' by CONRANK and Charmae deliver an impeccable composition and unparalleled musicianship. It is an astonishingly melodic song that has a fresh rhythmical bite that keeps one's imagination fully occupied as the song seamlessly streams through its beautiful musical journey. This Circus Records release is really enlivening and we really hope for the pair to collaborate again soon!
Stream 'CONRANK – These Walls Feat. Charmae' on YouTube below!
Streaming Options:
CONRANK – These Walls Feat. Charmae Apple Music
CONRANK – These Walls Feat. Charmae Spotify
CONRANK – These Walls Feat. Charmae Soundcloud
CONRANK – These Walls Feat. Charmae FREE DOWNLOAD
CONRANK – These Walls Feat. Charmae Download
More Streaming Options HERE
---
More About CONRANK:
Circus Records artist, Conrank has quickly established himself as one of bass music's most innovative voices. After spending years as a globe-trotting musician, including an 8 year residency in Shanghai, Conrank settled into his new home base in Los Angeles, CA in early 2017. In just a few short years, Conrank has swiftly earned the reputation of tearing down any dancefloor he plays to, without exception; bringing his melodic yet frenetic brand of dubstep, grime, and drum n' bass to stages all across the world. Conrank's releases on Circus Records, Bassrush, Saturate Records, Stylss, Sleeveless Records, and Wakaan benefitted from steady track support by renowned DJs like A-Trak, Gaslamp Killer, DJ Craze, Buku, and more. Conrank capped an already big 2016 with a performance alongside Skrillex, on the OWSLA-hosted "Boiler Room-Asia", which garnered over 4 million streams worldwide.The start of 2017 signaled a musical return to Conrank's UK grime & bass roots and is already shaping up to be Conrank's breakout year. His first single, "Future Forward", described by Magnetic Magazine as "genre-defying" and "bringing dub, trap, and bass to a whole other dimension", has already become his most streamed track-to-date. March 22nd saw the release of a 4-track EP for Bassrush Records, a label imprint of Insomniac Events (creators of EDC, Beyond Wonderland). Conrank will follow up the release with multiple releases on CIRCUS RECORDS throughout the year.