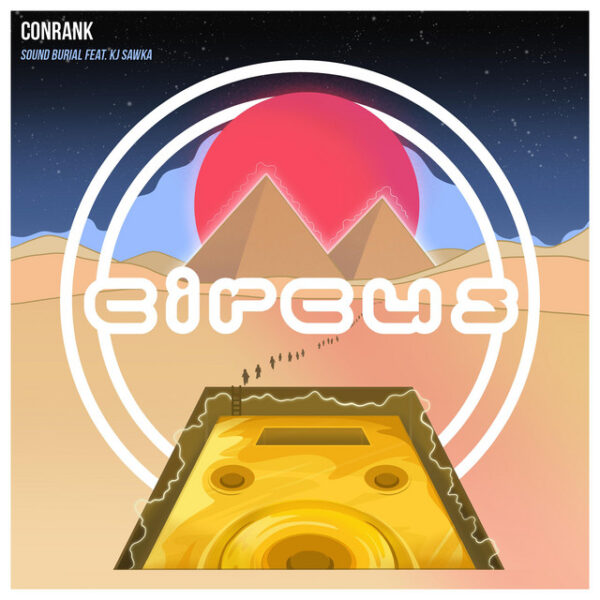 CONRANK has established himself as a major bass music superstar. He has released many catchy hits over the years including, 'Decapitate,' 'Drum in Time,' 'Tonk Sound' and 'Buk Em.' Moreover, this UK born DJ/producer has not only gone on to collaborate with Bassnectar but has also performed at some of the most popular festivals including EDC Las Vegas. He has now released his latest tune, 'Sound Burial' with KJ Sawka on Circus Records. It is a solid release in terms of resonant rhythms and fearless variability. The duo has blended their styles perfectly while remaining true to their signature sound to produce this Dubstep song to perfection. The track is vibrant, yet intensely epic which moves from steady swirls to swelling magnificence. It is a hard-edged track that will make festival-goers rave harder.
Issued by Circus Records, 'Sound Burial' by CONRANK and KJ Sawka is a satisfying projection of breezy vibes and some earnestly introspective thoughts on all the facets of the composition. The song showcases technical and creative maturity between the efficacious bass and synth in this musical recipe. From the start, the song impresses with its production of the groovy beat over captivating rhythms and dazzling synths. All these characteristics show artistic depth and ingenuity that makes this hard-hitting song extremely exciting to listen to. This Dubstep track reveals fascinating composition and overall provides interesting insights into this type of bass-driven music.
Both CONRANK and KJ Sawka have structured 'Sound Burial' in an extremely creative way, making it an innovative cut for Dubstep fans. The song contains a banging drum section that is layered over hypnotic vocal snips before two lethal drops are introduced that amplify the overall intensity of the song. This Circus Records release is a powerful tune that will dominate big festivals.
Download 'CONRANK – Sound Burial Feat. KJ Sawka' HERE and stream the song on YouTube below!
Connect With CONRANK:
Connect With KJ Sawka:
Connect With Circus Records:
Join Us On:
More About CONRANK:
UK born, LA/Shanghai-based bass DJ & Producer Conrank is now an official artist on the Circus Records roster alongside Flux Pavilion and Doctor P, and has quickly established himself as one of bass music's most innovative voices. Gaining support from BBC Radio 1, UKF and appearing alongside Skrillex on The Boiler Room (viewed by over 4 million people), Conranks name has grown in America like wildfire over recent years. Collaborating with Bassnectar, remixing for the likes of Zeds Dead, performance across many huge festivals like EDC Las Vegas, if you don't know Ranky by now mans is missing OUT.
More About KJ Sawka:
With a passion for music, superhuman dexterity and mastery of the musical marathon, KJ Sawka is world renowned drummer extraordinaire. From continuously touring the globe to conquering the electronic music scene by going platinum with super group Pendulum (original live EDM band of 'Knife Party' superstars, Rob Swire and Garreth McGrillen) to challenging status quo with his live dubstep band Destroid, (a power trio comprised of Excision, Downlink, and KJ Sawka) KJ Sawka is a force to be reckoned with. Utilizing a half-acoustic, half-electronic drum set, laptop and a multitude of triggered effects, the original human drum machine produces dynamically enthralling live electronica with an all-but-unmatched aggression. With a deeply rooted, rich musical history, his influence helped to pave the way for the electronic music movement; KJ Sawka is one of the original groundbreaking artist connecting live instrumentation with the digital age and sound we know today as EDM.
And as if all of that wasn't enough; 2015 christened the birth and launch of his latest passion project Impossible Records, a multi-genre electronic dance music label. In less than two years the independent label has hit the ground running with 20+ #1 hits on the Beatport Music charts and notoriety and praise pouring in from major music blogs and top producers worldwide.