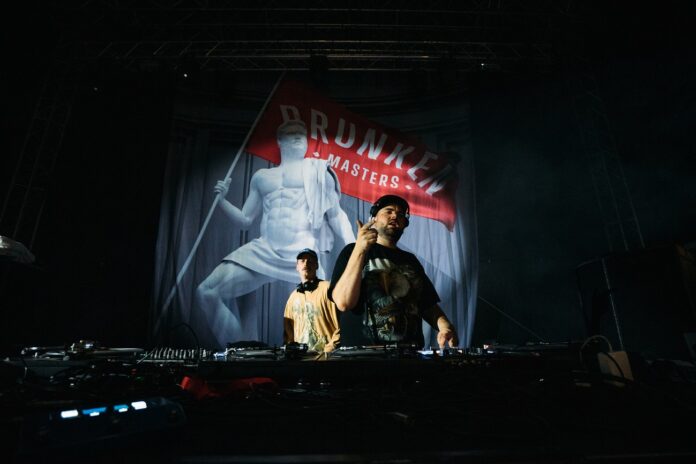 The versatile DJ/producer duo Drunken Masters has achieved a lot of success in recent times. They have gone on to perform at many major music festivals from Lollapalooza to Rock am Ring and are also known for their collaborations with stars like Casper and Portugal. The Man. Over the years, the duo has also put out many catchy hits including, 'On My Own' which you should absolutely check out if you haven't already. Drunken Masters – Everyday Thursday has now arrived! It is a collaborative track with the critically acclaimed rapper Serious Klein. It is an incredibly catchy song that will surely become a Hip Hop music summer hit. 
Drunken Masters – Everyday Thursday with Serious Klein is a pure banger. The song is meticulously forged with pulsating basslines and jaunty flow, making it a must-listen for fans of Hip Hop music. It is a unique, upbeat track that has a felicitous aura. The track is composed of groovy riffs and hooks that are layered over Klein's infectious vocals. The track will certainly connect with the listener and you throw gang signs.  
The beat and rhythm of the track, 'Everyday Thursday' by Drunken Masters and Serious Klein grind ahead solemnly, under a strident set of deviant construction that oscillates in all aural directions. On the track, the trio formulates a mesmeric blend of driving basslines, rhythmic percussion, jaunty melody, and ardent vocals. All of these components working together will surely make any party turn up. The track is masterfully crafted and features a hard-edged tone that will cater to Hip Hop music fans. This release has a storming feel that will captivate you in an instant, making you want to listen to this banger on loop.   
Drunken Masters – Everyday Thursday with Serious Klein is a mixture of fierce rap style, brain-twisted storytelling, and creative sound production, proving that their pairing is exactly what was needed to get Hip Hop music fans excited. The song creates an overpowering aura that will make crowds bounce when played live. We are hooked to this powerful track and hope that they hit the studio together again to pump out more of such energetic releases. 
Download 'Drunken Masters X Serious Klein – Everyday Thursday' HERE and stream it on YouTube below!
Connect With Drunken Masters:
Connect With Serious Klein:
Join Us On:
More About Drunken Masters:
Collaborations with Grammy winner Portugal. The Man, Tropkillaz, Casper and Nimo plus official remixes for Major Lazer, A-Trak, Brillz, Duck Sauce and TWRK: the Drunken Masters have become regular guests on the DJ sets of the greatest, and have released songs on Diplo's Mad Decent/Good Enuff and A-Trak's Fools Gold Records.
Their single "Louder feat. Portugal. The Man" went straight to number one on the HypeM Charts, and "Rave", a collaboration with Eskei83, has developed into a full- fledged club hit since its release in 2017.
Joe & Chrissi have been touring the world since 2010, playing every major festival in the German-speaking territories, including Splash, Rock am Ring, Southside/ Hurricane, Deichbrand Festival, FM4 Frequency and Lollapalooza. Their live sets are a combination of anything with bass and a bang, no matter the genre. Mosh pits are bound to occur at any given Drunken Masters live show!
Since launching their own label Crispy Crust Records in 2014, including an affiliated publishing house Crispy Crust Publishing, the Drunken Masters have emerged as tastemakers on a national and international level.
In 2019 they produced their first #1 album for the german artist "KUMMER" together with blvth.
More About Serious Klein:
'Serious Klein's charismatic flow will have you hanging on his every word.' – COLORS
'Dropping tongue-twisting rhymes with ease' – COMPLEX
German/Ghanaian artist Serious Klein continues to prove his silver-tongued lyricism with a series of singles and collaborations since the release of his critically acclaimed 2018 debut album 'You Should've Known' via Majestic Casual.
Emerging from the underground hip hop scene in Germany, Serious Klein describes his music as "art rap" – a blend of rap, hip hop, jazz and soul – influenced by the likes of 2Pac and LutherVandross. His growing profile has seen him collaborate and perform with the likes of MickJenkins and BrysonTiller, with AliciaKeys describing him as "one of the hottest urban newcomers in Germany."
The LP features production from long-time collaborator Rascal, who made a name for himself producing tracks such as 'Juke Jam' by Chance The Rapper and 'Something New' by SiR ft. Etta Bond. Previous releases have already garnered a flurry of support from the likes of mixmag, Earmilk, Dummy, Complex, Revolt and Highsnobiety, as well as two dynamic live sessions for the aesthetic music platform COLORS.
With a series of astute singles and his highly-anticipated debut album behind him, Serious Klein is cementing himself as one to watch for 2020 and beyond. Recently Klein's biographical short film/documentary The Seed by ICONOCLAST Germany (Kendrick Lamar) won a Webby Award for best Art & Experimental Video.