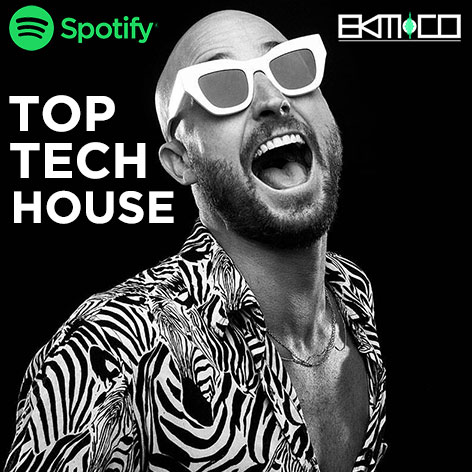 Tech house fans, can I have your attention? Do you struggle to find a playlist according to your mood? Does a vast list of options overwhelm you? If yes, then you are at the right place because we have created a playlist of songs that will fulfill all your tech house cravings. Whether you like Bass-heavy Tech House, the melodic kind, or any other flavor, there is something for everyone in this Spotify Tech House Playlist. The best part is that our dedicated team makes sure to switch up the playlist regularly according to what is new and what you may like. This way, we make sure to showcase not only the latest Tech House songs but also the best Tech House music.
Speaking of sub-genres, Tech House offers a variety of styles, intensities, and elements, and we remember to include all these diverse types in our playlists. These include Deep Tech, Groovy Tech House, Hard-hitting Tech House, Peak Time Tech House, Acid Tech House, Melodic Tech House, and Trance-inducing Tech House. Each of these have a different aura, and no matter which are your personal favorites, here, you will find something that will uplift your mood and set electric vibes. The weekly updated playlist contains over 250 Tech House songs so you never get bored.
In this playlist, we have featured tracks from the Resident Advisor Top 100, Beatport Peak Hours, Beatport Top 100, Beatport DJ Mag, Traxsource Top 100, Beatport Opening Fundamentals and other popular Tech House lists.
Our Tech House Spotify playlist features music by Fisher, CamelPhat, Chris Lake, Hot Since 82, Claude VonStroke, Joshwa (UK), GAWP, Voix De Basse, Will Clarke, Gene Farris, ATFC, Prok & Fitch, Subrinse, Jonathan Landossa, Jace Mek, KC Lights, Akiro, 220 Kid, Gabriel Jon, Joel Corry, WEISS, M-22, Shift K3Y, Steady Rock, Marco Strous, Yago Luna, Bassel Darwish, Butch, Greco (NYC), Matthew Clarck, Adrian Hex, Blossom, Adam Holiday, Joeski, Vilda, Matthias Tanzmann and many many more!
Apart from these famous Tech House artists, we also introduce you to new talents and ideas that are coming strong into the market. Not only does this switch up your everyday music routine, but it also gives the upcoming artists a chance to showcase their talent and get to a broader audience that is interested in their work- you!
We bring top Tech House songs as well as fresh new music from many prominent record labels like DIRTYBIRD, Toolroom Records, Armada Subjekt, Lovejuice Records, Glasgow Underground, Moon Harbour Recordings, SOLOTOKO, Trick, Etiquette, Club Sweat, South of Saturn, Hot Creations, La Pera Records, CLNE, Solid Grooves Records, Catch & Release, Sweat It Out, Maya Records, Mood Funk Records, Knee Deep in Sound, LOW CEILING, Cocoon Records, Great Stuff Recordings, Monique Music, Freaky Music Recordings, Plastic City, Rejected, CDX9 Records and NONSTOP, just to name a few.      
Make sure to follow our Spotify profile, you will find more than 15 playlists updated every week. Click here to access our Tech House Spotify Playlist or stream it below!
---
Not familiar with Tech House music, here's a bit of history for you:
For those who are not aware of this genre of music, and want to try something new, tech house, as the name suggests, is a sub-genre of house music and is made up of a combination of stylish techno and house tones. The typical instruments used in this kind of music are synthesizers, keyboards, drum machines, samplers, and sequencers. It is clean, minimal music that still has a tone that will make you want to move to the beat.
Tech House was born as a subcategory of electronic dance music. It was a combination of stylish techno tones and the warmth of house music. The music was simple, aesthetically-pleasing, and minimal, which was why it immediately attracted the fans of both of these music categories.
By the end of the 1990s, clubs around England showcased this particular genre and gathered an audience that loved this upbeat, bouncy version of techno and house. DJs and artists such as Charles Webster, Dev Angel, Herbert, and Ian O'Brien were popular names attached to tech house music at that time. Soon, The End, a nightclub in London, became UK's home of Tech House.
Even though this kind of music was developed long before, it only started attracting attention in the early 2000s. Since then, it gained popularity across Europe, specifically in Spain. The development of new talented artists and DJs in this particular genre gave it even more exposure to a larger piece of audience. The music started being used for electrical music-themed concerts and soon became a crowd favorite. Today, it is a popular musical choice for dance across the United Kingdom, Germany, Belgium, and many other countries around the world. Some of the top-rated musical tracks of 2018 consisted of Tech House music elements. Exceptionally talented DJs like Carl Cox and Joris Voorn had a huge role to play in the promotion of this music style.
Other popular artists who made their way to fame in the Tech House music industry were Hot Since 82, Daniel Ibbotson, Terry Lee Brown Jr., Den of Snakes, and Void Funk.
Join Us On: