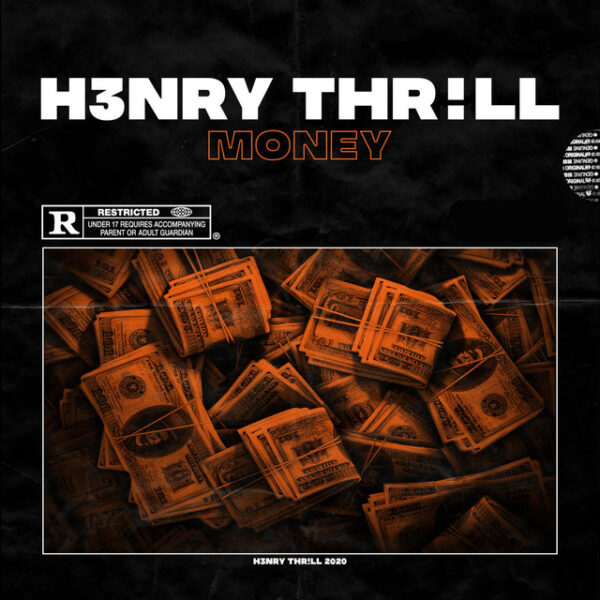 While still in his teens, H3nry Thr!ll has quickly become a big name on the bass house music scene. The Washington based DJ/producer entered the spotlight after dropping his debut EP 'Portal' in 2019. It contained three well-crafted songs all of which reflected how highly talented he is when it comes to making dope beats. The success of his extended play showed the EDM fans how Thr!ll rolls. He is now back with his latest track called 'Money.' It is a powerful cut that is a must-have for bass house playlists. This song has all the potential to qualify as one of the best bass house music of 2020.
H3nry Thr!ll gets all funky on us with his new release 'Money'. The track features a fidgety rhythm that provides the grounds for the musical ride into a refreshing journey to Bass House grooves. The song emphasizes the electric synth pads that get distorted with the heavy impact of the bassline. Thr!ll's new tune whirls gracefully around the listener and will make anyone headbang without even realizing it. When we say it is some of the best bass house music of 2020, we mean it! It has echoing percussion and infectious melodies, giving the track that pumped up energy that will make it stand out in your bass house playlist.
'Money' features bouncy beats, structured with punchy builds and catchy hip hop vocals, making it an excellent delivery by H3nry Thr!ll. By putting together the percussive elements for a pleasingly dissonant blend, the artist showcases his immense talent as a bass house music producer. The sheer magnitude of this release makes it hard to ignore.
'Money' by H3nry Thr!ll will certainly become a crowd-pleaser. He has constructed this track so flawlessly that every element featured on the mix shines brightly. Designed as a peak-time festival cut, 'Money' certainly sets the bar high for best bass house music of 2020. This is a special track that will fit perfectly in your bass house playlists.
Stream 'H3nry Thr!ll – Money' on YouTube below!
More About H3nry Thr!ll:
H3nry Thr!ll is a DJ/Producer from Washington D.C. who is fast becoming known for his hard hitting but melodic G-House. Still only sixteen years old, H3nry has already been DJing at both festivals and clubs for two years, and has been writing music since he was twelve years old! The number of hours that H3nry has devoted to his craft have paid off – and on April 5 th , 2019 he released the 'Portal EP'; showcasing a level of production that is rarely seen in such a young producer. The three tracks are dark, heavy and fiercely creative, while H3nry also displays a real flair for melody. The EP opens with the deep, dark atmospherics of 'Welcome'; a slowly undulating introduction to H3nry Thr!ll's world. The EP bursts into a higher gear on track two, 'In My Hood'; a riot of sub-bass and precision-sculpted sound design. The EP closes with 'Real', feverish synths ratchet up the intensity ahead of a dancefloor-shattering drop. The potential of this exciting new producer really is incredible, and it surely won't be long before he is mentioned in the same breath as the artists that have been such a big influence on him; acts such as Matroda and Dustycloud. You will be hearing more about H3nry Thr!ll very soon!
Connect With H3nry Thr!ll:
Website
Spotify
Soundcloud
YouTube
Twitter
Instagram
Join Us On: