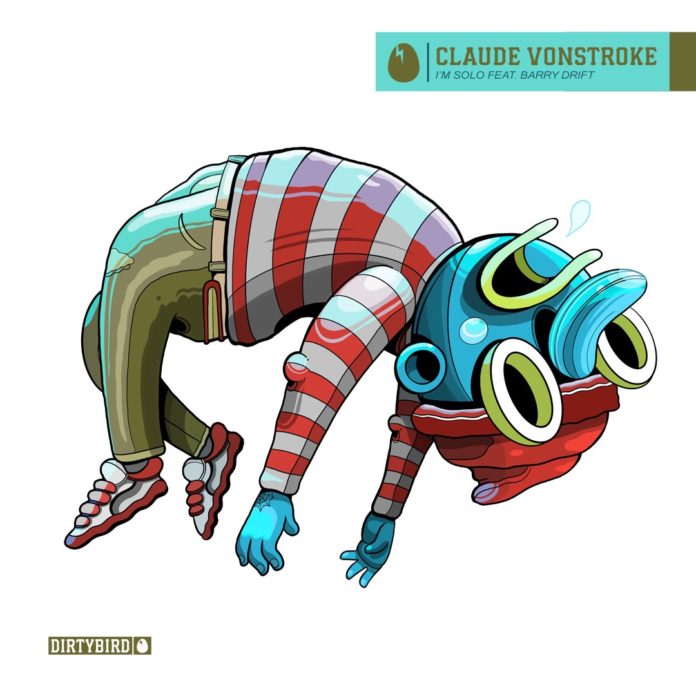 Claude VonStroke is an extremely successful DJ/producer and also the proud owner of Dirtybird records. He has signed many talented acts to his label including Eddy M who recently collaborated with him on the song, 'Getting Hot.' This track is a club banger which will definitely turn your party mode on. In addition, VonStroke was heavily involved in the making of the Dirtybird compilation entitled, 'Miami 2020.' Apart from running his record label and collaborating with other stars, he recently produced his latest album, 'Freaks & Breaks' which came out on February 21st. He has now teamed up with Barry Drift to release a mesmerizing and groovy deep house tune, 'I'm Solo.'    
Released on April 7th, 'I'm Solo' is a slow-burner which features energetic drums that would voluntarily stand-alone holding a dance floor. The intoxicating drums then give way to glowing pads and a quick keyboard line which adds extra groove to the song. This cut stresses a rising space synth that continues to intensify throughout; add some vocal snippets and tight beats, and the song reaches its invigorating climax.
Produced by Claude VonStroke and Barry Drift, 'I'm Solo' is a perfect example of what the best deep house music should sound like. It contains some thrilling beats and jazz stabs that feel like Kerri Chandler jamming. The song consolidates clicking drums and spirited percussion for a perfect classy late-night deep house vibe. With syncopated synths and luxurious pads, 'I'm Solo' is definitely one of the top party songs of 2020 so far.
'I'm Solo' combines frenetic arpeggiated synths, firm beats, dark pads, and mechanical wooshes, ticking all the boxes for an effective late-night jam. It has all the ingredients needed to be a deep house anthem. We already can't get enough of this hypnotic tune and are eagerly awaiting his next release!
Stream 'Claude VonStroke & Barry Drift – I'm Solo' on YouTube and grab your copy from HERE!
You can also enjoy the song on Spotify and SoundCloud!
More About Claude VonStroke:
Claude VonStroke created a small underground record label called Dirtybird in 2005 and grew it into a full-fledged events, clothing and music brand over the last 15 years. During this time, he has also managed to release 4 artist albums and some of the most iconic house music tracks of the last two decades.
Most people know Claude VonStroke for his smiling DJ persona touring every major city, festival, and basement after-party around the world. But Claude has also influenced the very fabric of the dance community, A&Ring an impeccable roster of acts like Justin Martin, Fisher, Shiba San, Catz n Dogz, Riva Starr, Tim Green, Breach, Eats Everything, Walker & Royce, Shadow Child, and countless others. (And even naming a few of these artists.) Today, his Dirtybird label continues to surprise and innovate in the underground dance scene, releasing an enigmatic combination of house, funk, dirty bass, and electronica.
VonStroke has released four original artist albums, a remix album, and a live album recorded when he closed the famed Movement Festival in his original hometown of Detroit, Michigan. Some other music highlights include working on records with Bootsy Collins, Rihanna, Disclosure and Kevin Saunderson, as well as a few #1 and #2 hits on Beatport. His partnership with Green Velvet as "GET REAL" has been one of the most rewarding friendships as Claude originally modeled his career off the quirky enigmatic style of his mentor and now good friend from Chicago.
In 2015, VonStroke brought his first festival to light called Dirtybird Campout, a unique boutique festival based on the games and activities associated with American Summer camp mixed with the best underground house and bass music in the world. He continues to innovate and curate new events with 2 additional multi-day festivals mirroring his Birdhouse radio show in Los Angeles and Chicago, and his record BBQ event series that has been going since 2003!
VonStroke also loves art; most notably pop-surrealist artwork that he has commissioned for the last 7 years on Dirtybird for all of the releases. Each year he hires a new artist and has had the pleasure of working with renowned artists such as Jeremy Fish, Dulk, Graham Carter, Dan May, Charlie Immer, Raoul Deleo and Felicia Chiao. Walking through the Dirtybird HQ in Los Angeles is like walking through an art gallery in the Wynwood district of Miami.
A lot of his success can be attributed to a good attitude. Claude does not scowl or look mean while he DJs. He does not pretend to know everything and he truly loves his fans. He is grateful to be curating, creating and performing music for a living and he knows that the reason people go to parties is to shake their booty and have fun.
Follow Claude VonStroke:
Spotify
YouTube
Facebook
Twitter
Instagram
Join Us On: