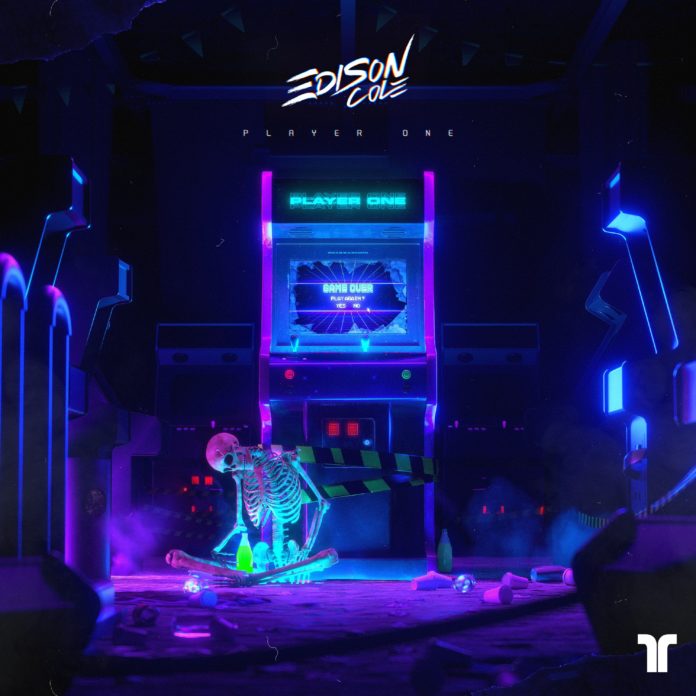 Edison Cole is undeniably one of the brightest stars of dubstep music who became pretty huge when he released his hit track, 'Need You Now'. The track made it on the Soundcloud's 'New & Hot' list and it brought a lot of attention his way. Since then, he has been on a roll, proving his talent to the world by releasing one hit after the other. On March 27, Cole struck again with his bassy banger 'Player One' on Thrive music. The track features rolling rhythms, passionate textures and a wrapping bass line that's infectiously gripping. Considering how powerful this song is, we wouldn't be surprised if it becomes a dubstep DJ's go-to track for igniting a dancefloor on fire.
'Player One' by Edison Cole is a hypnotic track which is merged with ominous energy and contains an emotive melody that brings new light to the genre. With the track's unique bass texture, steady yet driving percussion, and enveloping atmospherics, it's a bright gem of the genre. The song hits hard and can quite easily make you want to headbang to its three very distinctively epic drops. Cole had this to say about his latest release,
For this one I was inspired by the sounds of video games and futuristic use of retro arcades! Player One is A video game themed Bass Record that I had a lot of fun making!!
Edison Cole is a genius when it comes to producing bass-heavy songs and 'Player One' proves just that. Within hours of uploading the track on SoundCloud, he started to receive positive feedback from the fans who are applauding him for delivering yet another party anthem.
'Player One" possesses that quintessential dubstep sound, and listening to it is almost like going back in time. This is one song that seemingly every dubstep DJ will want to play, and its serious bass weight contrasted with mystical synth lines is a clear reason why. To put it simply, it's a perfect hurricane. Massive!
Stream 'Nobody's Watching' on Soundcloud below and grab your copy HERE!
You can also stream it on Spotify.
More About Edison Cole:
Edison Cole is a 25-year-old artist, producer, DJ and streamer hailing from Boston, Massachusetts. At 19 years old, Edison moved to Philadelphia to start his career in music under a former alias. After only one year, he had played at some of the biggest venues in the tri-state , Pacha NYC, Lit Ultrabar Philadelphia and Governors Island NYC, as direct support for many internationally renowned artists such as, Borgore, 3Lau, Afrojack, R3hab and more.

In late 2016, he moved to Los Angeles and started his current project, Edison Cole. Edison's music is energetic, upbeat and complements club dance floors as well as festival stages. While you could categorize his music into the bass genre, Edison blends elements of many genres to create his own unique sound. Edison's first release "Need You Now," came out in September of 2018 and charted number 20 in SoundCloud's "New & Hot" category. In preparation for 2019's festival season, Edison released "Rebel" in January which was featured in The radio show, followed by his bass smash Voodoo with LOOKAS, which The opened ULTRA MUSIC FESTIVAL 2019 with. With unstoppable motivation and drive, Edison strives to become a household name in music.
Follow Edison Cole:
Songkick
Spotify
Instagram
Twitter
Apple Music
Twitch
Facebook
Join Us On