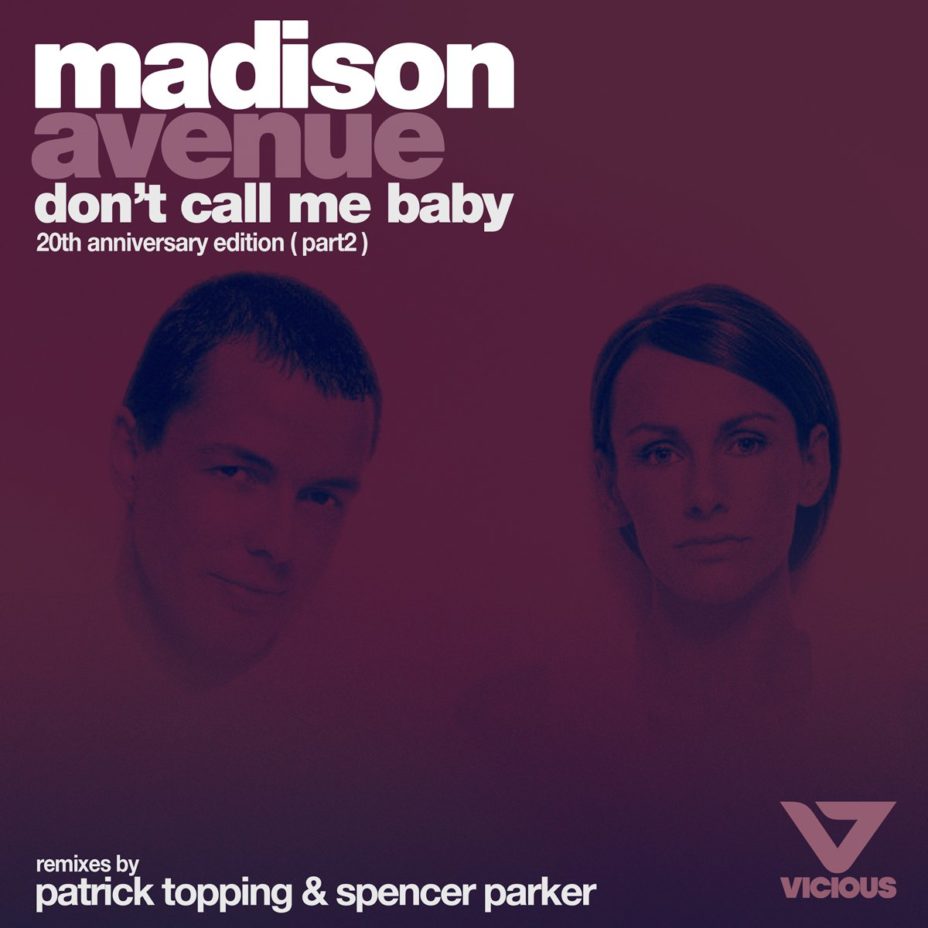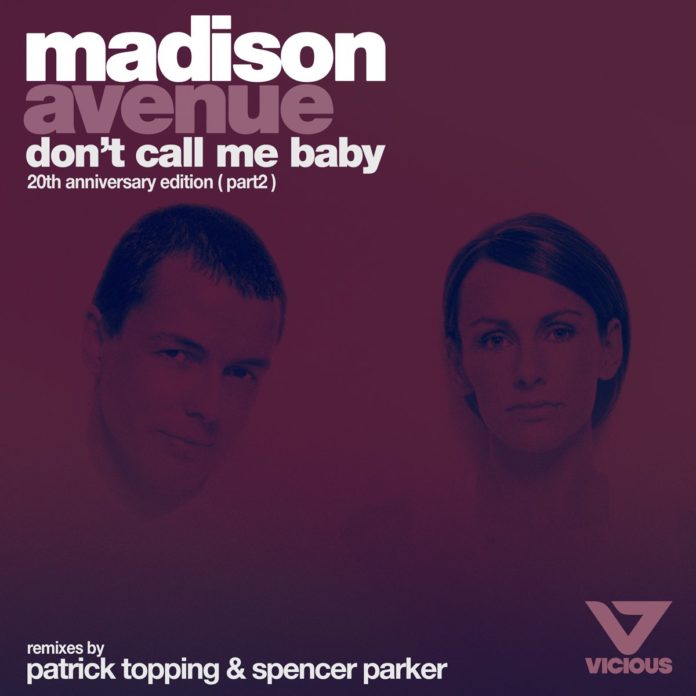 Although it doesn't feel like that long ago, the super chart topping hit "Don't Call Me Baby" officially just turned 20 years old. Feeling old yet? This song straight up took the duo Madison Avenue to superstardom and their hit ended up at the top of pretty much all the Pop charts across the globe. To celebrate the 20th anniversary of this 90's iconic smash hit, Vicious Recordings enlisted non other than Patric Topping on remix duty, to give the track a modern club/rave feel. And let me tell you, Patrick didn't disappoint!
I didn't actually think it was possible. In fact it is not. Yet somehow Patrick Topping magically resurrected Madison Avenues' "Don't Call Me Baby" with an infectious mixture of techno and tech house. This aggressive revamped club track is non-stop flair and fire. He didn't use a modern vocalist for his remix, he brought back the original vox and utilizes it in the most intelligent way possible. Topping shows off a baseline only someone who knows how to move dance floors can create. The base runs through the length of the song and you'll never give up on it, it's addictive.
His intricate hat patterns will keep you in step while his breakdowns are those enchanting memorable moments of "Don't Call Me Baby" but sliced up in Toppping new way. You get a vibe from Patrick in this track and that's "I am coming for you!". This now dark, alive and sexy remix was originally dancy but now this clubby remix takes the energy to the next level. You may find yourself reaching for Topping's remix instead of the original, at least we sure hope so. Hope you can handle it.
It is definitely a fresh take on a Pop classic and it is ready to dominate clubs, music festivals and raves, once again. A must have for your party playlists, and a must buy for Techno and House music DJs!
Stream "Madison Avenue – Don't Call Me Baby (Patrick Topping Remix)" on Youtube below and grab your copy HERE!
Make sure to also check out the other remixes!
More about Patrick Topping:
Carving a reputation as one of the contemporary faces of British house and techno, Patrick Topping continues to garner widespread acclaim on account of his prolific production prowess and dynamic DJ sets. Soundtracking countless sunrise memories as resident of Jamie Jones' famed Paradise parties at Ibiza's DC-10, Patrick's now 50-release strong back-catalogue is bursting with iconic dance-floor records on labels such as Hot Creations, Truesoul and Relief Records, with further remixes for Calvin Harris and Booka Shade charting Patrick's meteoric rise.
Armed with an arsenal of career defining productions in the form of the Beatport chart-topping 'Be Sharp Say Nowt', Green Velvet collaboration 'Voicemail', and 2014's Ibiza track of the season 'Forget', Patrick's far reaching appeal has seen him play numerous festivals including Coachella, Awakenings, Ultra, and Tomorrowland. As well as completing several tours of Australia, Europe, South America, Asia and South Africa. Patrick has performances confirmed for the year ahead including Movement Detroit, Kappa FuturFestival and for the first time is hosting his own stage a festival, at London's Lovebox.
With Patrick reaching number 11 in Resident Advisor's top DJs poll, landing three DJ Awards, one DJ MAG 'Best of British' Award and becoming one of Mixmag's cover stars the northern powerhouse now enters a refined and developed chapter of his career. The recent birth of Patrick's own label, TRICK, has provided a home for the UK artist to exhibit his versatility as a producer, as well as a platform to showcase the wealth of the emerging talent which he has been pushing in his DJ sets. Following the recent finale of his acclaimed Motion event series, the UK producer looks set to take things to the next level throughout 2020.
Follow Patrick Topping:
Facebook
Soundcloud
Instagram
Spotify
Join us on:
Spotify
Soundcloud
Mixcloud
Youtube
Facebook
Twitter
Instagram