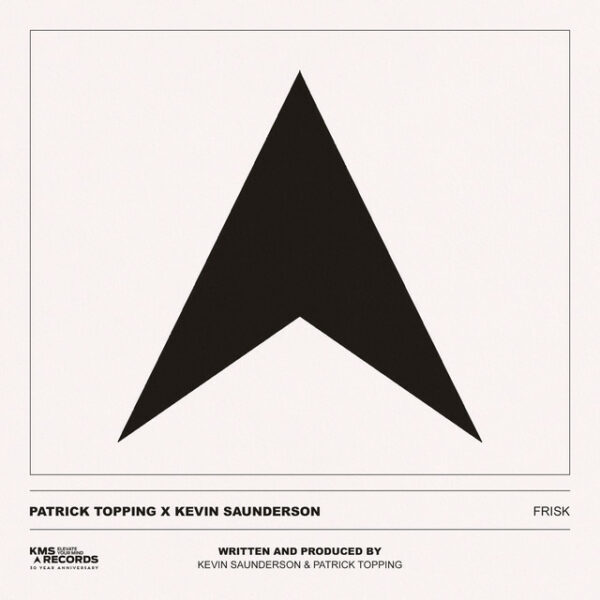 The new Patrick Topping and Kevin Saunderson track recently dropped. Frisk! You're in for a treat with this genius sonic. Doesn't matter if you are at work, mowing the lawn or at a coffee shop, you won't be able to keep your feet still. Even the guy or gal next to you will ask you what you're listening to. No joke!
The track delivers an infectious mixture between techno and deep house. Their kick is massive and for sure is going to knock your eardrums back into their proper place, in the best way possible. This is what a kick should sound like and they give you every bit of it.
The break down is for sure going to rattle you, it will rip through your speakers with an electro groove you catch while you start bobbing your head. And right when chaos of the build recedes, you feel their melodic acidic architecture take hold of you. The lovely chaos of the build up makes the drop so smooth that you thought you were transported to another world. It is not over yet, only gets better and better from here on out. Unmatched with their crisp and warm percussion, they continue adding tribal layers to get your body moving even when you try not to dance, you'll end up moving.
A fresh take on dance music. A fusion of genres so meshed we can only coin it "Dance". This elegantly crafted tune must be added to your playlist and buy it now because this track is brought to you by masters of the craft.
Stream "Patrick Topping x Kevin Saunderson – Frisk" on Spotify and Soundcloud below and buy your copy HERE!
More about Patrick Topping:
Carving a reputation as one of the contemporary faces of British house and techno, Patrick Topping continues to garner widespread acclaim on account of his prolific production prowess and dynamic DJ sets. Soundtracking countless sunrise memories as resident of Jamie Jones' famed Paradise parties at Ibiza's DC-10, Patrick's now 50-release strong back-catalogue is bursting with iconic dance-floor records on labels such as Hot Creations, Truesoul and Relief Records, with further remixes for Calvin Harris and Booka Shade charting Patrick's meteoric rise.
Armed with an arsenal of career defining productions in the form of the Beatport chart-topping 'Be Sharp Say Nowt', Green Velvet collaboration 'Voicemail', and 2014's Ibiza track of the season 'Forget', Patrick's far reaching appeal has seen him play numerous festivals including Coachella, Awakenings, Ultra, and Tomorrowland. As well as completing several tours of Australia, Europe, South America, Asia and South Africa. Patrick has performances confirmed for the year ahead including Movement Detroit, Kappa FuturFestival and for the first time is hosting his own stage a festival, at London's Lovebox.
With Patrick reaching number 11 in Resident Advisor's top DJs poll, landing three DJ Awards, one DJ MAG 'Best of British' Award and becoming one of Mixmag's cover stars the northern powerhouse now enters a refined and developed chapter of his career. The recent birth of Patrick's own label, TRICK, has provided a home for the UK artist to exhibit his versatility as a producer, as well as a platform to showcase the wealth of the emerging talent which he has been pushing in his DJ sets. Following the recent finale of his acclaimed Motion event series, the UK producer looks set to take things to the next level throughout 2020.
More about Kevin Saunderson:
Platinum-selling recording artist, label boss, festival promoter, true innovator in the pantheon of popular music, cultural champion, cracking DJ: there's a lot to be said about Kevin Saunderson.
His influence runs deep, through both adopted hometown of Detroit, and music culture as a whole: as one of the Belleville Three, the high school trio which also includes Juan Atkins and Derrick May, he irreparably changed the face of electronic music; with Inner City, he gave it some of its most memorable tunes.
The genesis of today's enormous techno scene can be retraced straight to Kevin, Derrick and Juan, as their formative experiments on rudimentary hardware sketched a blueprint for a genre that was yet to exist. By absorbing Kraftwerk, cutting-edge funk, local radio stalwart The Electrifying Mojo's electicism, and all manner of new synthesiser and drum machine-led pop music, the Belleville Three broke new ground as musicians and DJs in the 80s.
Saunderson's comparatively late start as a producer – kicking off in '87 under the moniker of Kreem, with E-Dancer and Reese two of the more well-known names to follow – inadvertently gifted him a headstart. With the eruption of house music a few hours down the I-94 in Chicago, Saunderson married Detroit's raw sound to more tactile, pop-leaning sensibilities. Inner City was born, and global success followed.
Between "Big Fun", "Good Life", debut album Paradise and a number of follow-up singles, Inner City (Saunderson and vocalist Paris Grey) amassed 12 UK top 40 hits and over six million records sold worldwide during their peak. A dancefloor-dominating remix by Luciano in 2008, and a globetrotting reunion tour in 2012, underscores the longevity of Inner City's classic sound.
His nickname of 'The Elevator' is apt: for his role in transporting Detroit's new sound to a wider audience; as anyone who has seen him perform live can attest, his high-energy, high-spirit and high-impact DJ sets; and for spending the past 35 years of his life progressing the culture he helped create.
Operating in tandem to his golden run as a producer in the late 80s and early 90s, Saunderson's own KMS record label – a remarkable 30 years strong in 2017 – has chronicled the early footsteps of R-Tyme, Blake Baxter, MK, Chez Damier, Derrick Carter, Bicep and even Saunderson's son and regular DJ partner Dantiez more recently.
A special 12" series in 2008 called History Elevate, released in tandem with fellow polymath Carl Craig's Planet E label, brought contemporary names like Mathew Jonson, Simian Mobile Disco and Loco Dice into the fold, proving his nous for fostering relationships with each new wave to come through techno's gates. 25th anniversary compilations and numerous reissues have followed suit.
Saunderson has a behind-the-scenes role to play, too: he is intertwined with the history of Detroit's flagship Movement (formerly Detroit Electronic Music Festival / Fuse-In). Having produced the event in the mid-2000s, the last handful of years have seen repeated invites from Movement to display his ORIGINS showcase at the festival, bringing acts like Delano Smith, Phuture and DJ Minx under his curatorial umbrella.
And of course, with a stacked international touring schedule over the decades, playing in nearly every country and at nearly every festival or club worth mention, he has not stopped pushing the feeling of techno on and on.
The Groove That Won't Stop, indeed.
Follow Patrick Topping:
Facebook
Soundcloud
Instagram
Spotify
Follow Kevin Saunderson:
Facebook
Soundcloud
Instagram
Spotify
Join us on:
Spotify
Soundcloud
Mixcloud
Youtube
Facebook
Twitter
Instagram