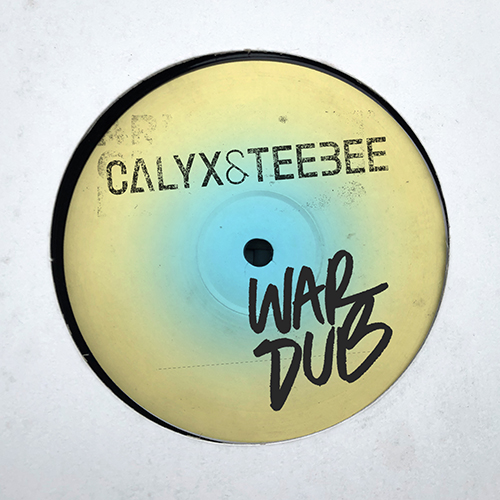 Undisputed legends in the drum and bass scene, Calyx & Teebee return to the spotlight with a whole host of new material. And it's been twelve months since they released "Intravenous," and fans are ready for the next chapter.
They have gone away and come back with a full series concept, which the duo has just announced. Plates will be a run of releases – using their respect for dub-plate culture as a basis for its artwork, visuals and music.
Once the string of singles has landed, the whole Plates LP will be made available. It's sure to be a big one!
C&T get the series off to a whopping start with "War Dub," a cut that is going to create carnage on a dance floor. Their signature production prowess shines through from the get-go. Think drawling horns, chopped ragga vocals and a thunderous bassline – they hold nothing back here.
And with the prospect of so much fresh material on the horizon, we're stoked at this announcement.
Putting forward their thoughts on the project, they state:"Having released 2 albums since we joined RAM Records, we're excited to be starting our next chapter with them by launching a new series called 'Plates.' It takes us back to our DnB roots – both musically, and in terms of how the music disseminates to our peers, fans and ravers."
"War Dub" can be streamed on the link below, and keep up to date with Calyx and Teebee as the Plates series develops.
About Calyx & Teebee
To drum & bass fans the world over the names Calyx and TeeBee are synonymous with high quality, perfectly sculpted music. Just as Michelangelo discovered statues in blocks of stone, Calyx and TeeBee discovered the essence of D&B locked away in studio equipment; always forward-thinking and packed with as much integrity as energy; their music has had an impact on the scene for over fifteen years.
So while Calyx & TeeBee's first collaborations emerged in 2004, their history and friendship dates back to 1998. They were introduced as label-mates of the legendary Moving Shadow imprint. As a result, in the following years the two artists accumulated astounding solo back-catalogues of releases on a glittering array of D&B's most respected labels.

The pair ended an amazing year with an avalanche of wins at the most respected awards ceremony in drum & bass: The Drum&BassArenaAwards. Home to the most dedicated and discerning fans on the planet, the brand's community voted its leading single 'Elevate This Sound' (the first track that Calyx ever recorded his own vocals on) for Best Single. And the second single 'Pure Gold' won Best Video. So it happened that the most coveted trophy possible – Best Producers – also landed at their feet. Adding to this gold-rush momentum, BBC Radio1 's shortlisted them for Top 5 best Essential Mixes of 2012 – a moment of scene history. It's the first time a drum & bass artist's Essential Mix has ever achieved such recognition.
As 'All Or Nothing' continues to develop a life of its own, having spawned massive singles. 'Strung Out', 'Elevate This Sound', 'Pure Gold' and 'Scavenger' all featured. So they are to be found either deep in the studio, working on future releases or at the world's most respected drum & bass events – massaging the masses with their intricate six-deck sermons. Forward-thinking and packed with as much integrity and energy as ever, their music continues to have a peerless impact on drum & bass… and beyond!
Follow EKM.CO on:
Spotify
Soundcloud
Youtube
Facebook
Twitter
Instagram
Looking for music promotion?
Submit Here